Want To Paint But Can't Even Draw A Stick Figure?? No Problem! Pinot's Palette Is Just The Place For YOU!
We're here to tell you that ANYONE can paint!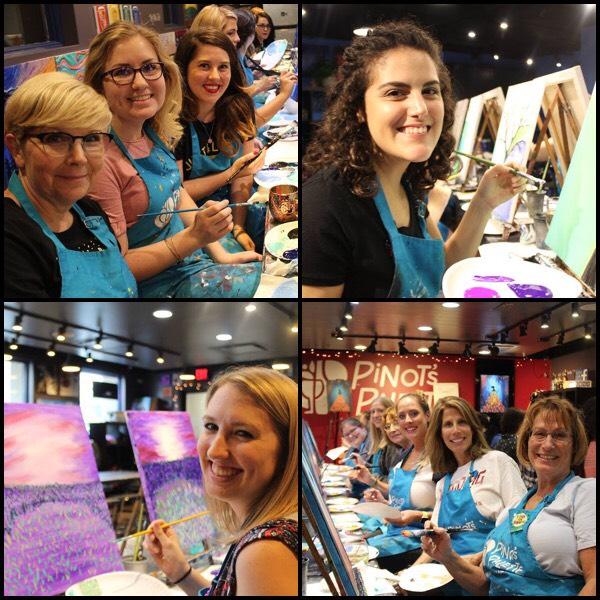 Pinot's Palette has been proudly promising that we can help anyone learn how to paint for almost 10 years!
At our Downtown Naperville studio, we have the privilege of having an amazing staff, working hard, each and every class to make sure our customers have a wonderful experience! We want everyone to feel welcome, relaxed, and ready to have a great experience, painting and sipping wine in a fun and creative environment. From first-time painters (like the majority of our customers) to people who have been painting their whole lives, our studio serves as a creative space for you to come in and make some masterpieces of your own! Whether you're an art-lover, looking to make something gorgeous, or just someone who enjoys trying new things and is looking for something fun to do, we're here to show you a good time and that ANYONE CAN PAINT!
When you come to a class at our studio, you're in good hands! We have a wonderful staff, ready to assist you with anything you may need from the moment you walk through the door. We'll show you to your seat, recommend some wine or beer for you, keep your drinks (and paint palette) refilled throughout the class, and take as many photos for you as you'd like! One of our talented artist instructors will walk you through the painting, step-by-step, encouraging you the whole time. We'll have an assistant or two, walking around to provide you with additional help, anytime. Ask as many questions as you need to, get up and walk around to view other's artwork for inspiration, and trust us to help you turn that blank canvas into a masterpiece! You'll be surprise at how you can make a stunning work of art in just a 2-3 hour class, without ever having any prior painting experience. Take your painting home to show off as you hang it in your home for all to see (and compliment you on).
Once you complete your lovely painting, add it into your home's decor to change up the interior a bit with something that YOU made! These paintings make a great conversation-starter for anyone who comes through your door as they admire your talent. Make some for yourself and even make some to give out as gifts… the holiday season will be here before you know it, after all! Nothing says "Love" like a handmade present, and family is the perfect recipient for your artwork! Take mom and dad back to a time when all of your gifts where homemade and award them with a present, made with love, dedication, time, and talent. Join us for a class with your friends, spouse, family, or anyone else you want to share in this experience with. We think you'll be so impressed with your ability to make art that you'll want to come in, again and again, to make more! Be sure to check out our calendar (link at the bottom of the page) to see all of the amazing paintings we've got coming up for September!
Customer Testimonials
You can visit our page to view hundreds of other reviews!
https://www....le/?ref=br_tf
"I love it. The atmosphere was charged with great music. The instructor was awesome, guiding us through the process until we produce a masterpiece. The rest of the staff was interacting with the guest, assisting with whatever we needed as well as refreshing our drinks. A very pleasant atmosphere and it was fun. It was great. I celebrated my birthday with two of my friends and we love it. I recommend you should try it, I will be coming back."
-Diane S.
"I love this place. They are all so kind and work at a pace that even beginners can follow. The bartenders are amazing. The music is great and painting while you're drinking is honestly so much fun. Would recommend to anyone!"
-Deven A.
"A great experience!!! lots of laughs!!! I was nervous my first time because I am not an artist and I have not painted anything since elementary school but the instructors are wonderful and very helpful."
-Mechell B.
"Really fun experience! This was my first time here even though I have been wanting to go for over 2 years! I get the emails & check the calendar & the timing never worked out before. Ruth, the artist leading the class, was so helpful to everyone in the class, offering tips or sitting down & fixing our oops spots! I will definitely be back again soon!!!"
-Nancy B.
"My best friend brought me here last year and now I come once every couple of months for the starry night paintings. It's so much fun and you need zero experience!"
-Rima Z.
"Absolutely fun and stress free!! Wonderful night out with my girls. The staff is amazing (We loved Angela!!). The steps were EASY and we came in with no artistic ability!! Jesus the bartender was quick and the drinks were great! We will absolutely be back!!! Probably many many times!!"
-Lauren N.
We hope to see you soon for a class at our studio whether you're attending a fundraising event or just one of our typical, public classes. If you're looking for something fun to do in or around the Naperville area, we make a great spot to visit for everything from a fun and unique date night, an awesome girls' night out experience, and we even offer private events! When you view our classes on our website, you'll be viewing our schedule for our public classes, but you can also book a painting party with the guest list of your choice! Come in to celebrate a birthday, bridal shower, reunion, retirement, and more with friends and family, sharing their artistic sides, together. Make memories that will last a lifetime with a souvenir to treasure forever with one our classes.
*Learn more about our private parties, here:
https://www....ivate-parties
We also play host to tons of corporate events, too! Why not book your next work party or team building event with us? We offer several styles of paintings that incorporate team building strategies, encouraging the whole office to work together, creating a stunning world of art!
*Read more about corporate events, here:
https://www....porate-events
Share See what we're all about with this video! | View our full calendar here