Reconnect With Loved Ones With This Special Deal!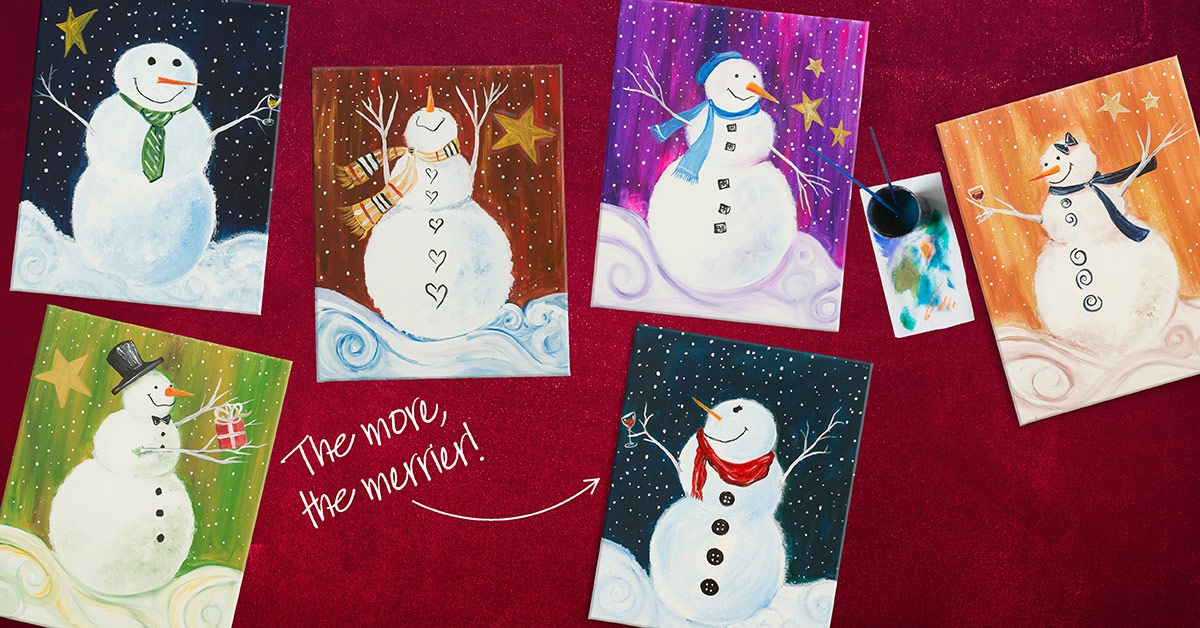 Check Out This Deal!
Buy 5 Seats, Get The 6th One FREE!
You can buy seats for all of your loved ones and get an extra one for no cost, making it that much better to gather together!
We say, "The More, The Merrier" -- Especially this time of year!
If you've been to our studio or online to check out our calendar throughout the past 8 months, you know that we're doing things a little differently these days (just like every other business has to do). But, it's actually been a wonderful experience in many ways; We're able to see some smiling faces in the studio as usual, but also offer at-home classes to everyone, too! It's been really nice to have so many options right now and our customers have been appreciating it too!
When it comes to this special deal of Buy 5, Get the 6th One FREE, you don't have to choose which type of class you want to use it on...
There's Great News! You can combine take home kits, live virtual classes and in-studio classes! That means that ALL of the various types of classes we offer are included in this deal!
-- In-Studio Classes --
We know that some people are physically seeing one another, and for you all, our in-studio classes are great for you! We've limited the seating in the studio and are taking all of the necessary precautions for following safety guidelines; We're also making sure to give the studio a good disinfecting, often.
We've been hosting customers in the studio for months and everyone has such a great time; It's nice to see people doing normal things at a time like this, so if you and your friends would like to join us for a class, sign up and remember that this special deal will be applied at checkout!
-- Virtual Classes --
For those of you who are looking for a virtual experience, we ave tons of amazing classes to offer you, as well! The great thing is that the deal can be applied to these classes, too. We've adapted to the virtual side of things very nicely and have been running these classes since March. People love the option of making some art while they're stuck at home; It's nice to have a way to unwind and get creative, and who couldn't use more relaxing activities these days? Buy a bunch of classes for yourself to do during the day when you're bored or at the end of a long one to de-stress. Buy some for you and some for friends so everyone can make art together - you guys can even Zoom or FaceTime with one another as you all paint the same things and have a blast making memories.
If you're looking to spend time in a small group, host a painting event at your home and remember to take advantage of the deal when you invite others!
Prepare drinks and snacks to enjoy as you work with loved ones, whether you're together or apart, nothing pairs better than wine and painting!
-- Take Home Kits --
Lastly, you may have seen our 'Take-Home Paint Kits' on the calendar, and this special deal applies to those too!!!
That's right, you can take advantage of this Buy 5, Get 1 Free deal with these painting kits that are all packed up and ready to go; You can paint anytime and anywhere with these popular classes and our customers have been loving these, especially for the kids!
You can buy some of the kids to do while you're busy with work (or doing some of Santa's Secret Stuff)...
Buy some for a small Girls' Night In paint party (in-person or virtual), Or enjoy them for a date night or a relaxing night at home alone!
It's been a long time since most of us have seen or talked to our friends and see family, and we're hoping these classes will provide you and your loved ones a way to reconnect while making something special. Remember, the more, the merrier!
Stop in, visit us online, or come by to grab your painting kit, and know that we're always here to help!
We hope you and your loved ones have a wonderful time making memories and masterpieces, and that you all have a perfect holiday season. See you soon! :)
Share View our class schedule | Buy some certificates this season!