Pinot's Perks - What's It All About?!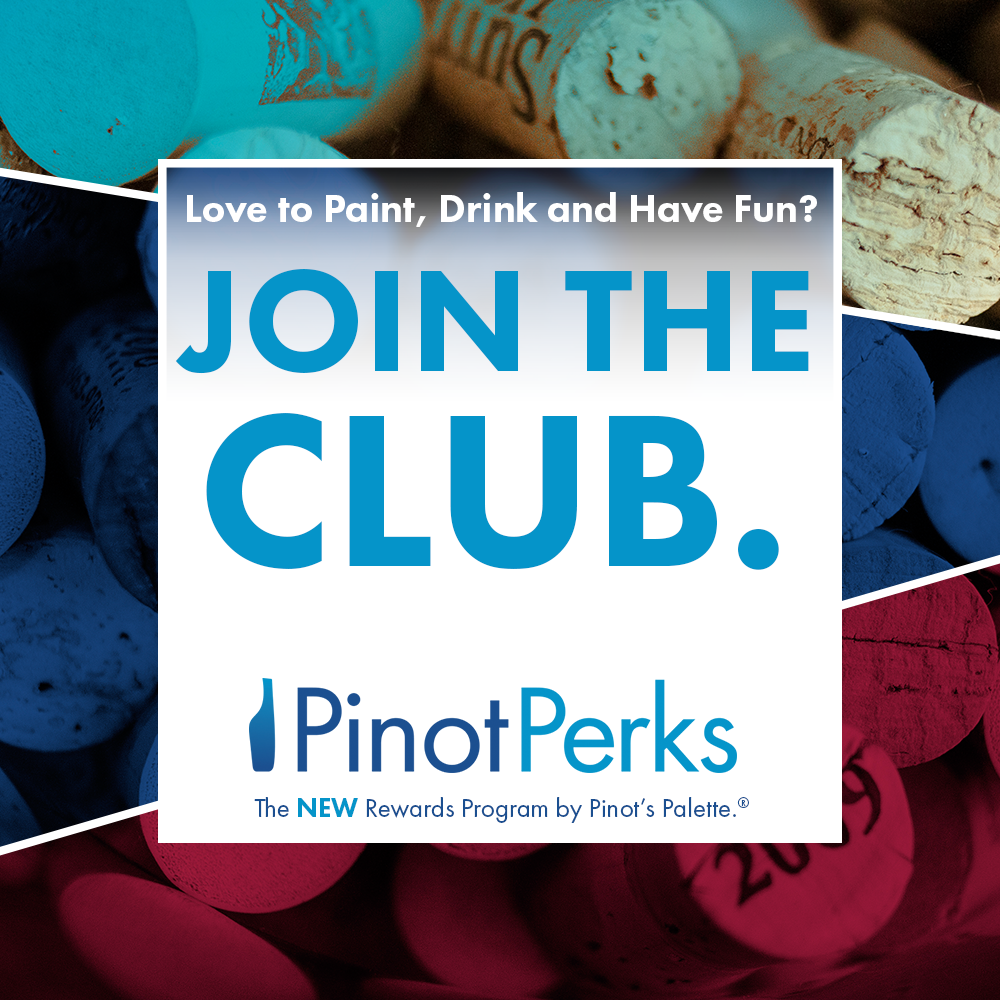 If you're new to our studio or haven't heard about our special PERKS Program yet, then you're in luck!
We're here to talk a little about this amazing rewards system, discussing what it is and how you can easy become a part of it!
While there are some people who are new to the concept of painting and wine classes, and others who have attended one or two of them, there are also many returning customers that we see, very often!
There's something about letting go of all of the stress and problems in life, and coming in to paint and sip wine for a few hours, that leaves you feeling rejuvenated. The mountain of scientific evidence, proving that painting (and other forms of art-making) are beneficial to your mental health, as well as the benefits that a glass of wine can bring, are all in support of our claim that our classes are a great way to relax and unwind!
Aside from the health benefits, who doesn't love creating some handmade art to decorate their home with or give out as a gift to someone special? Being able to find your inner-artist (and yes, we believe that EVERYONE has one…), and put your creativity to good use is a wonderful thing and we see so many customers who feel the same way. It's no wonder that once you try one of our classes, you'll likely be eager come in and do it again!
For all of our customers who enjoy stopping in to see us and make some artwork from time to time, we want to give back in honor of your loyalty and support!
…Which is why we began The Pinot's Palette PERKS Program a few years ago!
Check out the info below, learn all about it, and if you still have questions, let us know the next time you're in for a class and we'll be more that happy to help you out and answer any questions you have!!!
— What Is 'Pinot's Perks'?
Pinot Perks is our paint and sip rewards program.
It lets you earn virtual corks for things like going to painting events or buying seats for your friends.
Collect enough corks, and you'll earn free studio events.
— How Can You Become A Member?
Vistit the site:
https://www....-perks/signup
to sign up and become a member right now!
OR check with your local studio next time you're there and they can help you get set up!
— What Are Corks?
Virtual Corks are the Pinot Perks currency.
Collect enough Corks and to move up to the Collector or Connoisseur Levels.
— How Do You Collect Corks?
Collect Corks by registering for Pinot Perks, making purchases at a Pinot's Palette and by referring your friends.
— What Are The 3 Different Levels Of The Rewards Program?
(1) Club (when you register)
-- Birthday and Anniversary Deals*
-- Personalized Perks in your inbox
-- Complimentary birthday wine glass
(2) Collector (Collect 12 corks)
-- A free studio event*
-- Priority seating
(3) Connoisseur (Collect 12 more corks)
-- A free studio event*
-- First priority seating
-- An exclusive, personalized Connoisseur Card
((One additional free class* for every 12 Corks you collect))
— Can You Redeem Points On Classes You Attend Before Becoming A Perks Member?
Yes!
You will received your corks by going into your account, entering the order number or confirmation code.
Once verified we can add your corks! Please note we are only able to go back to the classes from the past 9 days to give you credit
Join us for a painting and wine class and put those Perks to good use! Whether you're a member and just looking to rack up some more corks or are brand new to our classes and are interested in learning more about the program and signing up for it, we're here to help you when you're ready!
You can view our calendar on the link at the bottom of the page to see all of the extraordinary artwork we have coming up, and find all of the info you need about class info, private event info, contacting us, and more!
Remember that signing up for our Perks Program doesn't cost a thing! If you use it, you'll see the rewards start to accumulate, and if you don't that's ok! We're here to help with anything you may need and we love to have something in place for our loyal, always-returning customers who build up more and more points (or corks), each time they visit us for a class!
Share More about our PERKS Program | View our class calendar!