Painting and a Play! Don't Miss This One-Night Special Event, Featuring All Things, 'Oz'!
WRITTEN BY L. FRANK BAUM WITH MUSIC AND LYRICS BY HAROLD ARLEN AND E.Y. HARBURG
ADAPTED BY JOHN KANE FOR THE ROYAL SHAKESPEARE COMPANY BASED UPON THE CLASSIC MOTION PICTURE OWNED BY TURNER ENTERTAINMENT CO. AND DISTRIBUTED IN ALL MEDIA BY WARNER BROS.
For one night only Pinot's Palette, Naperville is offering a VERY SPECIAL EVENT!!! December 30th from 2:30 - 8 pm.
Join us for this 'Oz Themed' painting party, created and taught by our Pinot's Palette, Naperville studio and hosted by Paramount Theatre. After you finish painting your one-of-a-kind painting of Oz, we'll walk across the street to enjoy 'The Wizard of Oz live, on stage. This critically-acclaimed presentation is a 'must see' this holiday season!!!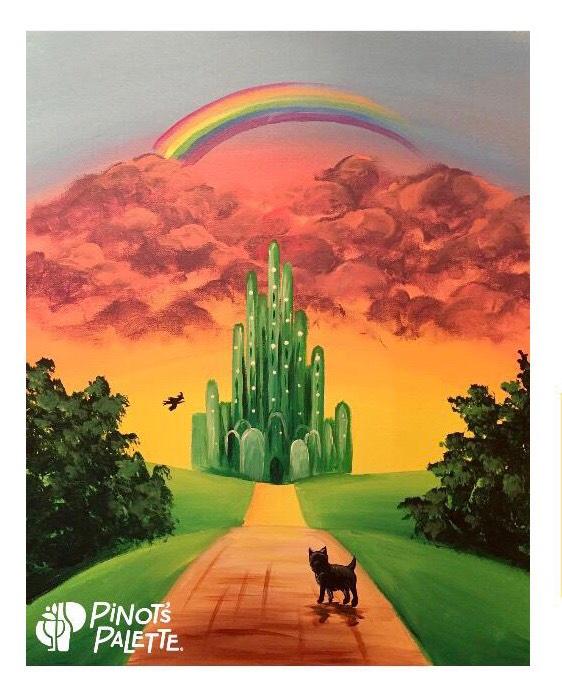 **This event is only $75 a person and includes the following:
-Painting Party Admission (**More than 20% saving off the regular price!)
-Painting Supplies
-One Wizard Of Oz at the Paramount Play Ticket (**More than 20% saving off the regular price!)
-Unforgettable Memories
-A Cash Bar
-Some (very) Light Snacks (*Please plan to eat beforehand)
*****ATTENTION: This will be a very popular event with limited capacity so we ask that you call and purchase by phone! Call us at: (630) 896-6666
You may have been to Oz before, but never like this… Stuck on a Kansas farm with her aunt, uncle and dog Toto, Dorothy Gale wishes for a better and more exciting life. When a twister hits, Dorothy is whisked away to the wonderful world of Oz, a fantastical place full of munchkins, a cowardly lion, a tin man with no heart, a living scarecrow … and a wicked witch that will do whatever it takes to stop Dorothy.
The paramount theater is taking you over the rainbow in what is sure to be one of our most talked about musicals yet. Thousands of families come through their doors each holiday season, and with the two-story Christmas tree and fully-decorated lobby, you can update your cherished memory of sharing the classic movie at home to sharing it all over again live on stage at the beautiful Paramount Theatre.
Since 1939, millions of people have been delighting in the characters, setting, story, and colors of 'The Wizard Of Oz'!!!
Photo Credit Liz Lauren
Painting Created by local Pinot's Palette Artist, Angela Morgan/
*20 Wonderfully Weird Facts About 'The Wizard Of Oz'
https://www....ising-trivia/
********************************************************************************************
We hope to see you all there, and remember to call and sign up for this event, ASAP, as spots will fill up FAST!
We are thrilled to be able to offer this combination of painting and The Wizard of Oz, live on stage, especially this time of year when everyone is looking for a great way to spend time with loved ones!
Join the fun and create this brand new painting (shown above), specially designed by one of our artists, Angela Morgan, for this event and have a stunning handmade work of art to take home as a souvenir! One of our instructors will walk you through the painting, step-by-step, encouraging and helping you the whole way through! First-time painters need not be afraid! We specialize in helping ANYONE learn how to paint and have had thousands of satisfied customers leave, proud of what they created!
After you spend time, getting in touch with your inner artist, walk over to view a timeless classic, remembering all of the magic and beauty that this film has to offer.
Take some time for you and your loved ones this season and enjoy this evening of fun, making artwork and memories that will last a lifetime!
Cheers!