Our Freestyle Afternoons Are BACK! Come Join The Fun!!!
Our Famous and Much-Loved 'Open Studio' Is Back At Pinot's Palette, Naperville!!!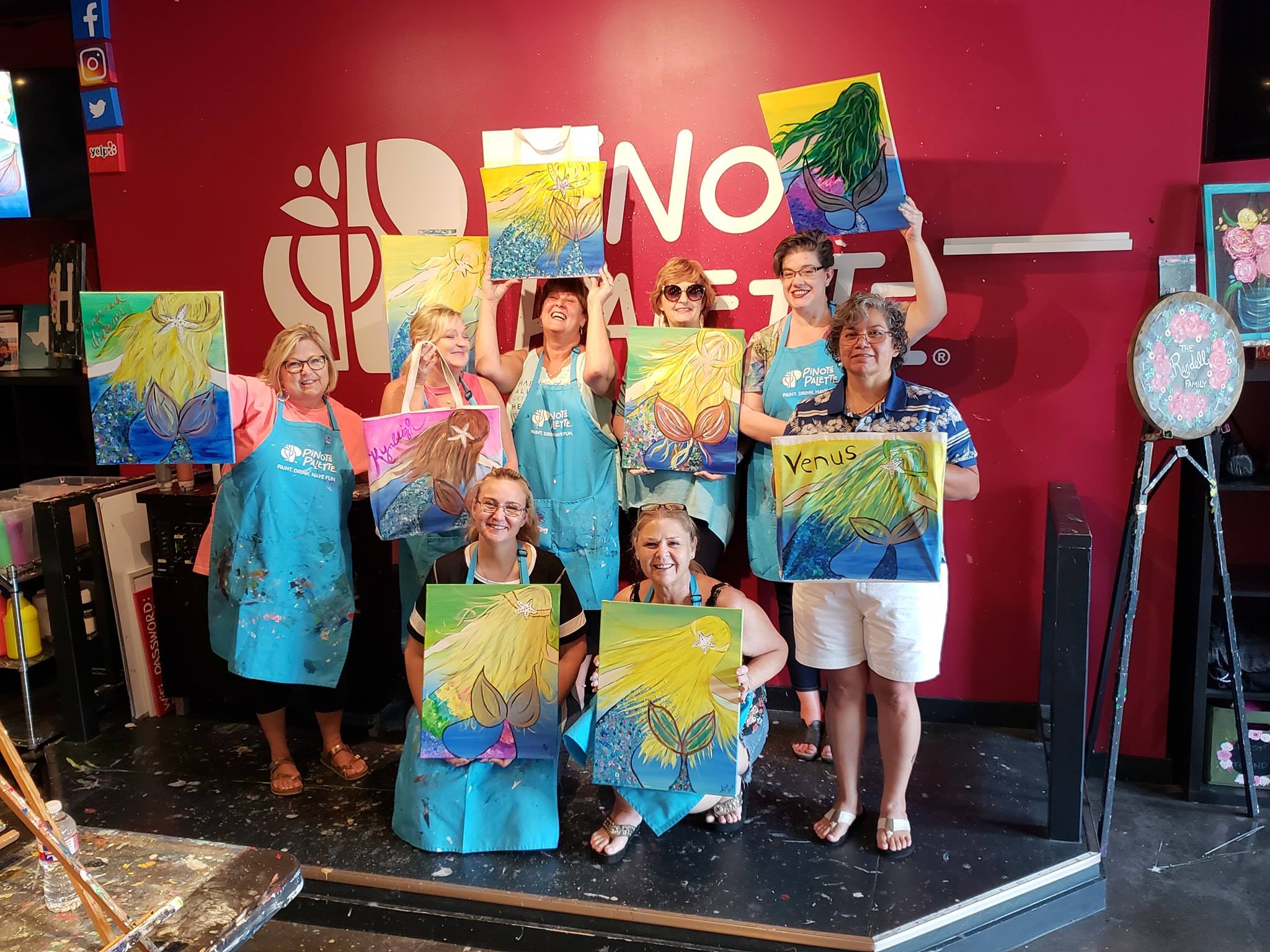 If you're in need of a break today or any day of the week, join us in the studio for an afternoon of painting! Do your own thing OR follow along with one of our Self-Guided Painting Instructions.
Freestyle Afternoons are designed for people looking for some unstructured creative things to do individually or with friends and family.
Sign-ups recommended, but not necessary; Walk-ins are welcome.
Come in anytime between 1:00pm and 5:00pm and paint alone or with friends and family!
*It takes about an hour to paint a small canvas and around two hours to paint a 16"x20" (our "standard" size). Relax and unwind for a while — You deserve it!
The price is excellent, too!
It's just $15 to paint a mini canvas (8"x8") and $25 for paint a larger one (the 16"x20" canvas). Paint your denim, wine glasses, or bottles, too! Anything goes at 'Open Studio"!
We have tons of self-guided paintings to choose from, so you can be sure there's something for everyone; From landscapes and foral paintings, to wine-themed artwork, holiday decor, and more, we've got it all!!!!!
Remember it's YOUR artwork, so anything you want to do, you can! I you love one of our paintings but want to change the colors to best fit withy our home's decor, that's easy enough to do. If you want to customize your painting with a quote, family name or initial, or date (etc), go for it! Anything you want to do to your artwork is possible, AND we're always here to help you with your vision!
That's Right - there will be artists available to assist you! We're here to get your supplies and help you with any questions you may have, including help on your painting.
For these in-studio events, just like ALL of our inperson classes, we're practicing all CDC recommenations and current social guidelines.
Masks are required, and we're limiting the seating, keeping groups six feet apart. We have a new OptiClean air filtration and purification system in the studio to clean and move the air.
We can't wait to see you SOON for some painting at the studio! Whether it's a Freestyle Afternoon or Evening event, a step-by-step class, or if you're jsut picking up supplies for a virtual event, we're the place for you! We've offer fun and unique ways to have a girls' nigh tout (or in), date night, family day, or just something fun to pass the time by yourself.
However you choose to utilize our classes, we've got your covered, and we're sure you'll have a great time!
If you aren't interested in coming out to the studio for an in-person freestyle class, our take-home kits are perfect for you!
With these all-inclusive kits, you can paint anywhere and anytime... anything you want! Just like our Open Studio classes, you can pick the painting you want to make, get the supplies from our studio, and then use the pre-recorded step-by-step instructions to make the masterpiece from the comfort and safety of your own home, anytime you want!
Learn more and shop:
https://www....perville/shop
We love so much about Downtown Naperville and we want to thank everyone for the support they've shown us, and other local businesses throughout these difficult times. While it hasn't been easy to navigate the ever-changing ways of the world, we've only been able to do so with you, our loyal customers. Thank you <3 <3
If you haven't already, be sure to follow us for the latest updates and pictures!
Facebook: Pinot's Palette Naperville
Instagram: PinotsPaletteNaperville
Twitter: NapervillePinot
Snapchat: NapervillePino