Meet The Artist: Korkut Akacik
"Pinot's Palette is a very refreshing, teaching, enjoyable experience to me, and I want be a part of it as long as I can."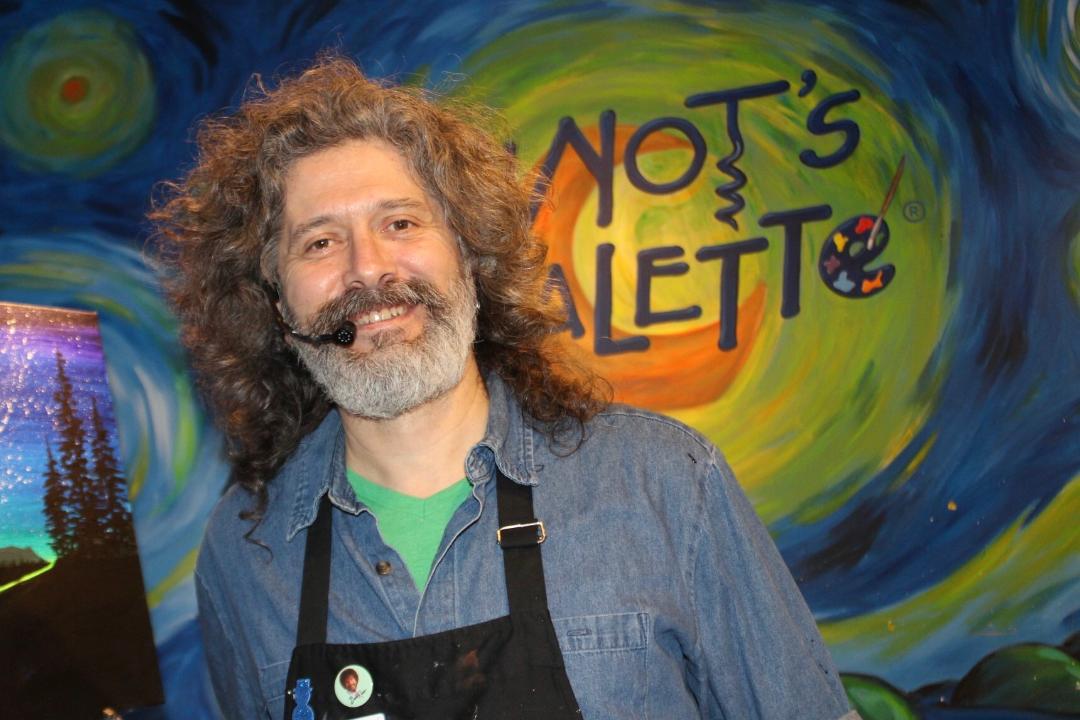 Here, at Pinot's Palette in Naperville, we have no shortage of amazing people on our staff! We're so lucky to have found each and every one of them and are thrilled to have them and their many talents, grace our studio. From teaching classes to pouring drinks, our team has a lot to offer customers, and we strive to ensure that each and every person who comes through our doors, has a wonderful time.
We have artists who work to explain each step of the painting to the customers, enabling them to bring out their inner-artist that many of them never knew they had; They are patient, encouraging, knowledgeable, and have had lots of experience working with first-time painters, so you can feel confident that they'll be able to help you with your masterpiece, too!
Our bartenders are able to talk with you about the various wine and beer we carry, making suggestions for you if you aren't sure of what you want to drink for the evening. They'll explain a little about the variety, let you taste it if you like, then pour you a glass (and keep it refilled, making your painting experience even more fun with the addition of some 'liquid creativity'!
The artist we'd like to introduce you to today, is no exception to our above-described "amazing team members" definition.
Korkut is a talented artist, a wonderful teacher, and an excellent person to have on our team, here at Pinot's Palette, Naperville!
Enjoy Korkut's bio:
"I was about 5 years old when I saw that animated stork that evening. We'd just passed across the Bosphorus on a boat from the European side to the Asian side of Istanbul with my Grandpa. The animated emblem of a national bank, a stork, was flying with it's animated neon lights. [Though this was a memorable moment, observing some lovely animation], it was not the moment that I decided to create animations; It was a hot summer, and I was walking to the grocery store. I was 9, maybe 10 and I found an 8mm film strip on the dusty walkway. Believe or not, it was it was about 15 frames of 'Woody the Woodpecker' cartoon!
After high school, I won the 'Mimar Sinan Fine Arts University' talent test [and won] first place. I eventually decided to major in 'Graphic Design.' At the end of my freshman year, I started working at an animation studio as an in-betweener, [moving from task to task, learning a lot and doing various things]. With my love of the animation and hard work, I started making some episodes as a lead animator!
A couple of years later I was a freelancer, working on animated advertisement films and also founded two companies. I created a lot of things for advertisement companies, such as storyboards, concept boards, character designs, illustrations, and animations.
Fast forward to me at the age of 45, I pursued seeking an MFA degree in the US.
I was accepted to Time Arts department at the Northern Illinois University.
Through my education at the corn town DeKalb, I had several solo and group shows. In 2014, I was awarded with Juror's Choice at the Annual Juried Blick Art Materials Awards (Nova Exhibition). That piece gave me the chance to help one of the diverse orchestras in the world, 'Chicago Sinfonietta'. I eventually started creating characters for Econ Illinois, for their financial literacy program aiming K-12 students in Illinois State. After my graduation in May 2018, I saw a job opening at Pinot's Palette in Naperville. I sent a well-designed cover letter as an email to the owner, Pamela Bartlett. I received her response in 30 minutes: "Let's meet tomorrow!"
I do not believe in coincidences... We all are building our future by our actions. In addition to Pinot's Palette, I started teaching two art courses at College of DuPage at fall 2018 semester.
Being a member of Pinot's Palette has been a great experience for me; To be on the stage, instructing people who have never painted in their life, helping other team members, and learning a lot from them about the system [is rewarding and exciting]. Every class is a new adventure. The energy of our environment pumps me up each time I teach or assist. Pam is an incredible person to work with, as she, herself is hard-working, supportive, and always looking for the best.
Pinot's Palette is a very refreshing, teaching, enjoyable experience to me, and I want be a part of it as long as I can."
— Korkut Akacik
**It's "Korkut Akaçık" with Turkish alphabet :)
We hope to see you soon for a painting and wine class at our studio! You might get lucky and find that Korkut is your artist for the evening (or even your assistant). So gather your friends and family together to one out and make some fabulous artwork and long-lasting memories at out studio as you paint, drink, and have so much fun! Check out our calendar at the bottom of the page to see all of the wonderful classes we're offering throughout the next few weeks!
Cheers!