Looking For A Great Deal For Our Painting And Wine Classes This Season? We've Got You Covered!
Get all your favorite people in one place to paint, drink and be merry!
We've made it easy: Book 5 seats, get 1 free – good for any regular public event in December.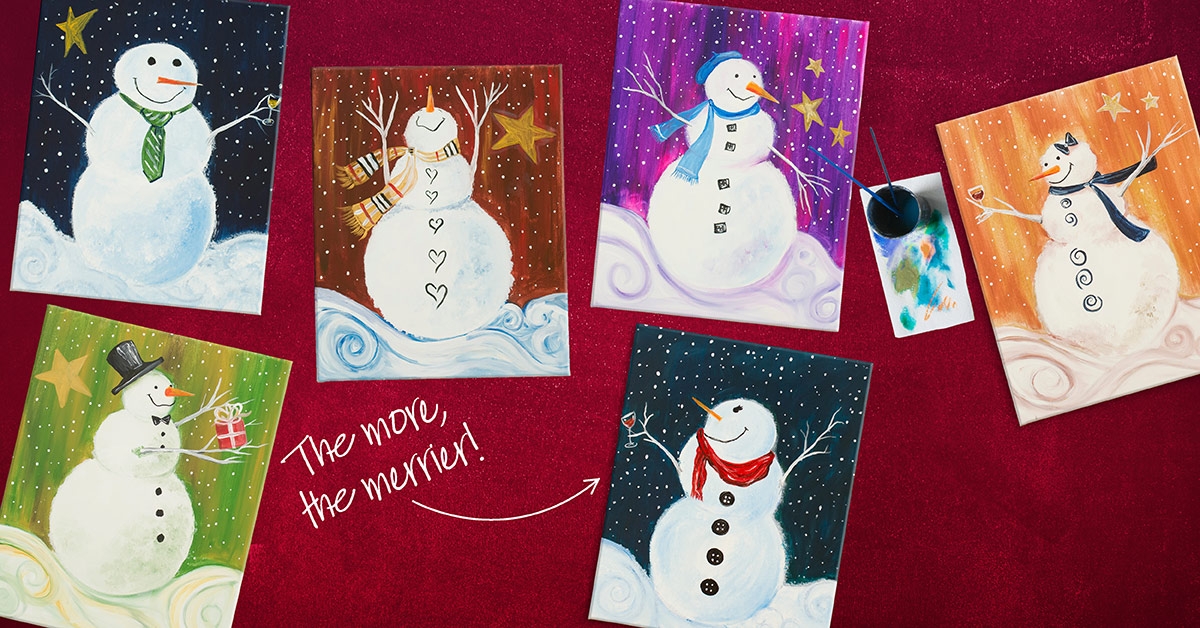 This is the perfect time of year to spend time with friends as you catch up, drink wine, get creative! Our classes are always a great experience to share with loved ones as you paint and drink wine in a fun environment, but this season tends to be one of the best times to do that! Our calendar is filled with fabulous holiday and seasonally-inspired artwork which are wonderful to make and hang in your home, adding joy and happiness to your walls!
Throughout all of December, we're offering a spectacular deal that you and all of your loves ones should take advantage of!
It's called, 'The More, The Merrier' and the code will be active, starting December 1st!
Discount code to be applied at checkout is: VERYMERRY
When you buy 5 seats you get the 6th one FREE!
HERE'S WHAT WE'LL DO FOR YOUR PAINT PARTY:
• We'll make sure your whole group gets seated together.
• We'll play the best music.
• We'll provide the glasses, the ice, the aprons, the art supplies, and pretty much everything. (But check with your studio to see if it has a bar or if it's BYOB!)
• We'll let you use the VERYMERRY discount each and every time your group of 6+ goes to a December event!
DISCOUNT CODE DETAILS:
• It's valid for regular, public events in December 2018 only (i.e., not for private paint parties or specialty painting events like Project Pet).
• Please complete a single transaction for 6+ seats (i.e., buy all your seats at the same time).
• Can't be combined with other discounts or promotions (but you can use VERYMERRY multiple times for one event if you've got a group of 12 or more).
• Can't be used to buy gift certificates, frames, stemware or other merchandise (but you can still include these items in your order).
Time to get on it! Call your favorite people and find a painting you all love at a Pinot's Palette studio near you.
Don't forget to use discount code VERYMERRY at checkout!
We look forward to seeing you this season as you and your loved ones come in to make some masterpieces!
Remember to take advantage of our special and tell everyone you know about this deal so you can come in and paint together… Remember, the more the merrier!
Cheers!
Share View the full schedule HERE | Purchase a gift certificate!