Kids' Summer Camp At Pinot's Palette, Naperville!!! What's It All About?!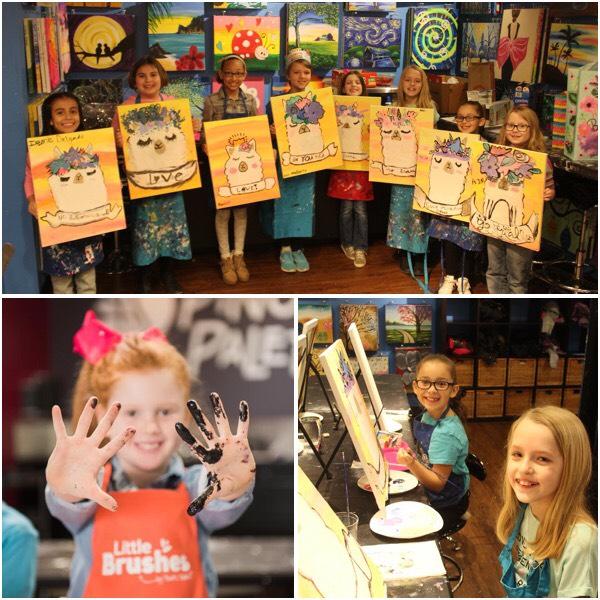 Throughout the past few years, we've been hosting a summer camp at our studio for kids! It has been widly-successful, so of course we're bringing it back for Summer 2019!!!
Though our studio is best known for our 21 and up painting and wine classes, we've also been offering art for the younger customers, since our opening in 2013! It's amazing to work with people of all ages and see the various approaches everyone takes to their art. Just about 100% of the time, the little ones are eager to dive into their art and just have fun, living in the moment, as they create their masterpiece!
As adults, we typically tend to overthink, doubt our abilities, and care what other people will think of our work; The great thing about the younger crowd is that they are just eager to create something and so proud of it when they're done! It's really a sight to see and the bonus of watching young minds as work (often times, creating very 'outside-the-box' art) is incredible!
Giving the kids something to do during the long Summer break, especially when it's something that puts their minds to good use, is always a good idea! From camps and classes, to vacations and time with family & friends, Summer is the best time to do all of the things you don't have time for during the busy school year; So bring the kiddos out for some painting fun and join us for a week-long celebration at Pinot't Palette!
— — What's Our Summer Camp All About??? — —
If you're looking for a fun and creative outlet for your little artist, then Little Brushes has exactly what you are looking for! At Little Brushes we offer a fun-filled party atmosphere where your little artists can have a blast creating their own masterpieces. From painting to crafting and everything in between Little Brushes fosters a friendly and collaborative environment, providing everything your little artist will need to bring out their creative spirit.
***For ages: 7-12
***The Dates: June 24-28, 2019
***Time: 10:30 - 2:30 PM, each day
Kids can paint just the painting from 10:30 - 12:30 or bring their lunch and stay for an afternoon of crafts until 2:30.
***The Activities: We'll be painting, crafting, and more as we encourage young minds to find their inner-artists as they bond with others their age and make some wonderful masterpieces!
Bring your lunch and we'll supply drinks and a snack. Come one day or every day this week, we'll provide the FUN! Limited to 35 seats.
*The painting selections for the camp will be available soon!!!
(We get new paintings every week, so we will wait until a month prior to make our selections.)
***DAY CLASS*** Each day we will feature one of our paintings in the morning, break for lunch and then continue into the afternoon with a unique craft. We'll have different activities each day, so you can sign up for one day, or come all week! Little Brushes will be lead by professional artists specialized in children's art education.
***The Cost:
$200 for the full week, $50 per day!
$30 to paint just the two-hour painting. Please enter the code Camp18 to take $20 off the full day camp. Parents and sitters can paint, too!
***Save money: Register for the full week and save $10/day!
***Give us a call at 331-457-5440 to ask about sibling discounts!
Remember that seats are limited, so be sure to sign up, ASAP for this special camp! The kids will benefit so much from spending time with others their age, using their creative minds, and making some artwork and memories that'll last forever!
"Great concept.. The artist made the painting process very easy and understandable. The music was upbeat and the atmosphere was just fun. Loved every minute."
-Rene S.