Introducing Our Summer Kids' Camp!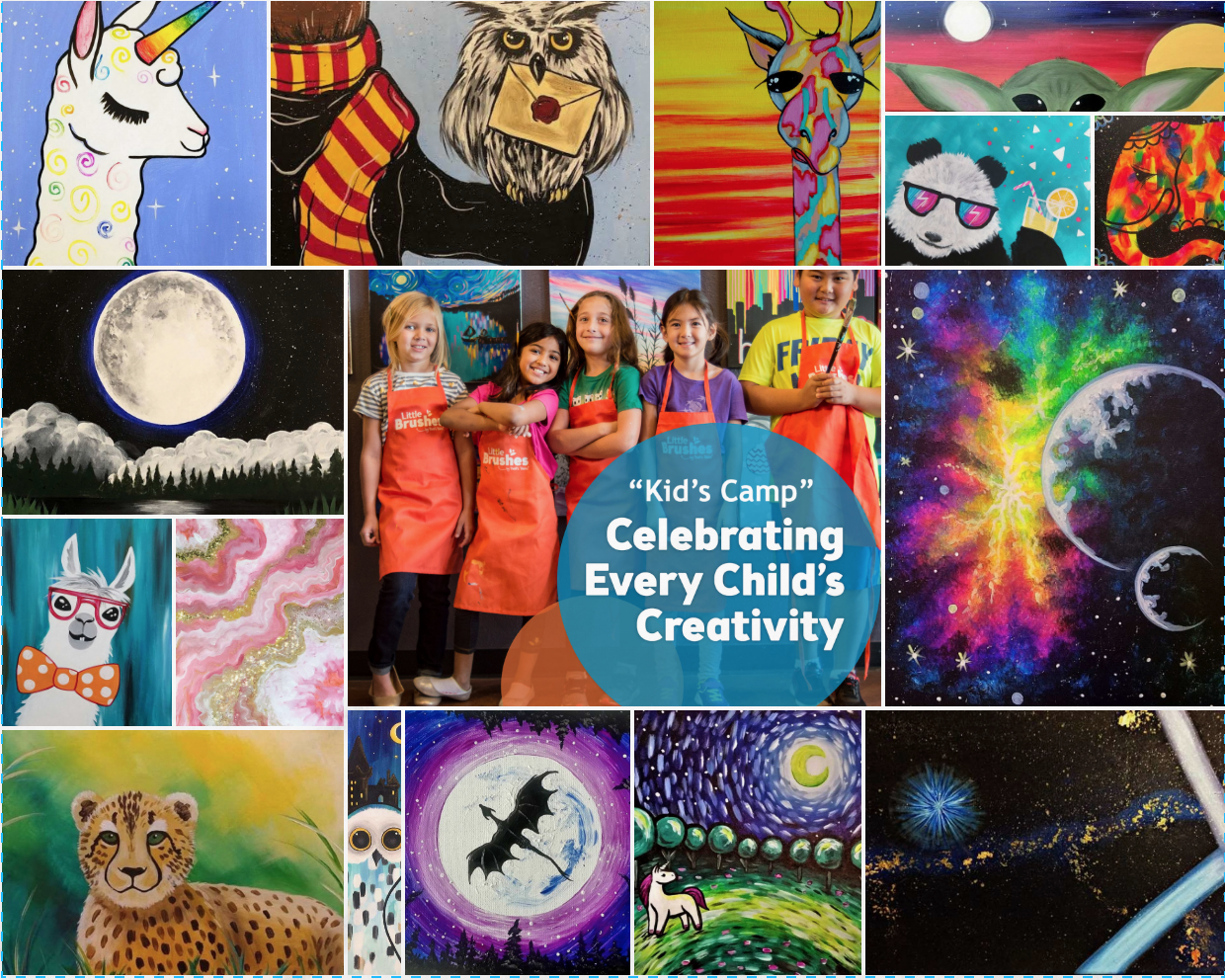 If you're looking for a fun and creative outlet for your little artists, ages 7-12, our 'Little Brushes' Art Classes have exactly what you're looking for!
At 'Little Brushes', we offer a fun-filled party atmosphere where your little artists can have a blast creating their own masterpieces.
From painting to crafting and everything in between, 'Little Brushes' fosters a friendly and collaborative environment, providing everything your little artist will need to bring out their creative spirit.
Bring your lunch and we'll supply drinks and a snack. Come one day or every day this week, we'll provide the FUN!
Classes are limited to 35 seats, so be sure to sign up, ASAP, to ensure your little one (and their siblings + friends) get spots in the classes of their choice!
Each day, we will feature one of our paintings in the morning, break for lunch and then continue into the afternoon with a unique craft.
We'll have different activities each day, so you can sign up for one day, or come all week!
Our 'Little Brushes' classes are lead by professional artists who are specialized in children's art education, so your little one will be getting a truly wonderful experience. :)
Register for the full week and save $10/day!
$30 to paint just the two-hour painting. Please enter the code Camp18 to take $20 off the full day camp. Parents and sitters can paint, too!
((The best deal is to sign up for ALL of the days (M-F) of the camp. This way, your child will be introduced to several styles of art, and get to make 5 different masterpieces!))
Check out our event calendar to see the full week of paintings. Kids can paint just the painting from 10:30 - 12:30 or bring their lunch and stay for an afternoon of crafts until 2:30.
(*) Give us a call at 331-457-5440 to ask about sibling discounts!
______________________________________________________________________________
Let's Introduce You To The Camps:
— JUNE CAMP —
*** SPACE CAMP ***
June 15-19th, 2020, 10:30 AM - 2:30 PM
Monday, June 15th
'The Light Of Child'
This extraterrestrial baby is OUT-OF-THIS-WORLD!
"Time is not at all what it seems. It does not flow in only one direction, and the future exists simultaneously with the past"— Albert Einstein
https://www..../event/422719
Tuesday, June 16th
'Extraterrestrial'
Go beyond your imagination and paint this piece in the dark (it glows in the black light!) or paint it in the light of day for a bright stellar time. A wonderful opportunity to hang several canvases together for a large art display. Easy to customize.
https://www..../event/422720
Wednesday, June 13th
'Dazzling Geode'
Choose your own color palette and we will guide you through creating your own geode! This is the perfect class for glitter lovers!!
https://www..../event/422721
Thursday, June 18th
'Abstract Forces'
For movie and pop-culture lovers! A simply beautiful abstract masterpiece that May be a bit on the Dark Side but there's always a more positive Force in the light.
https://www..../event/424120
Friday, June 19th
'Under A Starry Sky'
A simple, beautiful view of the moon and clouds in a night sky.
https://www..../event/422722
— JULY CAMP —
*** MAGIC WEEK ***
July 13-17, 2020, 10:30 AM - 2:30 PM
Monday, July 13th
'Starry Night Unicorn'
Bringing two of our favorite themes together in one magical painting, Van Gogh and Unicorns!
https://www..../event/422774
Tuesday, July 14th
'Legendary Llamacorn'
The elusive llamacorn has been spotted!
https://www..../event/422775
Wednesday, July 15th
'Magical Snowy Owl'
Join us for this fun painting while we create our own wizardly owl and castle scene.
"We do not need magic to change the world, we carry all the power we need inside ourselves already: We have the power to imagine better."
https://www..../event/422776
Thursday, July 16th
'You've Got Magical Mail'
You've received magical mail from your favorite feathered friend! Customize your painting by changing the hair, the colors of your scarf, or the feathers of your owl.
https://www..../event/422777
Friday, July 17th
'Moonlit Dragon'
Gazing up at the night sky, a dragon takes flight in the night, over a sky of stars and a shining moon.
https://www..../event/422813
— AUGUST CAMP —
*** ZOO WEEK ***
August 3-7, 2020, 10:30 AM - 2:30 PM
Monday, August 3rd
'Ele-FUN-ky'
Party it up and get Ele-FUN-ky! This kaleidoscope of colors is easily customized and in black-light or regular light is sure to be a great painting for your home.
https://www..../event/423624
Tuesday, August 4th
'Pandastic Days'
What can be better than a glass of fresh lemonade on a hot summer day? Painting a Panda with sunglasses of course! Have a Pandastic day painting this fun and colorful painting :)
https://www..../event/423627
Wednesday, August 5th
'Jolly Giraffy At Dusk'
A whimsical giraffe with vibrant colors and a sweet disposition that would be perfect for both children and adults.
https://www..../event/423628
Thursday, August 6th
'Spot Your Spots'
This adorable cheetah cub is spotted in the Savannah! She's just chillin in the peaceful sunshine.
https://www..../event/423629
Friday, August 7th
'No Prob-Llama'
Creating this painting is no Prob-Llama! Fun for all ages, this little cutie is sure to create some giggles and an all-around great time.
https://www..../event/423630