If You're Looking For A Galentine's Day Celebration, Pinot's Palette Is The Place To Be
Grab your girls and join us for a fabulous celebration on February 13th… Galentine's Day!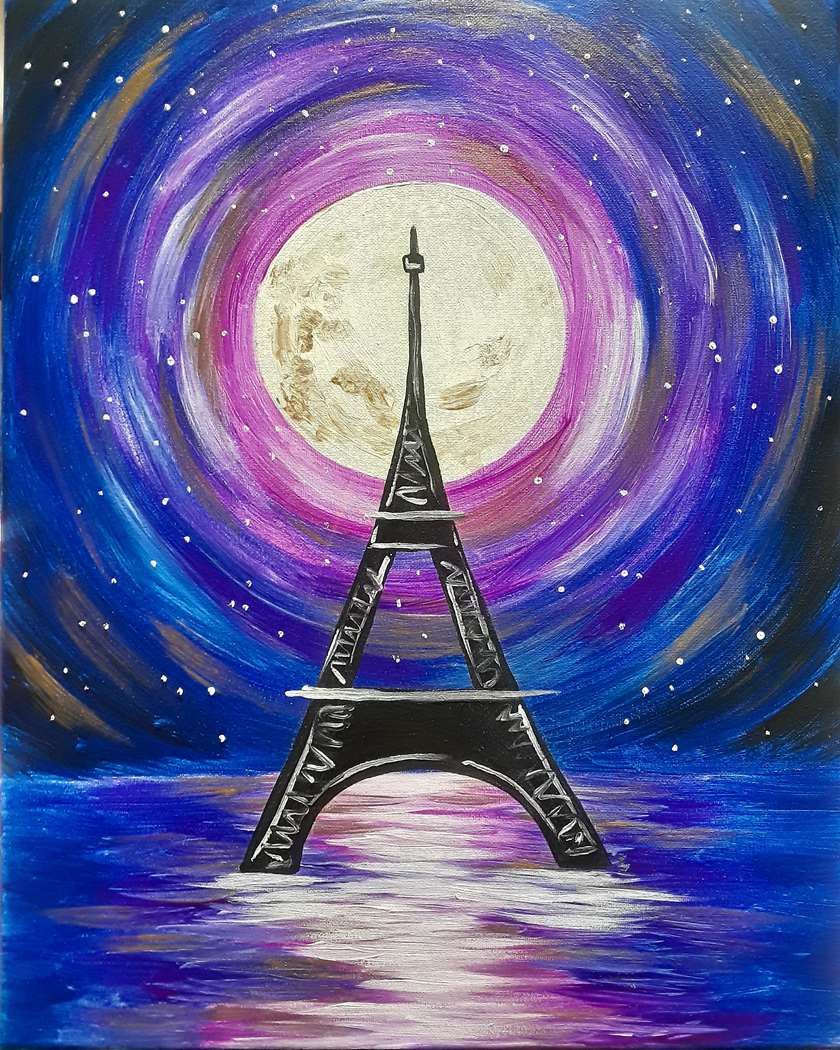 For the past decade, Galentine's Day has been celebrated by women across the country, and we firmly believe it's the best "made up" holiday on the calendar!
It's a day for celebrating the love you have for your lady friends, whether they're single or not. Basically, it's a day dedicated to showering your closest friends with love and attention...more than you do every other day.
How can you not love that?!
We certainly do and we're throwing a Galentine's Day party for you and your friends to show how much we appreciate this special day!
***** JOIN US *****
Thursday, February 13th is Galentine's Day!
We'll be painting 'Paris In Moonlight' from 7-9:00pm
and we want you and your friends to join in the fun!
On an evening stroll through Paris, view the Eiffel Tower on full, shimmery display.
This breathtaking painting of the Eiffel Tower in the glowing moonlight is fun to make and will look gorgeous in any room!
The vibrant colors of the night sky, filled with violet, cobalt blue, and fuchsia beam around the bright glow of the full moon.
In the center of the painting in the Eiffel Tower, the beacon of love and hope in the most romantic city in the world, Paris.
You and your bffs, roomies, sisters, cousins, mom friends, book club ladies, and any of the other women in your life will LOVE to spend time together on a day that's all about women celebrating and supporting other women: Galentine's Day.
Keep in mind that while we will be walking you through the paining you see in the photo above, colors and all, YOU are in charge of your creative experience! If you want to change the colors, add a name, date, or quote (or anything else), well that's perfect! Go right ahead!
We're all about you getting in touch with their inner-artist and letting the painting move you; Don't be afraid to try new things and remember that if it's your first time painting, that's what we're here for! We'll help you out whenever you need it, and we firmly stand by the belief that anyone can paint!
This Galentine's Day, make some memories AND masterpieces at a painting and wine class at Pinot's Palette in Naperville! The best thing about our classes is that you get to leave with a hand-painted souvenir to always remember your fun night by, as well as the friends that were there with you.
We hope to see you and your girls this Feb. 13th and be sure to check out ALL of the amazing classes we're offering throughout the rest of January and all of February. We've got some great ones!
Happy Galentine's Day!
____________________________________________________________
If you're looking for a fun night out with that special someone on February 14th, we have some great classes on the calendar for Valentine's Day, too!
JOIN US on Feb. 14th:
Class 1: 'Moonlight Romance'
A sparkling, romantic night time scene that is fun and easy to recreate. Just remember, "When the world seems to shine like you've had too much wine, that's amore."
This painting can be painted across two canvases for a "Date Night" or paint on a single canvas.
https://www..../event/407500
Class 2: 'Van Gogh's Love Blossoms'
Fall in love all over again while painting this heart shaped cherry blossom tree with your honey. This unique diptych is inspired by the iconic cherry blossom color studies of Van Gogh. <3
https://www..../event/397565
Class 3: 'Northern Love Lights'
Celebrate your love with us! Paint this beautiful lake full of reflections of the aurora filled night sky.
https://www..../event/402613
_______________________________________________________________
AND MORE Classes On Sat. 2/16
If a Saturday Valentine's Celebration is better for you:
1. Open Studio- Paint what you want!
https://www..../event/397567
2. 'Paris Rendezvous'
https://www..../event/397568
3. 'Starry Valetine Kiss'
https://www..../event/397588
4. 'Starry Night By The Lake'
*Date Night (2 canvas painting)
https://www..../event/407498
Share View the full calendar here | Buy a gift certificate for your Valentine!