Happy Birthday, HP! What Are We Doing To Celebrate Our Favorite Wizard's Special Day?!
July 31st is HP's bday and we can't wait to celebrate!!!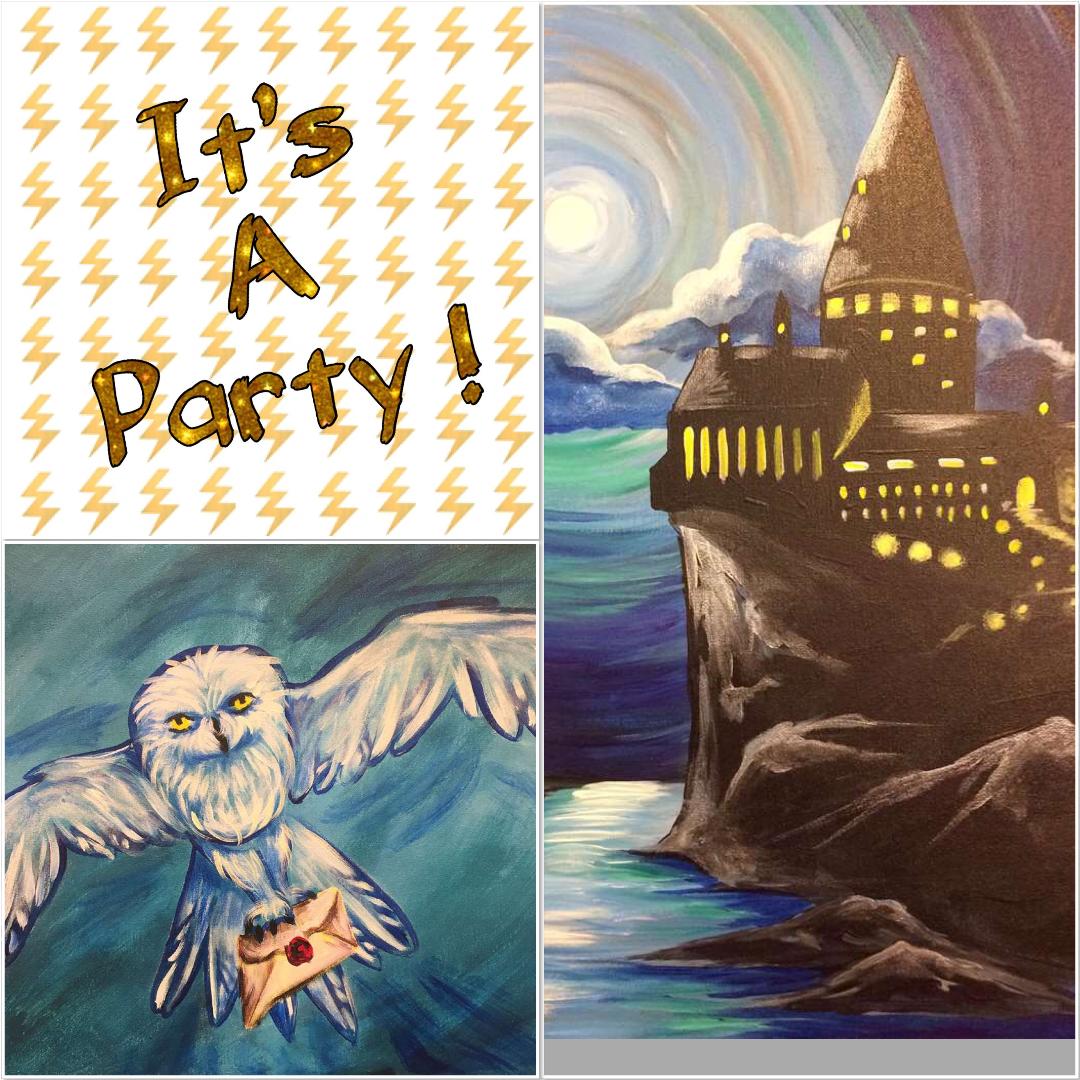 Harry will be turning 39 this summer and we always do something to honor his special day! This year, we're celebrating on his actual birthday with TWO classes!!!
Join us on Wednesday, July 31 for one (OR both!) of these paintings where you'll get to combine your love of wine, friends, creativity, and wizardry for a fabulous experience you won't want to miss!
One thing we know for sure is how much our customers LOVE a HP-themed event… We offer these magical paintings all throughout the year, and they're always packed with fans, ready to create some masterpieces. Check out our calendar each month to see what new paintings (and sometimes, other HP artwork) is up!
Whether you paint or not, you're going to love our class experience, no matter your skill-level! One of our talented and helpful instructors will walk you through the paintings, step-by-step, encouraging you the whole time. All of your paintings supplies are included, and remember we have a large selection of wine and beer (or 'Liquid creativity') for purchase.
! ! ! And remember, the more the merrier, so INVITE EVERYONE ! ! !
Keep our Summer Sale in mind for these special classes (or any others this July and August)
* Special offer: Book 3 seats, get the 4th free!
Good for any regularly priced , public event this summer.
Use promo code SUMMERVIBE at checkout.
*** SO, WHAT ARE WE DOING TO CELEBRATE OUR FAVORITE WIZARD'S SPECIAL DAY?! ***
July 31st -- Class 1 (1-3pm)
'Wizard Mail'
Across the darkening sky, a precious communication is winging it's way towards you - safe in the mighty owl's talons!
*Sign up:
https://www..../event/345618
July 31st -- Class 2 (6:30-9:30pm)
'The Painting That Must Not Be Named'
"But you know, happiness can be found even in the darkest of times, if one only remembers to turn on the light." J. K. Rowling
*Sign up:
https://www..../event/345600
— WIZARDS UNITE ™ — A Fun and Interactive Game For The Ultimate Fan!!! *** Check it out!
"Harry Potter™, Wizards Unite is a real-world augmented reality (AR) game inspired by the Wizarding World that puts magic in your hands. Like Pokemon Go™, Wizards Unite uses Google mapping to make it look like characters are appearing in the real world. Players see characters, creatures and other elements overlaid on the landscape that they see through their phone's camera as they move around.
Magic is out in the open and on the loose, and it's up to you as the player to hide it and cover it up before muggles (non-magic folk) see it and figure out what's going on. Once you download the game, you will be able to establish yourself as an official member of the wizarding world and the Statute of Secrecy Task Force.
Basically, you walk around the real world, and through your phone, you interact with Augmented Reality elements. Players can discover artefacts, cast spells and encounter characters from the Potter films and prequel movie series 'Fantastic Beasts and Where to Find Them,' the developers said.
The creators of mobile gaming phenomenon Pokemon Go unleashed a new game that features Harry Potter and other characters from the wizarding world made famous in best-selling books and blockbuster movies.
Pokemon Go exploded after its introduction in 2016, sending players into city streets, offices, parks and restaurants to search for colourful animated characters."
(*Note: All above quoted summaries of this game are borrowed from 'Gulf News Entertainment', an online news source, with which we are not affiliated)
***All about this fun and trending game:
https://www....ardsunite.com
We hope to see you all this July 31 (or for any of our other classes) where you'll paint, drink, and have so much fun painting something with a personal message like the wizard-themed masterpieces!
Cheers!
Share Fun info about why HP's Bday is on 7/31 | View our full class schedule