Brush Up On Your 'Bob Ross' Facts! We're Hosting A SUPER FUN Trivia Night!!!
Chances are, you've seen one of Bob Ross's famous painting shows, from his popular series, "The Joy of Painting". If you've never had the pleasure of watching part of the show, you've, undoubtedly, heard about him and his "happy little trees"!!!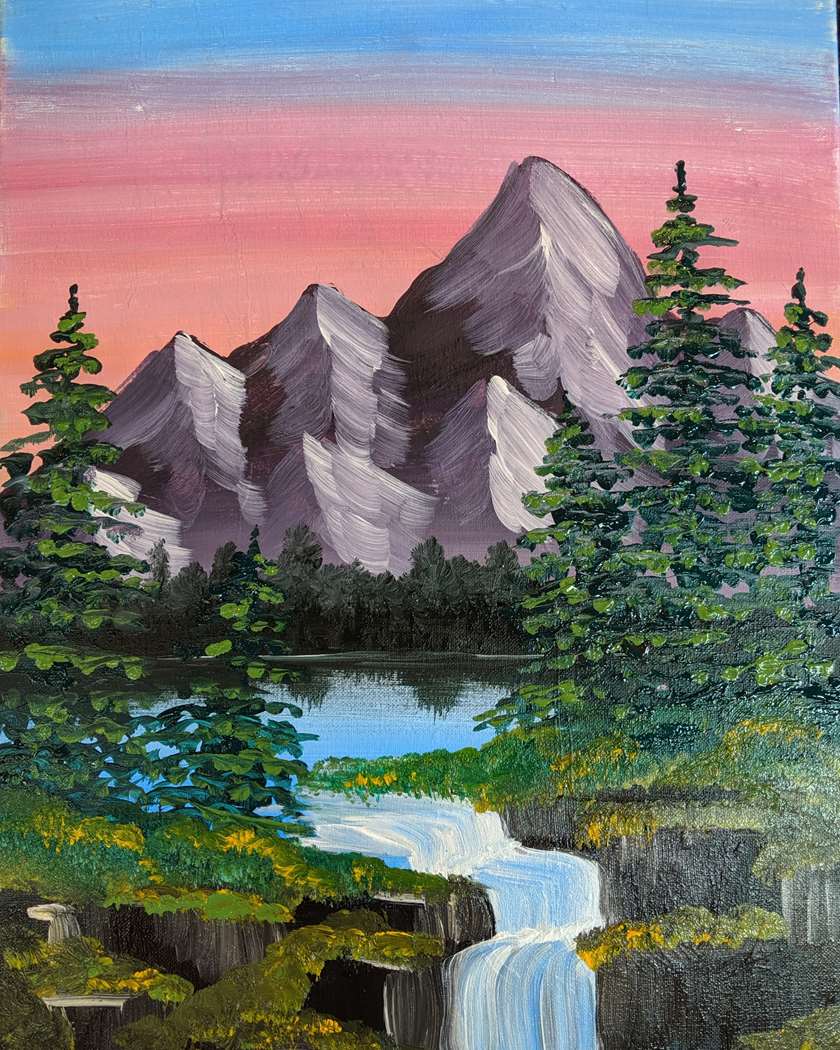 Bob Ross, an iconic artist in the 80's, stole the heart of America with his show, 'The Joy of Painting', a live television program on PBS, where Bob would complete an entire painting in an hour or less.
Although Bob encouraged viewers to paint along with him, less than 10% actually did. America tuned in just to see Bob and his calming demeanor, along with his "fantastic little paintings" and his "happy trees".
Essentially, Bob Ross was the pioneer for the Paint and Sip industry we now have today! As we create a painting combining landscapes familiar to his television audiences, we will be learning about different styles of brushes and his "wet on wet" technique. Throughout the 10 years his show aired, he was able to reach out to millions of viewers, helping them to find some peace in their day while watching the show, and even helping to inspire artists in many ways! *Reruns are still aired in PBS and can even be found on Netflix! Check them out!!!!
Ross built a $15 million business, selling his line of art supplies and how-to books, and marketing painting classes taught by instructors trained in the "Bob Ross method". All of his income, he said, was derived from those sources; all of his paintings, including those created during his shows, were donated to PBS stations.
Ross also filmed wildlife, squirrels in particular, usually in his garden, and he would often take in injured or abandoned squirrels and other animals. Small animals often appeared on his Joy of Painting canvasses.
We'll save the Bob Ross information researching for you as you brush up on your knowledge of this iconic artist in preparation for the trivia class... but, we've provided a link to some fun facts at the bottom of the page, and when you come to this fun event, you're sure to learn some great things about Bob!
***** JOIN US FOR THIS SPECIAL EVENT *****
Friday, August 9th
We'll be painting, 'Foothill Falls'
Create a gorgeous mountainside waterfall.
Join us for this new, fun painting and some Bob Ross Trivia!!!
Feel free to dress the part, too.
And best of all? There will be prizes!!! Yay!
Sign up for this event:
https://www..../event/345482
***************************************************************************
!!! And remember to invite your friends and family along to this special event and any other classes you're interested in this month! We're offering a special deal, where it's the more, the merrier…
Buy 3 seats and get the 4th free! Learn more about this deal here:
https://www....atsitallabout
This isn't the only painting in our library that Mr. Bob Ross would approve of! Since he was such a fan of painting calming pictures and landscapes we've got tons of them in our library; Paintings likes mountainscapes, lakes, skyscapes, snowy winter scenes, and more are always popping up on our schedule so be sure to check it constantly to see the new classes we're offering!!!
Other soothing, lovely landscapes coming up this month, include:
8/11 Baja Beach:
https://www..../event/345458
8/17 Stardust River:
https://www..../event/332785
8/20 Heart In The Sand:
https://www..../event/345485
8/23 Aurora Over The Mountains:
https://www..../event/345470
8/24 Paradise Sunset:
https://www..../event/345504
8/27 Star Gazing:
https://www..../event/345496
Share Fun and interesting facts about Bob Ross | View our full class schedule!