The Greatest Boy Wizard In The World Has A Birthday Coming Up And We're Looking To Celebrate In A Very Fun Way!!!
Our favorite wizard has a birthday coming up on July 31 and we're celebrating in the way we know best: with some fabulous paintings!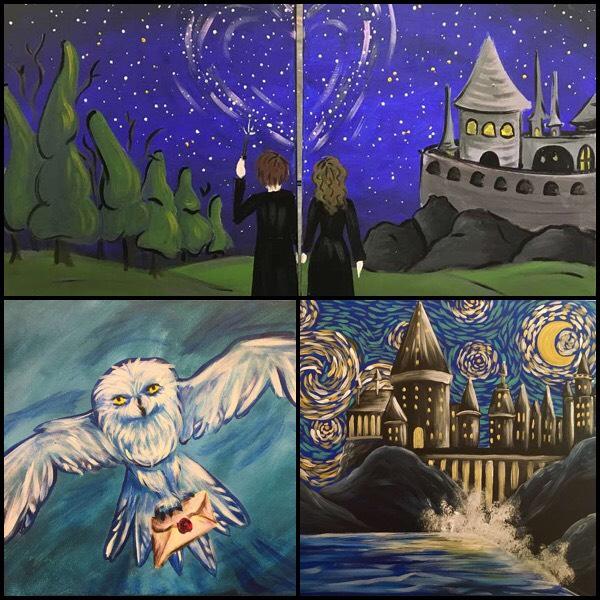 Join us for some of the amazing classes we've got coming up, with paintings specifically designed for the Potter-lovers out there! From owls with mail to magical castles and even a date night painting, we've got something for everyone and we can't wait to see you all!
Whichever house you may be sorted into, we're all coming together this weekend (and into next week) to celebrate something big! This book/movie franchise has been touching hearts and changing lives for decades and we want to pay tribute to that in a fun and unique way. We hope you'll all join in for the fun… and remember that these paintings are some of our most popular ones, so be sure to sign up ASAP!!!
Here's what's coming up for this special day:
(1) July 28, 'Wizard Mail'
Bring The Family!
Across the darkening sky, a precious communication is winging it's way towards you - safe in the mighty owl's talons!
On July 24, 1991, one special wizard received his first letter and we're honoring that special day with a painting that works perfectly for the occasion. If you love the book/movie series, then this will be the perfect masterpiece for you to create with the whole family!
*Sign up:
https://www..../event/255626
(2) July 28, 'Charmed Date Night'
Maybe you put a spell on me, or maybe it's written in the stars…
We're creating a painting of a lovely starry night, featuring a royal blue and deep green setting and a magical castle in the distance. Paint a wizard on each canvas, repressing you and your "date" as you star at the star-filled sky, together. Customize the wizards' gender, hair and skin color, and more to make it extra meaningful to you.
HP Fans - Paint on one canvas or across two for a "date night" painting. Our date night classes are so much fun for you and your date, whether it's a significant other, roomie, bff, parent/child, or another special someone in your life.
*Sign up:
https://www..../event/256000
(3) July 31, 'Open Studio'
Open House and Self Guided Paintings - No sign up necessary.
$15 to paint a Mini 8x8. $25 to paint a larger 16x20 canvas. You can also create painted wine glasses.
We have 30 self-guided paintings to choose from. There will be artists available to assist you. Children welcome.
If you're loving the wizard-themed paintings but aren't able to attend one of our guided classes during this time, stop in for the Open Studio event and create one, on your own!
*Sign up:
https://www..../event/256730
(4) July 31, 'Starry Night Wizard's Castle'
This painting will be perfect for any wizard that wants to combine a famous painting with a famous book. This is one of our most popular paintings by far! Merging two of our customers' favorites: Van Gogh and the wizard book-series that must not be named, this painting is a home run for anyone of any age and will look fabulous in any room of your house! The dark sky, water, and castle are lit up by the bright stars, moon, and lights all around, creating a stunning color palette and tons of texture with the brushstrokes, covering the sky! Come in and get in touch with your inner-Van Gogh and inner-wizard to create a handmade work of art that is truly original and creative!
*Sign up:
https://www..../event/247138
In addition to these fabulous, themed classes, we're always offering a wide variety of paintings so you're sure to find something for everyone! From landscapes and floral paintings to ones with animals, people, and wine bottles, we've got a huge selection to choose from. Gather all of your friends and family together to make some special artwork because trying something new (especially making some artwork in a fun and creative environment) is always better with loved ones around! We enjoy offering paintings that our customers can create and hang in their home, updating their decor from time to time and having some handmade creations in their living space! A handmade work of art is always a stellar conversation starter so we hope you find many great paintings that you want to make, come in and enjoy crating them, and then proudly hang them up (or give them out as gifts) for all to see!
We hope to see you soon for a class at our studio if you're looking for something fun to do in or around the Naperville area for this wizard's special birthday! We're a great spot to visit for everything from a fun and unique date night, an awesome girls' night out experience, and we even offer private events! When you view our classes on our website, you'll be viewing our schedule for our public classes, but you can also book a painting party with the guest list of your choice! Come in to celebrate a birthday, bridal shower, reunion, retirement, and more with friends and family, sharing their artistic sides, together. Make memories that will last a lifetime with a souvenir to treasure forever with one our classes.
*Learn more about our private parties, here:
https://www....ivate-parties
We also play host to tons of corporate events, too! Why not book your next work party or team building event with us? We offer several styles of paintings that incorporate team building strategies, encouraging the whole office to work together, creating a stunning world of art!
*Read more about corporate events, here:
https://www....porate-events
Finally, in addition to out studio parties, we offer mobile events, off-site! You choose the location and we'll come to you with all of the supplies!
*Learn more about out mobile events, here:
https://www....porate-events
Share View our full calendar here! | Purchase a gift certificate!