Pick Your Painting Contests!
What's all this hype with the new Pinot's Palette contest you ask? Well, we saw how many people were having a blast and snapping photos during our classes here at Pinot's and we realized this couldn't be the only place people captured great memories in a photo!! So we decided that we wanted to see some of the other great photos and even give out a reward to thank you for sharing them with us!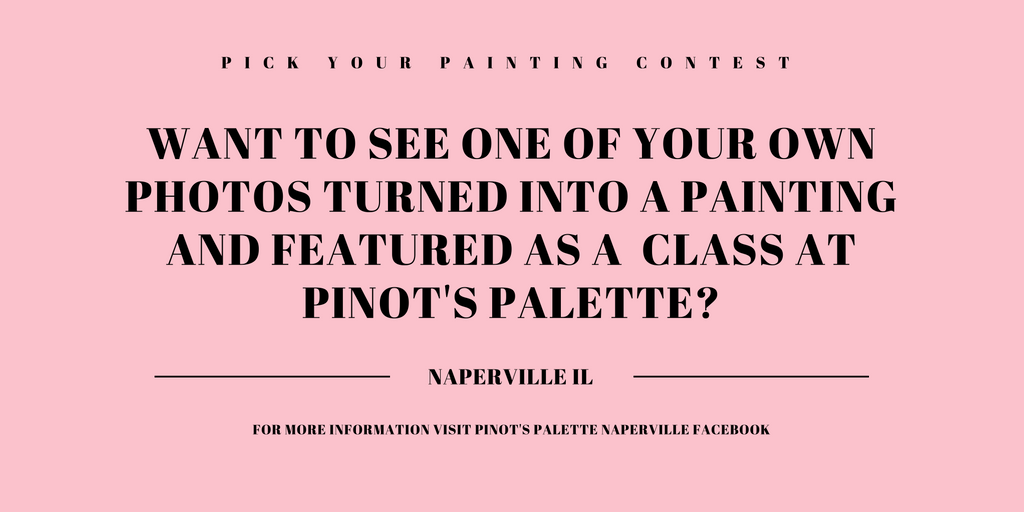 Here's how it works:
*Check out our Pinot's Palette Facebook page! (There's a link directly to it at the bottom of this blog!)
*Click the 'Pick Your Painting Contest' tab on the left side of the home page.
*Pay attention to the category - they change every month!
*Upload your own photo that fits the category!
*Send it to your friends and family and have them vote for you! Everyone gets three votes, so vote for your favorite three while you're there!
*When the contest has ended the top three winners will be shown - all of which will receive one FREE class!!
*Of those top three photos, our Pinot's Palette artists will decide which one will be transformed into a painting AND featured as a Pinot's class in the following month's calendar!
Call the studio today at 331-457-5440 for more information, or you can email us at Naperville@PinotsPalette.com
And don't forget to follow us for the latest updates and pictures!
Facebook: Pinot's Palette Naperville
Instagram: PinotsPaletteNaperville
Twitter: NapervillePinot
Snapchat: NapervillePinot