Modaff and Miff Public Class and Virtual Field Trip Idea
From the Author:
Has your child ever had worries that turned into What Ifs? If the answer is yes then they will love reading about Modaff and Miff! Miff is a sweet little giraffe who just can't seem to shake off his worries and what ifs. In fact, Miff has so many worries he ends up growing worry spots. Find out how Miff gets rid of his worry spots and how his best friend Modaff helps him along the way. Join us as we take a journey into Miff's what ifs, as big or small, and as silly or serious as they may be.
~Deepali Punwani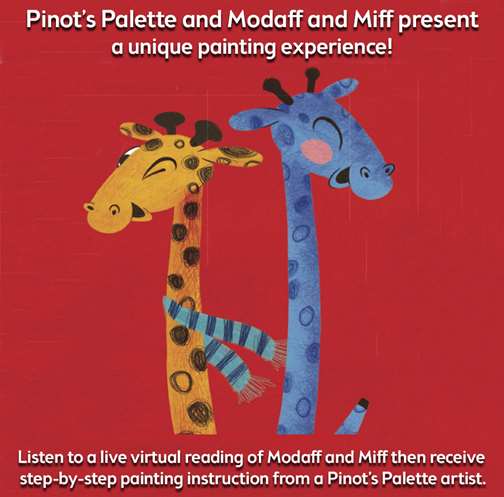 Social-emotional learning is crucial in a time when childhood anxiety is on the rise. That's why this children's book is currently being used in homes, classrooms, and mental health facilities across the country. If your child has ever felt scared, nervous, fearful, or worried this book will walk them through the symptoms of anxiety as well as coping techniques in a light and playful manner.
We are teaming up with Deepali Punwani, author of Modaff and Miff and Their Two Sided What Ifs to bring you a unique painting experience! Your child will listen to a live virtual reading of the book by the author herself, then create their own giraffe by following step-by-step instructions from one of our artists. These events are perfect for school virtual field trips. Perfect for home school students, as well.
If you would like to purchase a hard copy of the book you can do so here:
https://www....ffandmiff.com
Use the discount code PINOTS to purchase the book for $13. The back of the book asks the important question, "Which character are you most like"?
To purchase the kindle version of Modaff and Miff for $5 use this link:
https://www....-b31d6b1bfbee
We are offering this class to the public on November 12th both virtually and in the studio with limited seating.
Virtual event:
https://www..../event/479714
In Studio Event:
https://www..../event/485617
If you are interested in hosting a VIRTUAL FIELD TRIP, you can request more information here:
https://www....rivate-events
The class is a LIVE INTERACTIVE VIRTUAL CLASS. and will not be held in the studio. We are broadcasting from the Naperville Studio to our guests.
Enjoy the Pinot's Palette experience from the comfort of your home or classroom. Our studio's artists will guide you step-by-step through the project. The experience is completely interactive - you'll be able to ask the artists questions throughout the event. Your painting kit will provide everything you need to complete the daily paintings.
To provide a safe, no interaction pick up environment, your take-home painting kits will be in the hallway at Pinot's Palette 1-6 Monday-Saturday for pick up and will have our name on it. You can also call the studio at 331-330-4227 and we'll bring it out to you. To arrange for a special pick up, please email the studio at Naperville@pinotspalette.com. If you are a school that would like to do a virtual field trip we can drop the kits off at your school.
Kits will include:
- One 9x12 inch Canvas
- Two Paint Brushes (Big and Small)
- One Pencil
- Paint
- Palette Plates
- Paper Towels
- Disposable Water Cup
Contact our studio with any questions. Naperville@PinotsPalette.com or 331-457-5440.
If you experience technical issues during the live class or are unable to attend, a recording of the class will be available for seven days following the event.
We look forward to painting with everyone.
Share Learn more about Pinot's Palette naperville or plan a virtual event or field trip