New Logo, Same Pinot
When the Charles, Beth and Craig decided to open the first Pinot's Palette in 2009 (then called Pinot and Picasso), paint-and-sip was a totally new concept, leaving them with no idea what to expect. They started out with three classes a week and had just hoped to fill them.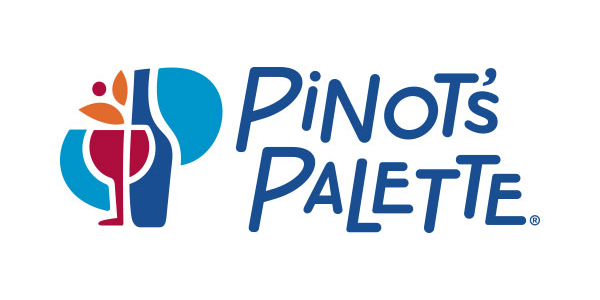 Not only did they do exactly that, but so much more than! Those three classes a week became three times that, one studio became two then three then ten! The company eventually became a nationwide franchise and even went international!
All thank to the adventurous people like you continue to join us for painting, drinking and having fun.
Since the very beginning, the company mission has remained the same, it's called the Pinot Promise
"To be the paint-and-sip night out you can count on, every time, at every studio."
Next time you come visit us, you'll notice we have made some big changes to the way we look. The company has been so inspired by seeing our customers discover their painting style with each stroke you add to the canvas, that they wanted to rediscover their style too. And a new logo is the best way to show it! But don't worry, just because our look is changing doesn't mean the exciting atmosphere, helpful employees, or amazing paintings are.
The link below will show you a video that explains exactly what each symbol in our awesome new logo means be sure to watch it to to find out which part represents our commitment to you!
Call the studio today at 331-457-5440 for more information, or you can email us at Naperville@PinotsPalette.com
And don't forget to follow our Instagram, Twitter, and Facebook for the latest updates and pictures!
Share Click Here to Pick Your Painting Class | Click here to Watch the Video