Naperville Honored as a Top Producing Studio
Paint-and-Sip Franchise Celebrates Best of 2016
Houston (May 30, 2017) – Proving that great art makes great business, Pinot's Palette – a pioneer of the paint and sip category -- recognized its top artists and franchise owners recently at the fifth annual Pinot's Palette National Conference and Retreat in Galveston, Texas.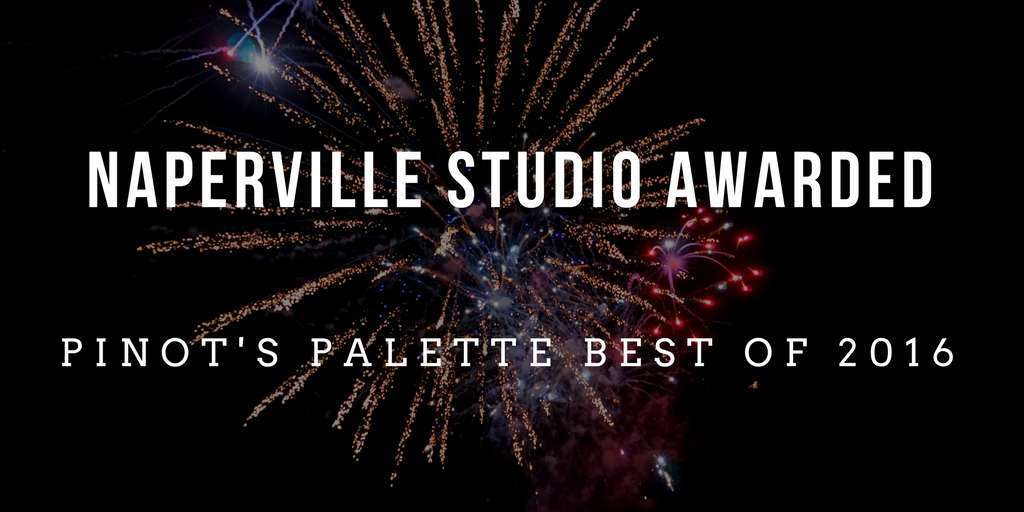 "These franchise owners represent the best of what Pinot's Palette is all about and showcase incredible dedication to their customers and communities," said Charles Willis, Co-founder and President of Pinot's Palette. "Their passion and commitment serve as an example of why Pinot's Palette continues to grow across the country. We are excited to keep adding incredible franchisees to represent the premium paint and sip experience that's taking the world by storm."
This year's franchisee award winners include the following:
· #topright Award (franchisee that delivers extraordinary customer service): Scott and Susie Wisely, Orlando, FL
· Pinot Perks Award (franchisee that secured the most new Pinot Perks members): Pam Bartlett, Naperville, IL
· Rookie of the Year (new franchisee): Heidi and Ray Leonard, South Hill, Washington
· Most Improved Sales: Dan and Julie TruckenbrodX, Liberty Station- San Diego, CA
· Champion Award (franchisee that mentors incoming franchise candidates): Robyn McClure, Dulles, VA
· Happy Place Award (franchisee that has made their studio a place for artists to grow personally and professionally): Reed and Judy Alewel, Henderson, NV
· Decanter Award (franchisee that best represents the company's values): Lisa Riley, Cherry Street- Tulsa, OK
· Picasso Award (franchisee who produced the most paintings submitted to the Master Painting Library): Kat Baker, St. Matthews- Louisville, KY
· Impressionism Award (franchisee who has outstanding marketing): Jim and Barbara Newman, Olathe, KS
· Smooth Strokes Award (franchisee with the most successful and seamless studio opening): Ryan Beam, Woodmere, OH
Golden Brush Awards, recognizing the top studios for 2016 sales, went to:
· First place BYOB (One room): Chris and Emma Harvey, Ridgewood, NJ
· First place BYOB (Two room): Richard Barton, Fred Fadell, Dorothy Ferlanti, Red Bank, NJ
· First place bar (One room): Cherisse and Scott Lockerd, Tustin- Orange County, CA
· First place bar (Two room): Pam Bartlett, Naperville, IL
· Million Dollar Award: Pam Bartlett, Naperville, IL
About Pinot's Palette
Pinot's Palette is a pioneer of the paint and sip experience – a revolutionary way to enjoy art and wine, meet new people and bond with friends. With more than 180 locations open or under development across 36 states and Canada, and new locations popping up monthly, Pinot's Palette is the world's fastest growing paint and sip franchise. Guests enjoy a no-skills-required art class—all supplies included—directed by trained, local artists, who guide guests step-by-step through a featured painting. By bringing fun, modern and creative ideas to their events, Pinot's Palette curates a unique, rewarding experience while providing a worthwhile contribution to the community. For more information, visit  www.PinotsPalette.com.
Call the studio today at 331-457-5440 for more information, or you can email us at Naperville@PinotsPalette.com
And don't forget to follow us for the latest updates and pictures!
Facebook: Pinot's Palette Naperville
Instagram: PinotsPaletteNaperville
Twitter: NapervillePinot
Snapchat: NapervillePinot
Share Check out what all the fuss is about! | Read the Article Here!