Painting at Naper Nights!
Looking for a fun way to spend your weekends this summer? Check out Naper Settlement's Naper Nights Community Concert Series. Enjoy great music and quality company on their spacious 12-acre grounds. Bring the family, there are a lot of fun things to do including paint with Pinot's Palette in the kids area. There's plenty of room so bring some lawn chairs (or comfy shoes if you can't get yourself to stop dancing) and grab your friends and family for a new or continued summertime tradition.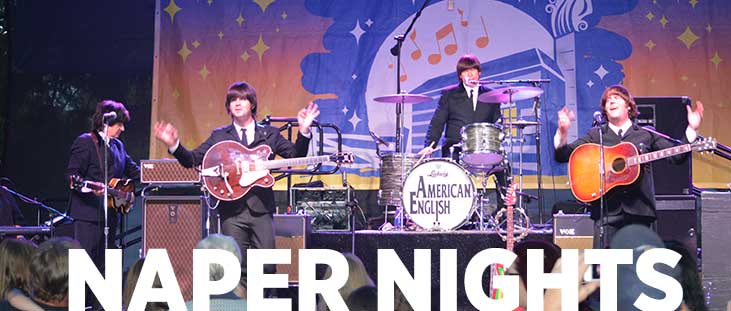 This outdoor concert series is unlike anything else in the Naperville community. With Naper Settlement's beautiful grounds, they say that this three-weekend concert series will draw in a crowd of almost 10,000 people!!
This is Pinot's Palette's fourth year in a row happily sponsoring such a fun community event! Pamela Bartlett, the owner of Pinot's Palette here in Naperville, has always made it a personal and business interest to help the community in any way she can. She says she is so grateful to have such supportive and fun painters in the area she's more than happy to share the Pinot's Palette painting experience while enjoying great music with the community.
Here's this summer's Naper Nights Lineup!
June 16: The Fortunate Sons, 6 p.m.; Trippin Billies, 8:00 p.m.
June 17: The Neverly Brothers, 6 p.m.; American English, 7:30 p.m.
July 21: Journeyman, 6 p.m.; The Pettybreakers, 8:00 p.m.
July 22: The Chicago Experience, 6 p.m.; Shining Star, 8:00 p.m.
Aug. 18: Synchronicity, 6:30 p.m.; Landslide, 8:30 p.m.
Aug. 19: Simply Billy, 6 p.m.; Bruce in the USA, 8:00 p.m.
**Make sure to stop by and visit Pinot's Palette in the kids' activities area during Naper Nights and create your own little masterpiece.
Call the studio today at 331-457-5440 for more information, or you can email us at Naperville@PinotsPalette.com
And don't forget to follow us for the latest updates and pictures!
Facebook: Pinot's Palette Naperville
Instagram: PinotsPaletteNaperville
Twitter: NapervillePinot
Snapchat: NapervillePinot
Share Purchase Your Tickets & Get the Detailed Lineup Here! | Can You Guess How Many Events We've Donated To?!