How To Hang Artwork In Your Home
Take your artwork to another level-- hang it in just the right place and enjoy it for years to come, as it adds beauty and inspiration to your home!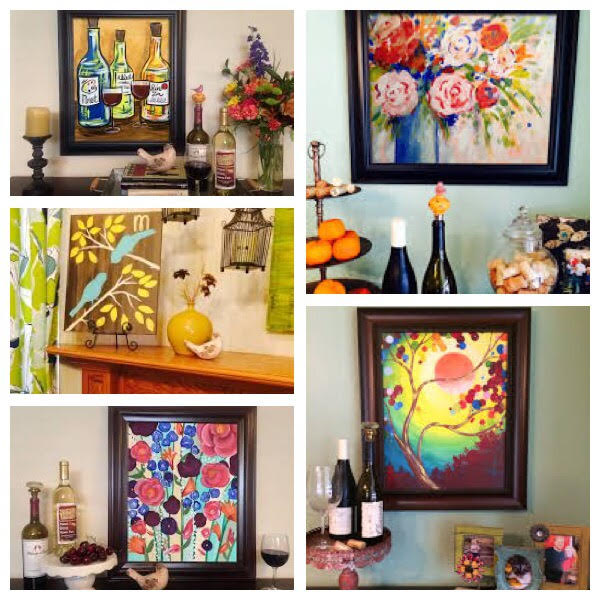 Here at Pinot's Palette, we know a thing or two about art! We want to offer some ideas for utilizing all of the amazing paintings you'll create in our classes, so you can get the most out of those masterpieces!
From height, size, location, and more, adding the right art to your room can make a big impact. Creating art is such a personal experience and one that ANYONE can partake in. Just letting go of life's typical structure and tapping into the creative side of your brain for a bit, can result in some pretty surprising things. When you make art that you love and will cherish forever, you're on the right track.
Why not use your art as a centerpiece for a specific room in your home? Thinking of updating some of your home's decor but not trying to spend a lot on the makeover? A painting is an easy, trendy, and beautiful way to add style to a room. Adding a touch of something you've created is amazing and something many people wish they could do! You'll be surprised by how many compliments you receive and people asking, "Where did you get that?!"
Check out our calendar and see what painting would fit great in your home!
A few tips on displaying art:
Size
If you're displaying one canvas on a wall, be sure to think about the wall's size. If it's a huge, blank wall, you may want to add a few other pieces to your canvas and create a wall collage art piece.
*tips for creating a wall collage:
https://laur...lage-gallery/
Height
Be sure to hang your artwork at an eye level. Think about the center area of the piece, being level with your eye line. The phrase, "57" on center", refers to the perfect height for most artwork. It means that the center of your art should measure 57" high, from the ground.
*how to hang artwork (height):
http://www.a...he-floor-6174
Painting style, colors, and subject:
Think about what you want to paint!! From delicately classic floral designs to bold and intense modern art.... from landscapes and sunsets to people, animals, and wine-themed paintings, we have it ALL!!!!
Build your painting colors and style around your home decor preferences. Think about what painting will work best, and where it'll go!
*View our entire painting library here:
https://www....nting-library
At Pinot's Palette, we're constantly creating new paintings, nation-wide. We currently have a library of over 2,000 paintings, in every color scheme and style imaginable! Whatever style of decor your home lends itself to, we've got a painting to fit you and your family! If you're looking to create a few paintings and use them as inspiration for some decor updates, we have so many to choose from. Simply adding in some accent pieces like pillows, artwork, vases, curtains, and more, can make any room look fresh and updated, without having to buy any large, expensive items!
Click on our site, below, and see what paintings we have coming up! Select a few and try them out! We're always adding new paintings to our schedule, each month, so continue to view our calendar and see which ones are for you! You'll enjoy having a price of meaningful art for yourself and the process of creating it is always fun!!
See you at Pinot's Palette, Naperville!