Place Your Pinot's Paintings Perfectly
So you've just spent a fabulous night out at Pinot's Palette with your friends and created this awesome painting. Now it's time to find the best way to display your beautiful work of art! The great thing is that art is subjective and so is the way you want to display it in your home.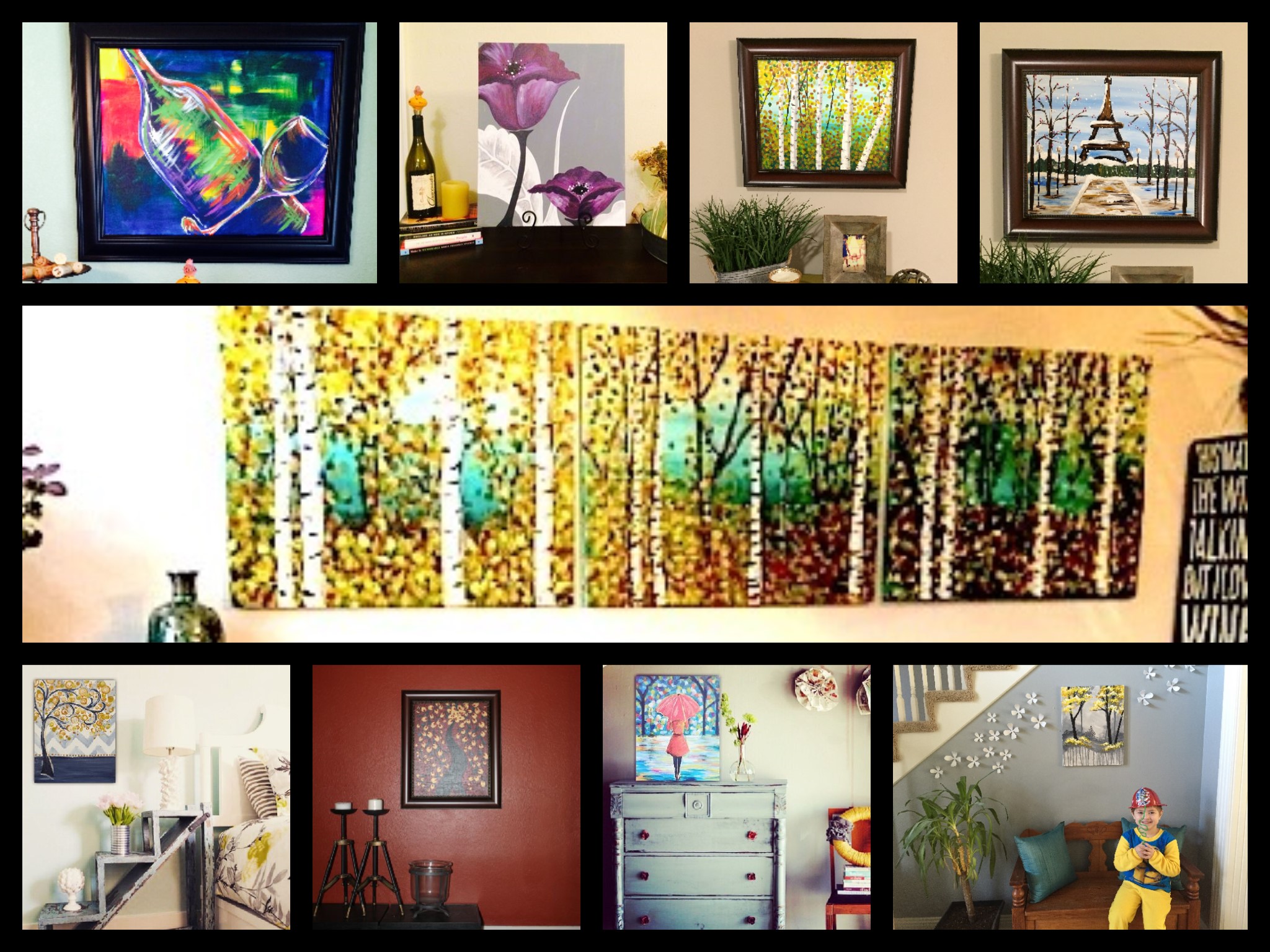 Canvas paintings can be displayed in a variety of ways. You can let one single piece be the star and feature it on the wall, alone, where it stands out and speaks to everyone who observes it. Another option is to use several similar pieces to display together and create a cohesive look where each piece is still its own, but also plays off the surrounding art it hangs amongst.
Canvas paintings look great in or out of a frame! If you are looking to frame one of your beautiful Pinot's Palette paintings, we have a selection of frames for you to choose from to fit the painting you created. If you are like a lot of our customers and have a large collection of paintings from your many trips to Pinot's, you're in luck! Our frames are VERY EASY to use and allow you to pop one painting out and put another one in with ease.
The three main things to focus on when hanging your beautiful new painting are;
1. What's the Focal Point? A room can have more than one area that draws your attention. Are you looking for a single point that will define the room, or some decor pieces to complement your overall color scheme? Make sure all the room's design elements have some breathing space to avoid a cluttered look.
2. Be bold. Personality is what makes a space great. Make your own statement and have fun while you're at it at Pinot's Palette! The memory that you create will make the painting even better every time you look at it in your home! You are always welcome to customize your colors with any of our paintings you create here.
3. Color is key. Pick paintings that contains some of your room's more attention grabbing colors. A piece with similar or complementary colors can work great as well. Take into account your wall color, furnishings, pillows, throws and curtains to create a palette of colors to use when creating your own paint palette here at Pinot's Palette!
The price tag for an average 16x20 canvas painting: $70 to $100
The price for an original piece of art: $38 to $48 (that's at least 22$ to spare for wine!)
But only one of these options leaves you with the priceless memory of creating the art with someone you love spending time with!
Call the studio today at 331-457-5440 for more information, or you can email us at Naperville@PinotsPalette.com
And don't forget to follow our Instagram, Twitter, and Facebook for the latest updates and pictures!
Share Sign Up to Place 'Beautiful Birch' in Your Home | Find Another Painting to Fit Your Home