What Are Some Amazing Ways To Decorate Your Home This Fall?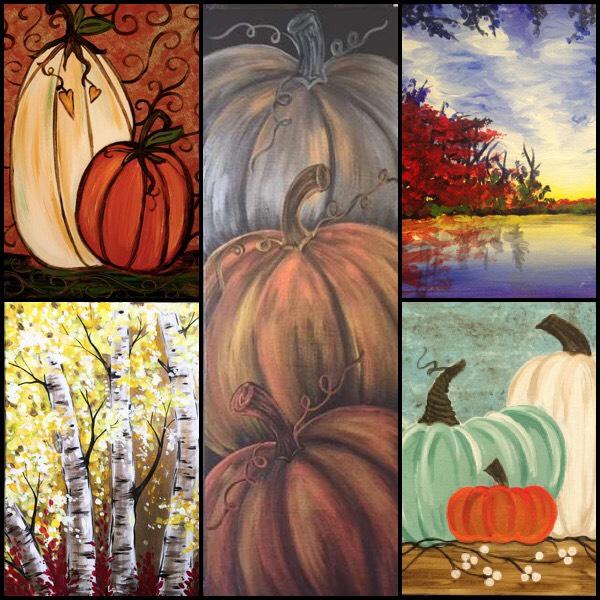 Fall is here and we couldn't be happier! For many of us, it's the season we wait all year for!!!
Autumn is filled with leaves and pumpkins, sweaters and boots, and pumpkin spiced everything;
Fall means football, holidays, blankets, candles, and best of all are all of the adorable decorations...
While there's certainly no shortage of things to find in the stores, it's nice to have some personal touches in your decorations. Why not join us for a painting and wine class where you can make some amazing art to display in your home? These decorations are sure to make your house feel extra-special and are something to be admired. See how many compliments your gorgeous, handmade works of art will gain you when you hang them up for everyone who enters you home to see. You'll feel proud of your accomplishment, happy to have some original decor, and eager to make some more!
Join us for a painting and wine class at our studio and make some masterpieces and memories as you spend time in a fun and creative environment. Invite all of your friends and family to attend a class with you, as experiencing something new and unique is always more fun with loved ones by your side. In addition to our Fall-themed paintings offered throughout the upcoming months, we have many other paintings to choose from. We've got landscapes, floral paintings, date night pictures, and more!
You can come in for any of our paintings and tailor them to your personal style. Change the colors or other details in the pictures to best fit your decor or personal taste, or just to have fun, getting creative with your painting! Make them for yourself to spruce up your home's interior style or make some and give them out to others as a thoughtful and meaningful present!
You'll always have fun in any of our classes, but there's something about our holiday and seasonal themed paintings that makes everyone, so very happy!
Here are some of the Fall-inspired painting we've got coming up throughout the next few weeks:
(*Remember check our calendar, often, as were always adding new classes!)
September 12, 'Pleasantly Pumpkin'
Bring some glamour and whimsy into your holiday décor with this monogrammed stack of pumpkins in stylish fall colors! This painting will be created on a long canvas, perfect for stacking some lovely pumpkins, and finished of with a personalization of your choice! You can add a monogram, family last name, or any other words or quotes that you want to, making it personal and meaningful to you and your family!
https://www..../event/261278
September 14, 'Sunset Glow'
Bring a pop of color to your decor with the bold, modern hues of Sunset Glow! This painting is fun ad easy to make with it's quick and choppy brushstrokes and bright, vivid colors. The contrast of the blues, oranges, yellows, and reds are breathtaking in this impressionistic landscape, perfect for the Fall!
https://www..../event/256749
September 15, 'Crimson Pathway'
Sunbeams dancing here and there through the trees, and pretty flowers growing everywhere! This is one of our most popular paintings, as the neutral shades of grey, black, and blue are met with a striking bright red. This painting will look great in any room in your home, is fun to make (especially for first-timers), and has a very elegant style to it.
https://www..../event/261232
September 18, 'Golden Gaze'
This watercolor-esque rendering of a barn owl is both expressive and easy to customize. The light and delicate, neutral color scheme for this painting is perfect for any home, as it will match any type of decor you have. With growingly-popular farmhouse/rustic decor that is so common in HGTV shows these days, this painting is not only a classic work of art that you can always use but will make your home super trendy and stylish, right now!
https://www..../event/261294
September 22, 'Scarlet Autumn'
This impressionistic inspired painting focuses on capturing the majestic light and colors of autumn. Come celebrate the beauty of the changing seasons as you relax with friends. This landscape has a very classic, painterly-feel to it with the soft blending of natural colors and professional-looking techniques. Enjoy the lovely red trees, blue and white sky, and a reflection in the water that makes the entire painting, come to life.
https://www..../event/261246
September 27, 'Pile Of Pumpkins'
This shiny pile of metallic pumpkins is sure to brighten up your fall! There's just something magical about using a combination of dark colors with metallics. Paint these shining gourds on a long canvas and hang it up in any room in of your house to bring a glamorous, stylish, and modern feel into your home!
https://www..../event/261266
September 29, 'Elegant Autumn'
Adorn your walls with the elegance of autumn! This painting is gorgeous and among some of our most popular ones. There's something about the simplicity of the white birch tree trunks and then complexity of the colorful, textured leaves that makes this work of art a winner! Come in and paint it for yourself or to give someone as a gift. This is truly a painting that will be loved by all!
https://www..../event/265358
***This painting will be offered again on October 6th:
https://www..../event/265750
September 30, 'Autumn's Heirlooms'
"Autumn paints in colors that summer has never seen". This little trio of Cinderella pumpkins sets a charming scene that only fall can set! The combination of the orange, white, and light blue works wonders and looks incredible this a painting!
https://www..../event/261220
October 1, 'Pumpkin Spice'
$30 Special! Ladies' Night!
Cool crisp air, leaves changing colors, the smell of cinnamon and pumpkins, and cozy scarfs... Nothing is better than fall weather!
Grab your girls and come relax as you sip wine, listen to some great music, and paint the night away.
https://www..../event/265407
October 27, 'Beautiful Birch'
Join us as we paint this stunning birch tree forrest with it's turquoise background and leaves, full of Fall colors. The cool blue and warm leaf colors work perfectly together, making a lovely scene.
https://www..../event/265385
*We've got some great Halloween paintings, we'll be offering, closer to the spooky holiday! View them on our calendar!
*Our November calendar Wille have some lovely Autumn paintings, too, so be sure to be on the lookout for those to post!
We hope to see you soon for a class at our studio whether you're attending one of the Fall-themed paintings, mentioned above, or another class on our schedule. If you're looking for something fun to do in or around the Naperville area, we make a great spot to visit for everything from a fun and unique date night, an awesome girls' night out experience, and we even offer private events! When you view our classes on our website, you'll be viewing our schedule for our public classes, but you can also book a painting party with the guest list of your choice! Come in to celebrate a birthday, bridal shower, reunion, retirement, and more with friends and family, sharing their artistic sides, together. Make memories that will last a lifetime with a souvenir to treasure forever with one our classes.
*Learn more about our private parties, here:
https://www....ivate-parties
We also play host to tons of corporate events, too! Why not book your next work party or team building event with us? We offer several styles of paintings that incorporate team building strategies, encouraging the whole office to work together, creating a stunning world of art!
*Read more about corporate events, here:
https://www....porate-events