Fall Decor For 2017
On Friday, September 22, it will officially be Fall! Get your home ready now, with these great Autumn decorating ideas!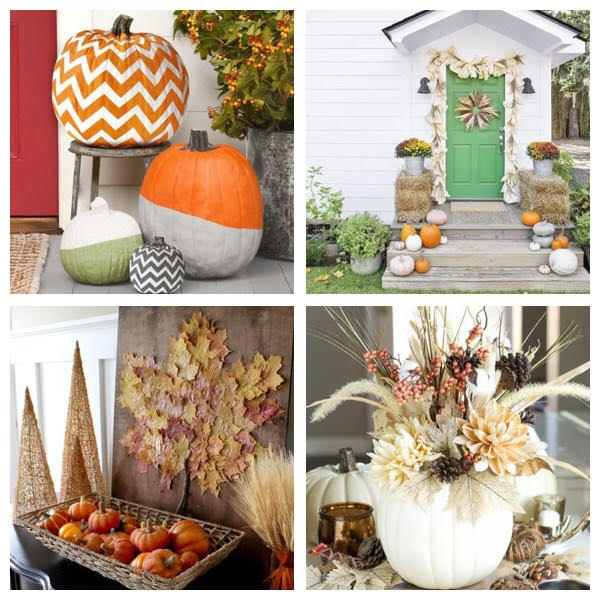 While the weather may still be warm, there no denying that Fall is here. Once September comes around, thoughts of leaves, football, holidays, and pumpkin spiced everything comes to mind! The next few months, as the season change and the holidays come around, home decorating is at it's highest! Swapping out some simple accessories for some beloved Fall decor is a time-honored tradition for many people!
Let's spice things up a bit this year, with some cozy, easy, and cost-effective ideas!
We've found some great ideas online, and want to share them all with you!
Some of our favorites include:
*A Beautiful, Real Leaf Art
Gather some of Fall's most beautiful leaves and bring them inside to use for a creative piece of art!
(Or... you can swing by the dollar store for a bag of artificial leaves!!)
Check out the tutorial for this incredible real leaf artwork:
http://www.j...t-fall-craft/
*Decorate With Corn Husks
You can create a wreath or garland (or both!) out of some dried corn husks this season! Readily available in craft stores or online, corn husks are perfect for this season and can be used in many different ways!
Order your corn husks, here:
https://www....dp/B01MDSHUTM
*Pumpkins and Other Gourds
Sure, it sounds clichè.... "Decorate with pumpkins for Fall".... but there are SO MANY fun and festive ways to get creative with pumpkin decor! From using them as a centerpiece, painting them, and adding other fun craft materials, these gourds are perfect from the beginning of Sept through the end of November!
88+ Ways To Decorate Pumpkins
https://www....orating-1009/
Here's the whole list! Check it out and see which ideas you'll fall in love with!
47 Cozy Ways To Decorate Your Home For Fall:
https://www....rating-ideas/
**Be sure to check 'Pinterest' for countless, additional Fall decor ideas and crafts!
_____________________________________________________________________________________________________
If you're looking to create some of your own art this season, you're in luck! At Pinot's Palette, Naperville, we're offering a lot of great Fall-themed paintings over the next few months! Be sure to check out our calendar, listed below, to view them all!! Since we're constantly updating the calendar with new paintings each month, there's sure to be one (or 2...or 6... or 10...) that you and your friends will love! Come paint, drink, and have fun, here at Pinot's Palette!!
*Check out our 'Fall Out Of Format' class concept, for more great home decorating ideas, too!
Read more about it here:
https://www....e-trendydecor
We hope to see you soon!
Cheers!!!