What Are Some Creative Ways To Use Leftover House Paint?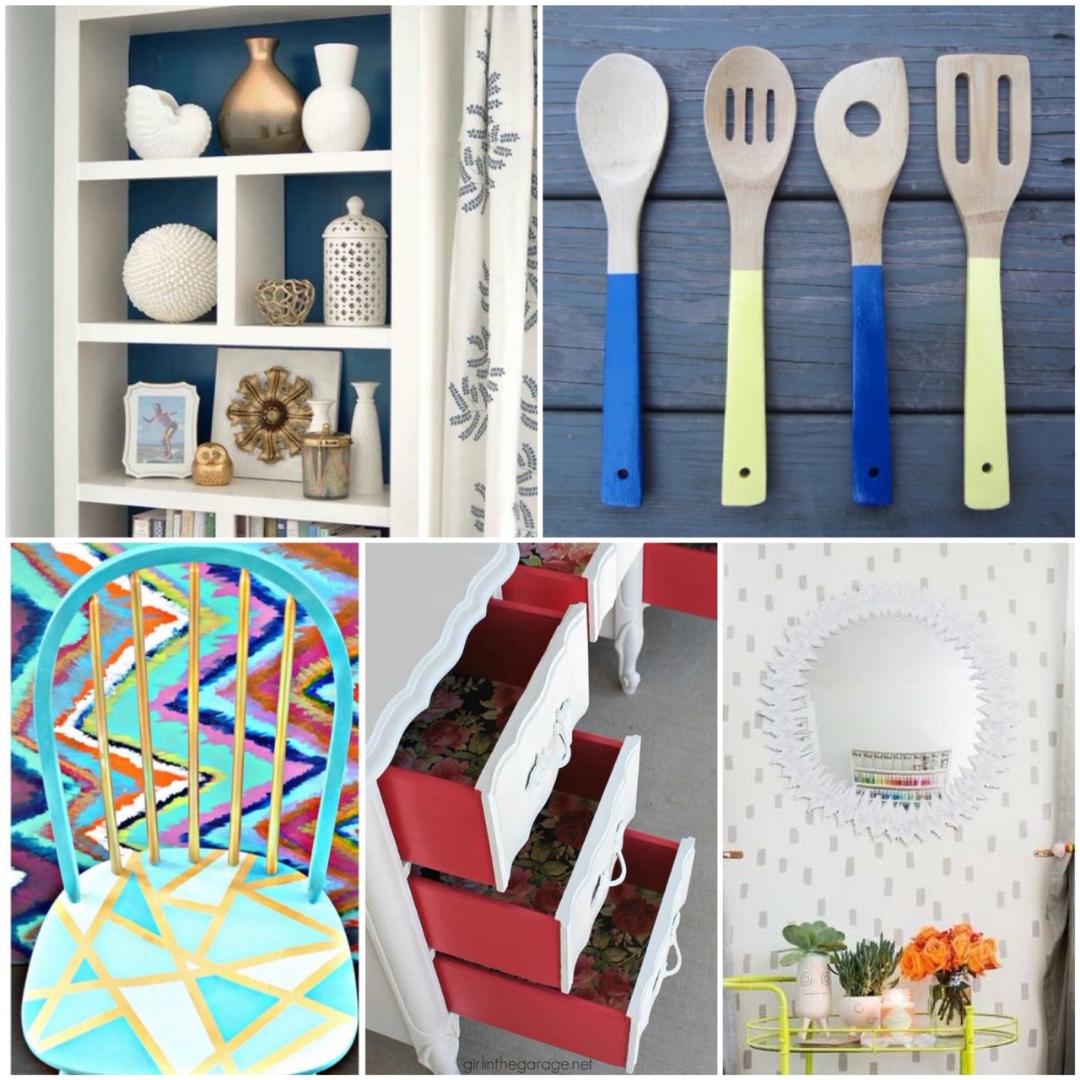 So you've finished a big painting project. More than likely, you have some leftover paint; It's easy to overestimate how much you need, or to buy extra just to be safe; But what about when the job's done? What will you do with those leftover cans of paint? Donating leftovers, and safely disposing of unwanted paint is always a great option, but you've already spent the money on it, so why not get a little extra-creative after the paint on the walls has dried, and put that energy into some other fun DIY projects around the house?
The great thing about it being house paint that you're using on these projects, is that you know it'll be there for the long-haul! No worrying about it chipping off or fading; It's excellent quality and really does a great job for so much more than walls!
***SO, what are some creative ways to use up your leftover house paint?
— CREATIVE WAYS TO USE YOUR LEFTOVER PAINT —
*Dip your chair legs
A quick update for a tired dining set is to paint just a few inches of your chair's legs. A bright spot of color and a bit unexpected.
Or, paint the whole chair! If you have a single, boring wooden chair, restore it's luster with a fun pop of color.
…Brighten Up Your Kitchen Utensils…
Make your utensils both functional and beautiful by painting the handles a vibrant color. All you need is painter's tape, a foam brush, and some leftover paint. Just be sure not to apply paint to the food-handling part of the utensil, and avoid wetting the painted area for a longer-lasting finish.
*Makeover the whole chair!
https://www....air-makeover/
*Add color to the back of a bookcase
The back of your bookcase is mostly hidden by books and just the spot to add a bright note of color. Paint each square the same color or get creative and paint random squares.
*Stencil a design on the floor
If you can't cover the whole floor, try a few squares.
You can also do this on a staircase to take the place of a carpeted runner!
*Breathe new life into an old dresser
Apply a coat of paint to an unexpected area: the sides of the drawers. For best results, prime the surface, then use latex or oil-based paint. You'll be greeted with a colorful surprise every time you pull out a drawer!
The front of all (or some) of the drawers would look great, painted, as well!
...If you're looking to go big or go home…
Paint can transform a dated (but functional) piece of furniture for a fraction of the cost it takes to replace it. This old dresser's new look is courtesy of a gray shade of chalk paint, "roughed up" with strategically placed streaks of a darker finishing wax. The result is a charming piece of Americana.
**More DIY Dresser Ideas:
https://www....riped-dresser
*Create a Bold Backsplash
Is an ugly backsplash putting a damper on your kitchen? Instead of installing new tile, which takes lots of time and effort, paint over the existing tiles. This major transformation only took one quart of paint, as well as some primer, sandpaper, painters tape, and drop cloths. Always check with the tile manufacturer to determine the best paint and method for the job.
*Frame It!
Chances are, you have unused or outdated picture frames stacked in a closet somewhere. Give them a new life with a fresh paint job, and you'll gain the perfect piece for displaying family pictures, artwork, or the weekly menu.
You can scour thrift stores for some really cool (and cheap) frames, and update them with some pretty colors! These are a great idea as something to make as gifts for the holidays, birthdays, or any other occasion.
*Create An Accent Wall
Whether it's a single wall you want to paint to add drama and depth to your room, OR a wall with an odd shape, one that has a lot of windows, or a wall that flanks stairs.
…Or A Unique Type Of Accent Wall… (pictured, above)
Who says you your new paint job needs to cover the whole wall? A flat 1" wide craft brush and less than a gallon of paint is all you need to create this freeform statement wall. Just remember to take time to stand back from your wall every now and then, to make sure your pattern is balanced.
*Make Chalkboard Paint
If you have a leftover latex paint, you can create your own chalkboard paint. No need to buy expensive pre-made chalkboard paint, just create your own chalkboard paint. This can be awesome in a kids room for in the kitchen.
(Make it):
https://diyp...-making-home/
**Keep some of these creative DIY ideas in mind for the holidays! There's nothing better than a handmade gift from the heart. Showing someone just how much they mean to you with a special present that you took the time to make is always meaningful and something they will cherish forever!
Look for other ways to get creative? Interested in making some other types of art for gifts this holiday season? How about some unique gift card ideas for the many people on your list?
Pinot's Palette is one one-stop shop for everything you need this holiday season (or any time of year)!
We're always offering some amazing classes, as well as some wonderful holiday and seasonally-themed artwork!
Join us for some classes throughout the next few weeks and get a head start on that big holiday gift list!
-- ((We also sell gift cards, so keep those in mind for your hard-to-buy-for friends and family, or for those that would LOVE to get creative in one of our classes!))
— STORING PAINT —
If you love some of the ideas you've seen for DIY painted projects, but need a little break from painting after your big household job, you'll want to store the paint correctly. It can dry up, flake off, and become a big mess when you try to use it again, later. Check out these ideas for properly storing your leftover paint:
http://www.g...er-paint.html
— DONATING LEFTOVER PAINT —
Many schools, churches, community centers, and of course, local artists would much appreciate the gift of some leftover house paint. It's great quality, boldly colorful, and free! Yes, please :)
— PROPER LEFTOVER PAINT DISPOSAL —
Typically, if you have a gallon or more of paint, there are only but so many DIY projects you can use it for. Here are some great (and responsible) ways to get rid of your paint:
*If you're trying to get rid of oil-based paint, then you'll have to take it to a recycling center because it's considered hazardous waste. Latex paint can be disposed of at home, but if you have a lot of leftover paint and don't want to deal with the hassle, you should take that to a disposal location. If latex paint is not disposed of properly, it can become hazardous.
*Latex paint can be latex disposed of at home, with a DIY process that adds equal parts cat litter to the leftover paint, then you stir it up and let it sit for about an hour. This dries up the paint and you can just toss it in the trash with the lid off.
(Learn more):
https://www....aint-properly
*Though they may not technically be disposal centers, you could even donate your paint to local schools, churches, theaters or community centers. Places like that often need paint for projects and have rather limited budgets. You could help the environment and your neighborhood in one easy step!
-- Enter your state and find locations where you can drop off your unused paint for safe disposal and recycling.
https://www....drop-off-site
Share View our class calendar! | Buy some gift certificates!