June Is 'LGBT Pride Month'! Learn More About The History, Ways To Celebrate, Support Friends, & Get Involved.
This June 2019 Marks The Stonewall 50th Anniversary: The LGBTQ Community Is a Vital Part Of American history.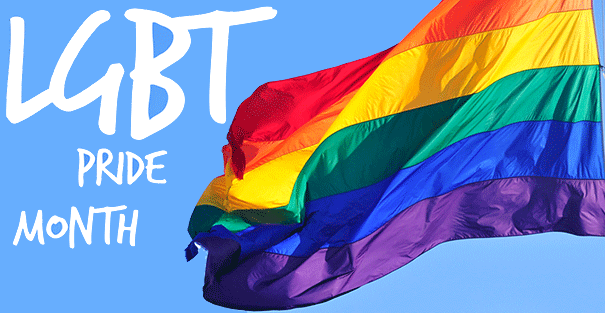 June 1, 2019, marks the first day of Pride Month, which celebrates the LGBTQ community. The month also honors the 50th anniversary of the Stonewall Riots, otherwise known as the Stonewall Uprising, which saw members of the LGBTQ community fight back against harassment from the police in Greenwich Village in June 1969.
The Stonewall Riots (there were three instances of fighting with police over three nights) happened in June of 1969. This was a more militant approach—in a more militant era—in which gay people demanded respect and equality, rather than asking for it, or trying to educate the heterosexual population.
Stonewall, helped from social change movement Gay Liberation, addressed many aspects of inequality in American society. The movement did not call for "equality" per se, but rather argued for wide-scale social change that would eliminate many of the factors that caused inequality, such as heterosexism, misogyny, racism, and poverty.
The rainbow flag was first used as a symbol of gay pride in 1978. The different colors are often associated with "diversity" in the gay community. President Clinton declared June, 'Gay and Lesbian Pride Month' in 2000, which became LGBT Pride month under President Obama in 2009. The Supreme Court legalized marriage equality in 2015.
Today, celebrations include pride parades, picnics, parties, workshops, symposia and concerts, and LGBT Pride Month events attract millions of participants around the world. Memorials are held during this month for those members of the community who have been lost to hate crimes or HIV/AIDS. The purpose of the commemorative month is to recognize the impact that LGBTQ individuals have had on history locally, nationally, and internationally. While both groups seem very mild by today's standards, they were very radical for their time. You have to understand that in the 1950s all U.S. states had laws criminalizing same-sex sexual behavior. You could be arrested and even imprisoned for even proposition someone for sex in public. Lesbians and gay men were routinely fired from their jobs if their boss or coworkers discovered their sexual orientation.
Join us for our Love is Love painting
https://www..../event/332772
This Friday we are painting Rainbow Reflections
https://www..../event/332791
***** Where To Celebrate In the Chicago Area:
Chicago Pride Parade
June 30, Pride Parade Route, Uptown
Chicago's LGBTQ community and its allies gather in Boystown to celebrate with a rainbow-colored parade that attracts over one million attendees. This year, the annual extravaganza celebrates 50 years with a commemorative theme: Stonewall 50: Millions of Moments of Pride. Head to the parade route early to grab a prime spot before the procession starts rolling down Halsted and Broadway between Montrose and Diversey.
https://www....-pride-parade
Pride in the Park: Iggy Azalea + Steve Aoki
June 29, Grant Park | Chicago, IL, Millennium Park
The weekend before the Chicago Pride Parade on the city's North Side, Pride in the Park will bring revelers to the Loop for an entire afternoon of performances and entertainment. Australian rapper Iggy Azelea and EDM cake-thrower Steve Aoki headline the the festival, joined by R&B singer (and reality TV star) Tamar Braxton and Kathy Sledge of disco group Sister Sledge. Plus, Ru Paul's Drag Race contestants like Shea Coulee, Alexis Michelle and Coco Montrese will also be appearing at the fest, which will take over Bulter Field north of Buckingham Fountain.
https://www....ea-steve-aoki
Chicago Pride Fest
June 22, Halsted St, Boystown
Prep for Chicago's annual Pride parade with this massive block party, now a highly anticipated, two-day tradition of its own. Situated in the heart of Boystown, the event offers food and drinks from local vendors as well as musical entertainment with strong queer followings.
https://www....go-pride-fest
***More ways to celebrate around the area:
https://www....r-pride-month
Join us at the studio to paint, drink, and have a whole lot of fun! We have some amazing classes on the calendar for the whole month of June! Check them out and see which ones you want to attend! Be sure to check out calendar often, as we're always offering some really fabulous artwork, just waiting for you to come in and create!
https://www....ndarthisjune-
Keep in mind that in addition to our public classes, we're also always offering private events where you can book our studio for a special event!
**Private Parties:
https://www....ivate-parties
**Corporate Events: building events:
https://www....porate-events
**Kids' Parties:
https://www....ainting-party
**Mobile Events:
https://www....ainting-party
"I came with friends for a first experience to paint Monet's Lily Pond and had a fabulous time! I had never painted before, but the staff was great! They were very cordial and accommodating. The instructions were appropriate and you could follow along.
My friends and I made great memories and so can you! Come visit Pinot's Palette soon!"
-Pam T.
Share View our studio's calendar to see what classes are coming up!