Impressionism Vs Post-Impressionism: What's The Difference?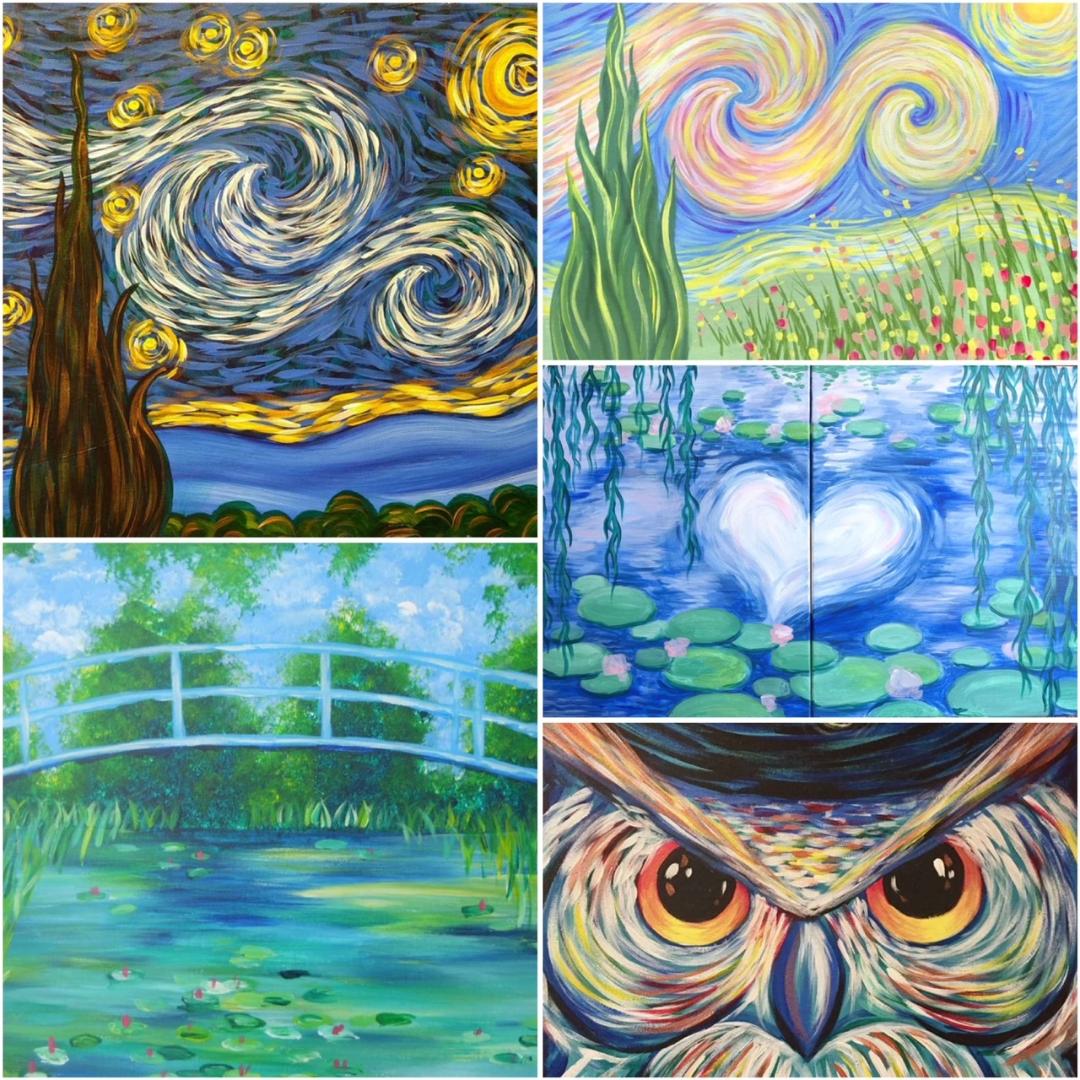 If you've ever looked at our calendar, you've no doubt seen a Van Gogh or Monet style of artwork on there; Our customers LOVE these beautifully colored, textured, and recognizable paintings and we've been offering them every month since we have been open. No matter how many times we host a 'Starry Night' or 'Waterlilies' painting class, we still have tons of customers who are so excited to create some artwork that reminds them of the masterpieces of the artists they have seen their whole lives.
While you might look at the brushstrokes and colors of one of Monet's pieces and think it looks very similar to the brushstrokes and colors of Van Gogh's pieces, you may not know that they are actually two different styles of art. While one is Impressionism, and one is Post-Impressionism and (which the name implies) came after the other, they do share some similar characteristics.
If you are wondering, as a fan of both of these amazing artists (and many others who fall into each of the categories of 'Impressionism' and 'Post-Impressionism'), you are likely interested in a crash course of learning a little more about the differences between these two classic styles.
So, here ya go:
Both Impressionism and Post-Impressionism refer to influential artistic movements arising in late 19th-century France.
((Impressionism)):
Impressionists painted contemporary landscapes and scenes of modern life, especially of bourgeois leisure and recreation, instead of drawing on past art or historical and mythological narrative for their inspiration. Interested in capturing transitory moments, the Impressionists paid attention to the fleeting effect of light, atmosphere, and movement. They continued the break that the Realists began from the illusionist tradition by emphasizing the paint on the surface of the canvas, flattening the sense of perspective through a lack of tonal modeling, and using daring cropped perspectives which were influenced by Japanese prints. Confronting nature and modern city life directly, the Impressionists differed from their antecedents because they painted en Plein air (in the open air) and used a palette of pure colors. The term Impressionism is used to describe a group of painters living in Paris who worked between c. 1860 and 1900. These artists, such as Frédéric Bazille, Edgar Degas, Claude Monet, Berthe Morisot, Camille Pissarro, Auguste Renoir, Alfred Sisley and Mary Cassatt, sparked an international group of followers and revolutionized Western conceptions of painting.
((Post-Impressionism)):
Post-Impressionism is a term used to describe the reaction in the 1880s against Impressionism. It was led by Paul Cézanne, Paul Gauguin, Vincent van Gogh, and Georges Seurat. The Post-Impressionists rejected Impressionism's concern with the spontaneous and naturalistic rendering of light and color. Instead, they favored an emphasis on more symbolic content, formal order, and structure. Similar to the Impressionists, however, they stressed the artificiality of the picture. The Post-Impressionists also believed that color could be independent from form and composition as an emotional and aesthetic bearer of meaning. Both Impressionism and Post-Impressionism include some of the most famous works of modern art such as Monet's Waterlilies, a Series of Waterscapes, and van Gogh's Starry Night. Impressionism and Post-Impressionism continue to be some of the most well-known and beloved artistic movements.
Summary:
1. Impressionism was a style of painting that emphasized color and depicted realistic scenes of ordinary subjects while postimpressionism was a style of painting that was derived from impressionism.
2. Impressionist paintings were done outdoors while postimpressionist paintings were done in a studio.
3. Postimpressionism used a geometric form to depict its subjects while impressionism used small, thin brushstrokes that gave the painting softer edges.
4. Impressionism paved the way for Neo-impressionism, Fauvism, Cubism, and Postimpressionism while post-impressionism paved the way for modern art.
5. Postimpressionism involved a more methodical and time-consuming process than impressionism.
6. Impressionism captured the heat of the subject while postimpressionism was based on the emotion and concept of the artist.
COME PAINT WITH US:
Here are some of the Monet and Van Gogh-themed paintings that are coming up this month. Be sure to watch the calendar, as we are always adding more as the weeks continue :)
7/29 Monet's Lily Pond - DATE NIGHT!
Look closer to see a reflection of your love in this Monet-inspired painting for two!
https://www..../event/621236
8/6 Van Gogh's Suny Day
Come in and paint this unique, Van Gogh-inspired landscape. Create a pastel painting of your dreams.
https://www..../event/624690
8/7 Monet's Lily Pond
Why not try your hand at recreating a master artist's work? Inspired by Monet's famous work "Le Pont Japonais a Giverny," this timeless masterpiece will look great in any room of the house.
https://www..../event/629135
8/12 Simply A Starry Night
A simplified version of Van Gogh's Starry Night focuses on the beauty of the stars and sky. This painting uses greens, blues, and yellows to create a simply beautiful Starry Night!
https://www..../event/629332
8/17 Starry Night Owl - New!
This wise guy is observing the stars with his wide, luminous eyes.
https://www..../event/629307
*** More Classes This Month:
https://www....t-the-summer-