Exactly What Is An 'NFT' & How Is It Changing The Art World?
NFTs are taking the mainstream art world by storm, fetching huge prices.
We'll explain... or try to. :)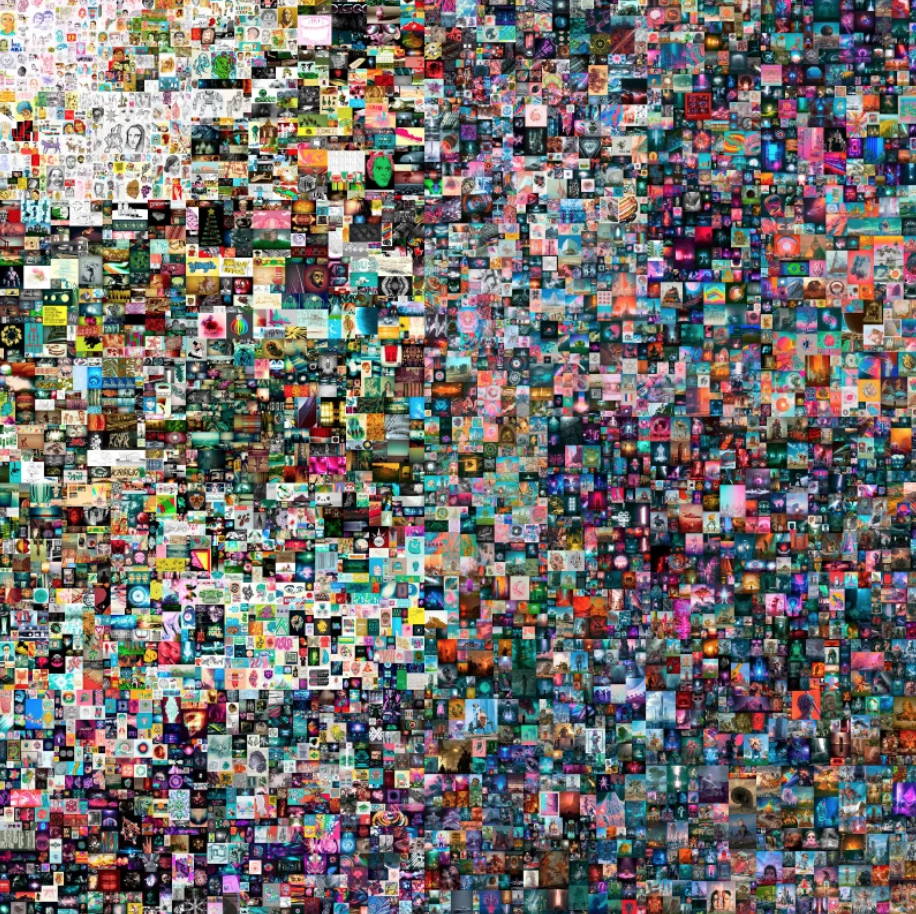 You might be wondering: what is an NFT, anyhow? We're here to tell you all about the new acronym on the block, including what it is, how it's used, what the future holds for this new idea, and how it's affecting the art world!
Q. What Does 'NFT' Stand For?
A. Non-fungible token.
Q. What Does That Mean?
A. "Non-fungible" more or less means that it's unique and can't be replaced with something else. For example, a 'Bitcoin' is fungible (trade one for another bitcoin, and you'll have exactly the same thing). A one-of-a-kind trading card, however, is non-fungible; If you traded it for a different card, you'd have something completely different.
Q. How do NFTs work?
A. An NFT is an asset verified using blockchain technology, in which a network of computers records transactions and gives buyers proof of authenticity and ownership. The current boom is mostly for digital assets, including images, GIFs, songs or videos. Most importantly, NFTs make digital artworks unique, and therefore sellable.
Now, artists, musicians, influencers and sports franchises are using NFTs to monetize digital goods that have previously been cheap or free. The technology also responds to the art world's need for authentication and provenance in an increasingly digital world, permanently linking a digital file to its creator.
Q. What's worth getting when shopping for NFTs?
A. NFTs can really be anything digital (such as drawings, music, your brain downloaded and turned into an AI), but a lot of the current excitement is around using the tech to sell digital art. People have even started selling themselves as an NFTs!
Q. Do people really think this will become like art collecting?
A. I'm sure some people really hope so (*like whoever paid almost $390,000 for a 50-second video by Grimes or the person who paid $6.6 million for a video by Beeple). Actually, one of Beeple's pieces was auctioned at Christie's:
https://www....ys-69-million
---> Beeple, 'Everydays': The First 5000 Days. Sold for: $69.3 million — Photo of the jpg seen above.
And guess what? - This Beeple video ended up selling for $69 million, which, by the way, is $15 million more than Monet's painting Nymphéas sold for in 2014.
So this is where it gets a bit awkward. You can copy a digital file as many times as you want, including the art that's included with an NFT.
But NFTs are designed to give you something that can't be copied: ownership of the work (though the artist can still retain the copyright and reproduction rights, just like with physical artwork).
To put it in terms of physical art collecting: anyone can buy a Monet print — But only one person can own the original.
NFTs have a feature that you can enable that will pay you a percentage every time the NFT is sold or changes hands, making sure that if your work gets super popular and balloons in value, you'll see some of that benefit.
Q. So every NFT is unique?
A. Every NFT is a unique token on the blockchain; But while it could be like a Van Gogh, where there's only one definitive actual version, it could also be like a trading card, where there are 50 or hundreds of numbered copies of the same artwork.
Q. Who would pay hundreds of thousands of dollars for what basically amounts to a trading card?
A. That's part of what makes NFTs so messy. Some people treat them like they're the future of fine art collecting (think of it like a playground for the mega-rich), and some people treat them like Pokémon cards (where they're accessible to normal people but also a playground for the mega-rich).
Q. So, when you buy an NFT, what are you actually buying?
A. In the bricks-and-mortar art world, it is common to issue a certificate of authenticity when a collector purchases an unsigned work. Most NFTs function like certificates of authenticity, only they rely on the cryptographic protocols of the Ethereum blockchain for their authority instead of an official paper document. This high-tech token is unique and proves your ownership, but the thing you own – usually a JPEG, GIF or MOV – remains as copyable as ever. The overwhelming majority of NFTs are relatively conventional as items of visual culture: digital drawings or animations of the sort that have existed for many years. Some, like CryptoPunks (released in 2017 and one of the first NFTs on the Ethereum blockchain), are intentionally low-fi and full of nostalgia for the early days of the internet.
Share More about NFTs | Come In & Make Some Real Life Art! :)