Community + Connection through Creativity
Let's explore how Pinot's Palette provides a space for people to connect, make friends, and build a creative community.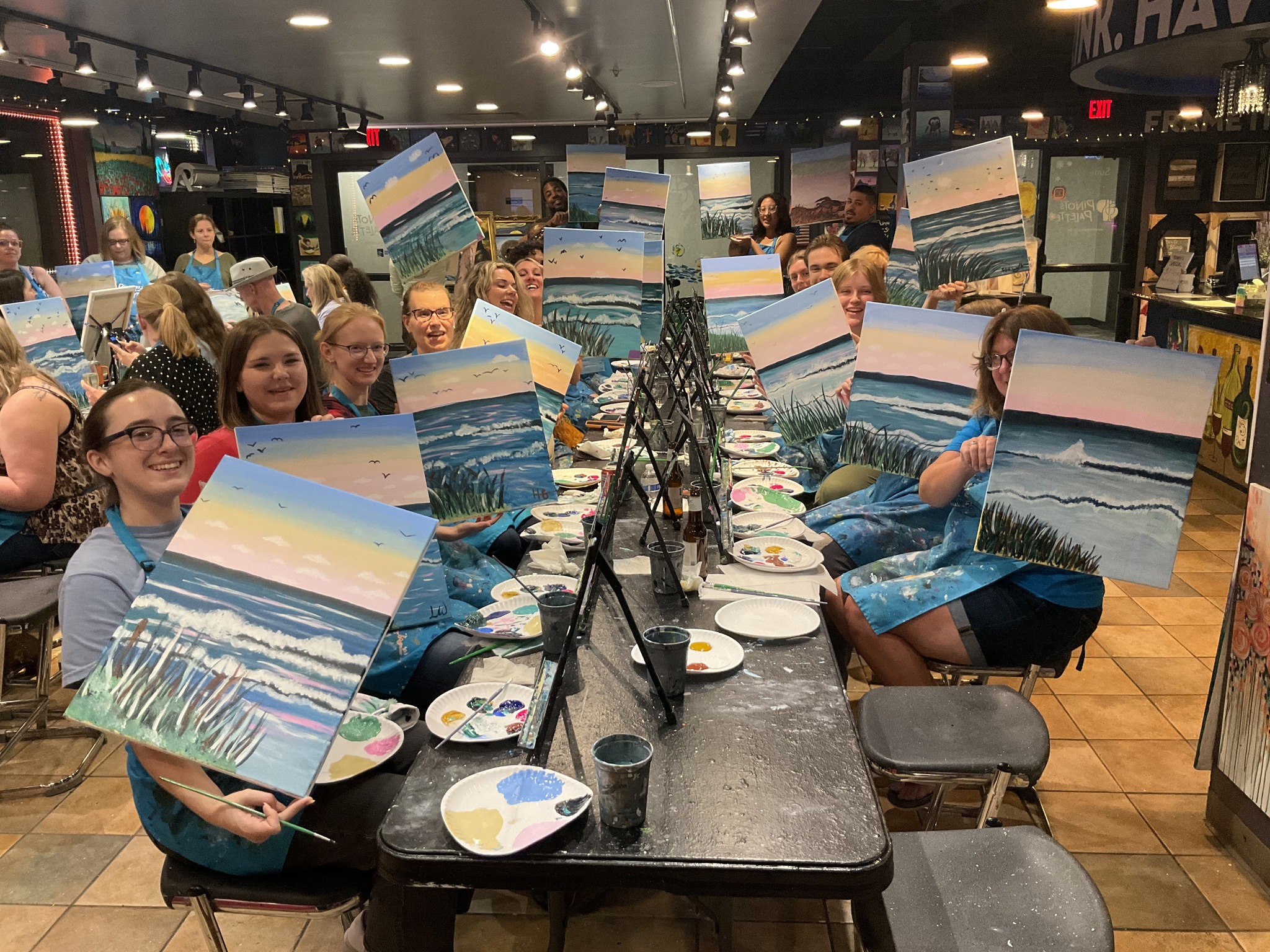 Painting and wine studios offer a unique and welcoming environment that goes beyond just art and beverages.
We provide a space where people can connect, make friends, and build a creative community.
Here are some of the ways that painting and wine studios facilitate these connections:
*** Shared Experience ***
Everyone in the studio is there for the same reason—to create art and enjoy a fun evening. This shared experience serves as an instant icebreaker, making it easier for participants to strike up conversations and connect with one another.
*** Relaxed Atmosphere ***
The combination of painting and wine creates a relaxed and informal atmosphere. This relaxed setting encourages people to let their guard down, fostering a more open and approachable environment for socializing.
*** Collaborative Learning ***
People of various skill levels attend painting and wine classes, from complete beginners to more experienced artists. This mix of expertise encourages a collaborative learning environment where participants can exchange tips, tricks, and advice.
*** Mutual Support ***
Learning and experimenting with art can be vulnerable. Participants often find themselves offering encouragement and support to each other as they overcome challenges and create their masterpieces. This mutual support helps build bonds and camaraderie.
*** Team Activities ***
Many painting and wine studios offer group events, such as corporate team-building sessions or bachelorette parties. These activities encourage teamwork and collaboration, providing opportunities for participants to work together toward a common goal.
*** Conversational Catalyst ***
Painting and wine classes provide natural conversation topics. Participants can discuss the painting techniques they're using, the colors they've chosen, and even share their thoughts on the wine being sampled, making it easy to strike up conversations.
*** Art as a Connector ***
Art has a unique ability to transcend language barriers and cultural differences. Participants can connect through their shared passion for creativity and self-expression, fostering a sense of unity.
*** Unplugging and Bonding ***
Painting and wine studios offer a chance to disconnect from digital devices and immerse oneself in the creative process. This creates a conducive environment for genuine, face-to-face interactions and meaningful conversations.
*** Regular Events and Workshops ***
Studios often offer a series of classes or workshops. Attending these events regularly allows participants to meet familiar faces, form friendships, and gradually become part of a creative community.
*** Social Spaces ***
Many studios have designated areas where participants can relax, socialize, and enjoy their wine before or after the painting session. These spaces encourage lingering and facilitate casual interactions.
*** Events Beyond the Canvas ***
Some painting and wine studios organize additional social events, such as art exhibitions, gallery openings, or themed parties. These events provide opportunities for participants to connect outside of the studio setting.
*** Online Communities ***
Many painting and wine studios have online forums or social media groups where participants can share their artworks, discuss techniques, and continue conversations beyond the studio.