Are You In Need Of A Mental Health Day?
Sometimes, sick days are for more than just the flu.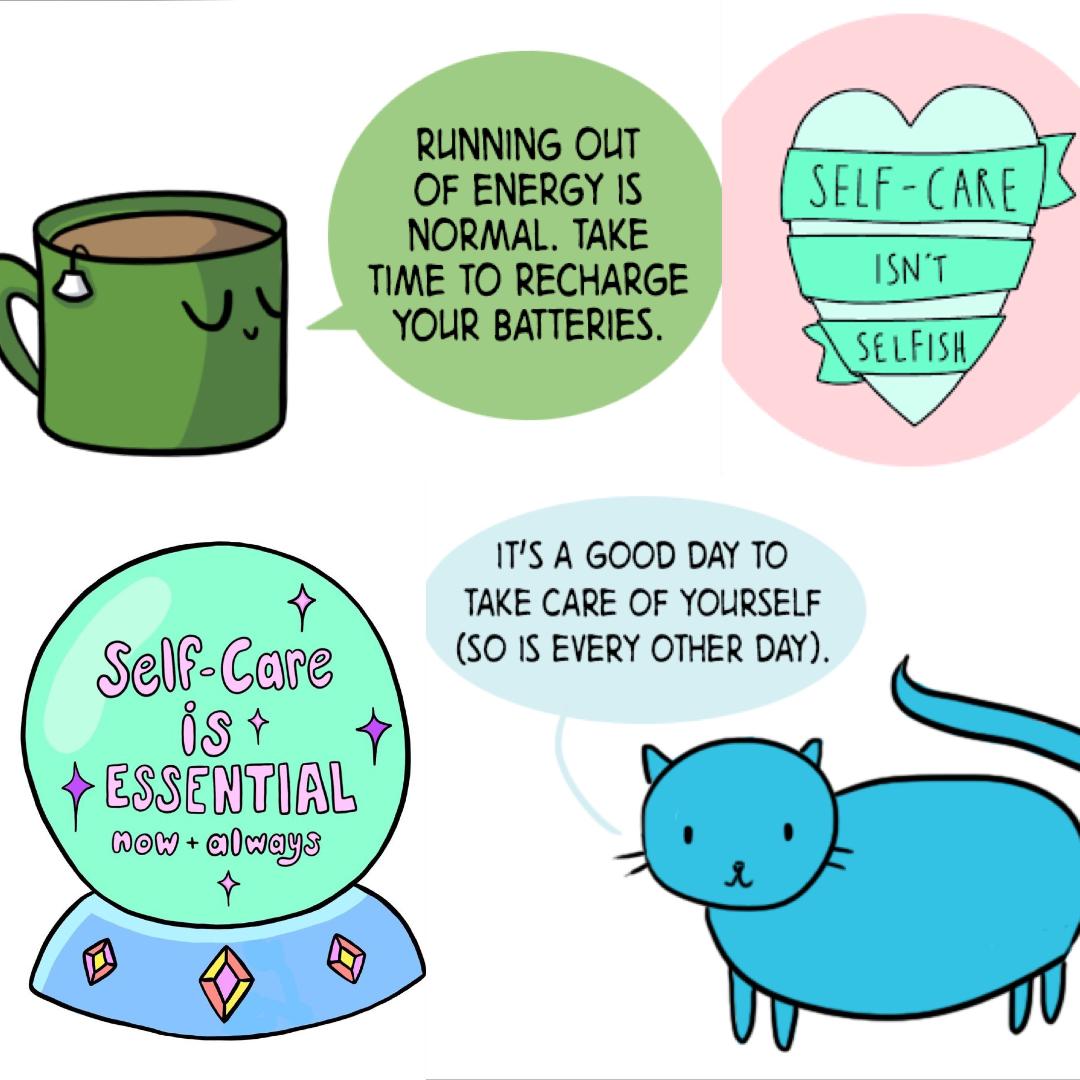 It's so important to take a mental health day for yourself every once in a while. We know that life gets crazy and the weight of the world falls on your shoulders. High pressure jobs, kids, household duties, doctor's appointments, meetings, and other daily tasks build up over time and really start to leave their mark on our mental state. Being stressed and overwhelmed is just a part of life sometimes, but you do need to remember to take care of yourself, so you CAN take care of others.
After days and weeks of our hectic daily schedules, weighing us down, it's important for us to take some time for ourselves and our mental health; Get yourself relaxed and de-stressed for a day, here and there, before you get back on track with your 'To-Do' list.
So, are YOU in need of a 'Mental Health Day'??
-- SIGNS THAT YOU'RE OVERDUE FOR A MENTAL HEALTH DAY --
1.You're exhausted and can't sleep
Overworking yourself mentally can lead to physical exhaustion. Severe exhaustion can lead to two things: the need to sleep all the time, and the inability to fall asleep when you go to bed. And when your sleep suffers, so does your health. Taking a rest day to sleep in, take a good, long nap and get to bed early could be just the remedy you need to get your head and body straight again.
2.You're more anxious than usual
When anxiety knocks at your door, it can show up under a variety of disguises that range from racing thoughts to panic attacks. It can also lead to physical symptoms like chest tightness, abdominal discomfort, or shortness of breath. If you're feeling particularly uneasy and you're having a hard time snapping back into your usual laid-back mood, you might be in need of a mental breather.
3.You can't focus
When there's just so much going on at work or at home that your brain can't seem to keep track of anything, it could lead to you make careless mistakes and possibly experience even higher stress levels. Taking a day off from the madness can help you regroup your thoughts and sharpen your focus.
4.You're feeling down in the dumps
"Whether it's personal or office drama dragging you through the mud, an invigorating day of all play and no work can help you reboot. "Watch a funny movie. Spend time with family. Read a book. Do a fun activity, like a craft or hobby. Do anything that makes you feel good about yourself"
(*But if you find that what you're feeling is something a lot more serious than the typical blahs—like deep sadness, irritability, or a loss of interest in activities you normally love—you might be experiencing symptoms of depression.)
5.You're easily set off
We're all guilty of getting testy from time to time. But once you start getting into rumbles with your friends, family members, or co-workers for no reason other than the fact that you're constantly on edge, it could be that your nerves are fired up and you're mentally shorting out. Spending a day away from the everyday hustle could ease up some of the aggressive pressure.
6.You keep getting sick
Can't seem to shake the sniffles? If you're seeing your doctor more often than you're seeing your friends, that could be a pretty clear-cut sign that your health is paying the price for a burned-out brain. Recurring colds or other physical ailments are a signal that your body needs to slow down and that you're in need of a mental-health day
7.You feel like you're in slow motion
You might think that guzzling multiple cups of coffee daily will help you power through the work week. But, on the contrary, fueling your days with caffeine will only make you feel more sluggish over time.
Consuming too many caffeinated beverages and too little water leads to your body getting dehydrated. The cure? Step away from the coffee room at work and spend a day at home replenishing your system. "Drinking as much water as possible can help flush toxins and give your system the hydration it needs," Clark continues. "Taking time to nourish your body with healthy food and plenty of water can go a long way to perk up your body and mind."
8.You feel disconnected
If there's one thing that can make you feel detached from the rest of the world, it's sitting in front of a computer, buried so deeply under a pile of to-dos that you hardly have time to come up for air. "It isn't hard to feel lonely while coping with the demands of modern life, and pushing ourselves too far can sometimes cause us to withdraw from friends and family who love and support us. When you find yourself unwittingly withdrawing from the people that you love thanks to growing demands at work, a mental-health day may be in order to reconnect with your social circle—and yourself.
-- WAYS TO GIVE YOURSELF A MENTAL HEALTH DAY --
* Practice deep breathing or mindful meditation.
* Talk it out with a close friend or therapist.
* Try acupuncture to relax and de-stress.
* Try yoga— it can help you relax and even benefit your heart.
* Get a massage or facial.
* Go for a walk in nature, it can improve your health.
* Take an exercise class at the gym.
*GET CREATIVE
-- This is one that we're particularly in favor of!! Research has proven that painting and other creative activities provide a lot in the way of mental health, including relieving stress, promoting confidence, and encouraging self-expression. Pair that with a glass of wine, some music, and time spent with loved ones and you've got a wonderful mental health day!
(Wine and relaxation):
We all know about the benefits of a glass of wine, pertaining to stress, so why not pair it with a creative activity and have the two forms of relaxation, helping you to de-stress?!
Drinking wine is one of the most time-honored ways for disconnecting our brains at the end of the day; It calms the mind, temporarily, because it is a central nervous system depressant, relaxing your brainwaves and muscles, too.
(Painting and stress-relief):
One of the main reasons that art therapy has proved to be successful is due to the accumulative effects of several well-known benefits associated with the act of painting. These benefits include self-care, distraction and flow: Self-care means taking care of yourself and taking part in activities, purely or partly, for the benefit or your own well-being. Art can help you discern feelings and express thoughts that are difficult to articulate. Engaging with the arts and creating something is a way of engaging with and being in relationship with yourself, helping you to know yourself better. The process of creating art opens channels of communication beyond those of the purely verbal, dissolving barriers caused by words or our own internal censors, helping us to see ourselves, and others, more fully and clearly. In so doing it connects us more deeply to ourselves and to each other. If you are working in class with other people the atmosphere becomes one in which there is a mutual give and take of ideas, and a spirit of generosity. The creative process helps to create new relationships and foster existing ones in a positive productive environment.
*More Ways That Making Art Reduces Stress:
https://www....09c926cfdccac
*More Ways To De-Stress & Relax:
https://www....xandde-stress
DIY CHUNKY KNIT BLANKET CLASS:
Not only do we offer our fabulous painting classes, but we also have blanket making classes! These soothing knitting classes are just what the doctor ordered as far as creative experiences go. There's just something about working with your hands and that soft blanket material, and sitting with loved ones as you continue the time-honored tradition of knitting. Select the colors you want to use, be walked through the process of making the blanket by one of our instructors, and leave the class with a hand-made piece that you can take home to enjoy for years to come.
****Join us for our next blanket making class on Saturday, SEPTEMBER 28th
Join us for this unique workshop to create a chunky cozy throw blanket! No experience or knitting needles required.
The blankets are 40 x 50 inches. Colors will be Taupe, Cream, Dark Grey, Light Grey, and other colors as they are available. You can choose when you arrive. First come, first served!
Sign up for this class:https://www.pinotspalette.com/naperville/event/352037
(*) And be sure to keep an eye on the calendar since these classes have become incredibly popular and we'll be adding more of them throughout the months, especially as the weather starts to cool down!)