Naperville Pinot's Palette Customer Of The Month
Meet VIP Kasey our April Customer of the Month! We're going to let him tell it in his own words!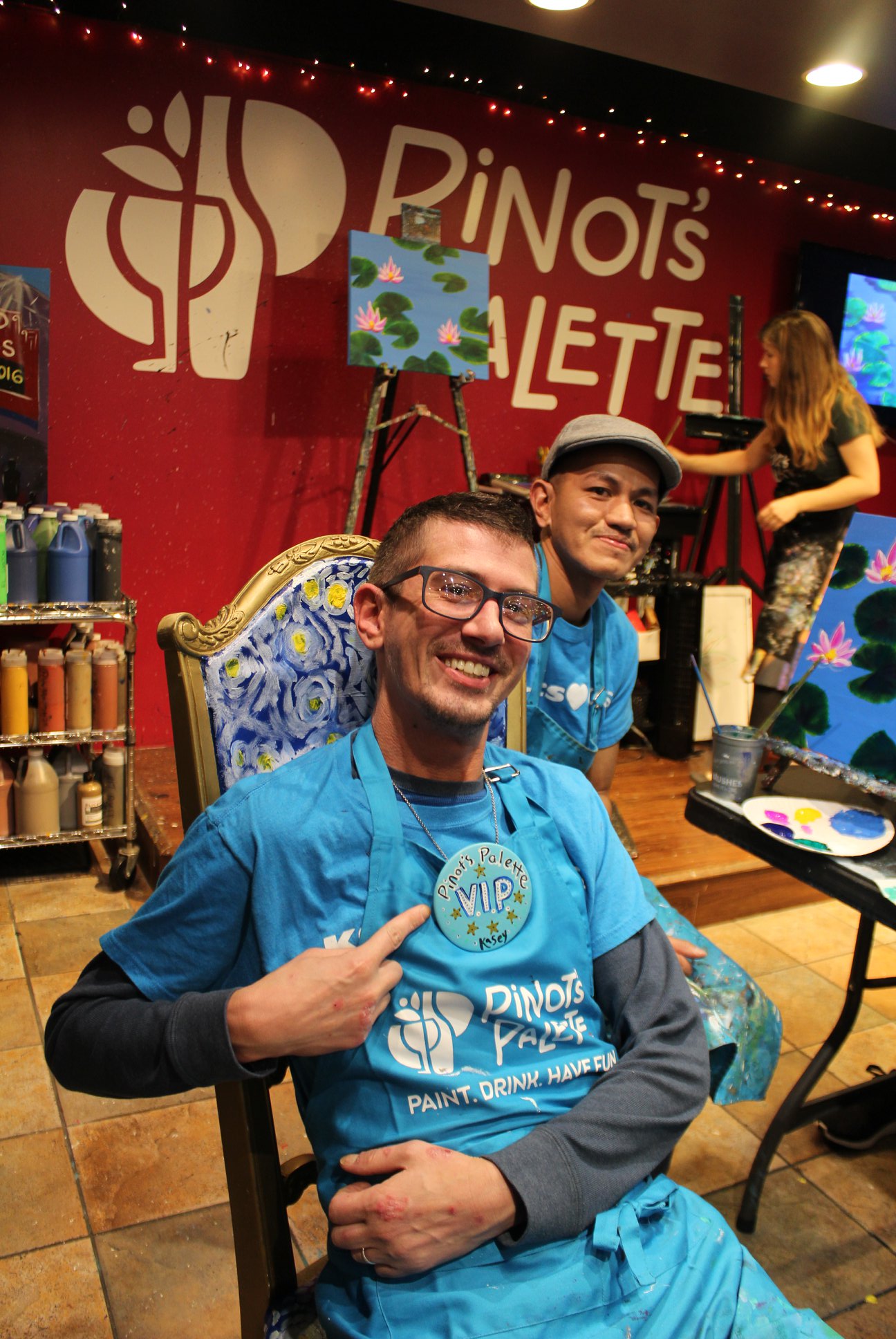 I began painting at Pinot's Palette two years ago. Pam and her crew embraced me as a loyal customer, who helped to make it popular for newcomers to join us to paint.
I grew to know Pam and her amazing crew over that time, and I am treated like royalty when I email, call, text or simply walk through those studio doors. They make me feel like family.
My favorite painting at Pinot's is an easy choice. It was a painting of one of my favorite wedding photos. It hangs framed and is hanging on its own wall in our home.
Something amazing happened on my birthday last fall. A Pinot Home Session with beautiful gifts and one of my favorite artists, Korcut walking 20 of my guests through a gorgeous painting of their own, step by step, in my home! Friends, family and neighbors still talk about how awesome that day was. Pam made that dream birthday come true and I am forever grateful.
At home, I now paint abstract art. I put on whatever music that reflects what I am feeling and begin painting those feelings onto a canvas. Sometimes it takes days and the picture evolves. I grew up attending a music arts academy but I would have never discovered my love for visual art had it not been for Pam and her team!
My husband and now have an art and music room... we paint at least once a week, whether at home or at Pinot's. It's brought us even closer than I thought we could be. I have Pam and Pinot's establishment to thank for that.
Now I'm named a Pinot's VIP, with all the fringes!
Thank you from the bottom of my heart!
Lifelong customer and, more importantly, lifelong friend,
Kasey (aka, Pinot's Royal Son)
Are you looking for fun things to do in Naperville? Join us for an unforgettable night out in Naperville! We provide everything you need for a great night out.