Girls Night Out Adventure: Trying Something New and Exciting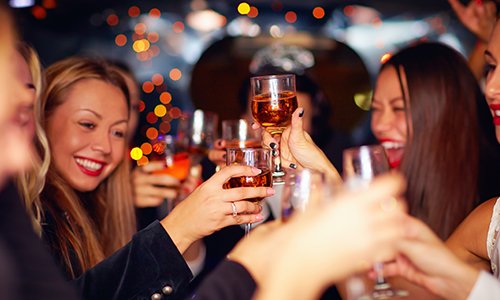 With the kids heading back to school (and all of the stress that comes along with the BTS routine), you and your other Mom friends are likely in need of a much-needed 'Girls' Night Out' soon! Why not try something new this season and paint some artwork for your home while enjoying some wine, and of course, time out with friends?!
JOIN US for a night of fun with Pinot's Palette!
Amid work responsibilities, family commitments, and the endless demands of modern living, the value of spending quality time with your girlfriends cannot be overstated. Enter the cherished tradition of a girls' night out – a time-honored ritual that holds far more significance than just an evening of fun.
We hope you'll join us in the studio for a class and if you're eager to do more than one fun night out, we've listed some other ideas, too!
Enjoy!
Paint and Sip Class Or Party:
Join us in our Downtown Naperville studio to paint some amazing artwork in a class, led by one of our talented instructors; Or host a paint and sip party in the studio OR at your own home. Set up easels, canvases, and a selection of paints in your home or backyard. Let your creativity flow while sipping on your favorite wines. Whether you're a budding artist or just looking to have fun, this twist on the classic paint and sip experience adds an air of whimsy to your girls' night.
--> Our Class Schedule:
https://www....rville/events
--> Book A Party!
https://www....ivate-parties
--> Paint At Home:
https://www....paint-at-home
MORE Ways To Enjoy A Girls Night Out:
*** Culinary Adventure Tour
Take your taste buds on a journey by organizing a culinary adventure tour through your city or a nearby town. Plan visits to diverse restaurants, cafes, and food trucks, each known for their specialty dishes. Share small plates, savor exotic flavors, and immerse yourselves in the local food scene. This gastronomic exploration promises to be a delightful feast for both your palates and your senses.
*** Retro Glamour Photo Shoot
Transform yourselves into iconic stars from the past with a retro glamour photo shoot. Choose a specific era – like the roaring '20s or the vibrant '80s – and dress up accordingly. Find a unique location that complements your chosen theme and hire a professional photographer to capture your stylish transformations. This is not just a photo shoot; it's a chance to step into a different time and create memories that will last a lifetime.
*** Outdoor Movie Night and Camping
Combine the magic of an outdoor movie night with the thrill of camping for an unforgettable experience. Set up a projector, a cozy seating area, and a screen in your backyard or at a campsite. Watch your favorite chick flicks under the open sky, surrounded by nature's beauty. After the movie marathon, gather around a bonfire for heartfelt conversations and marshmallow roasting – the perfect ending to a night of bonding.
Share More Fun Girls Night Out Ideas | Book A Team-Building Event!