New Year? Don't Fear!
Alright, we're a little over a week in to 2017, how are everyone's New Year's resolutions going? Still hitting the gym every day? Have you had any pop or chocolate yet? We get it, there's a lot of pressure on those first three week of the year! That's why we decided to help you create a year-long goal list that you can work toward completing up until December 31, 2017! There's a lot less pressure and a lot more time to get things done! It also makes you accountable all year long, instead of feeling discouraged if you accidentally slack in the first month or two.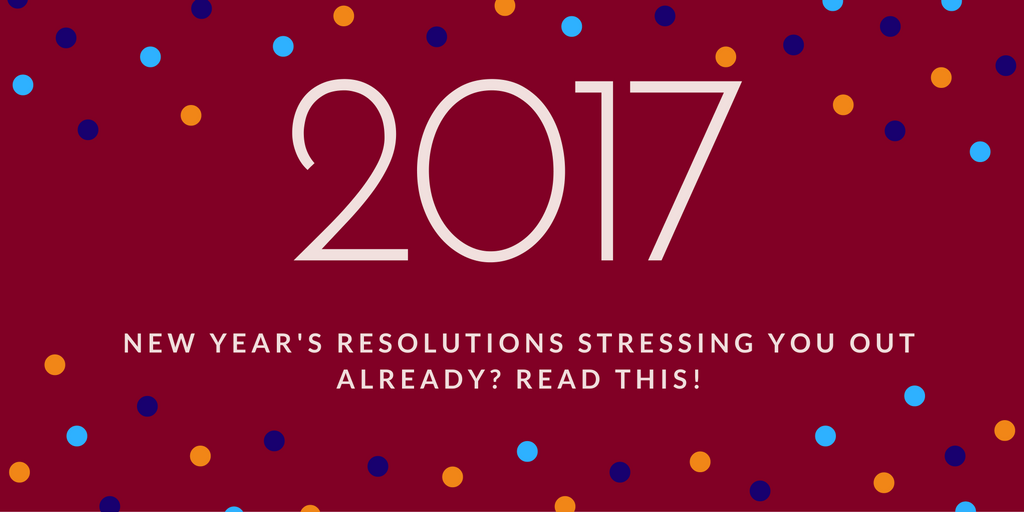 Here's your 2017 Goal List;
*Get 49-56 hours of sleep a week.
- Instead of forcing yourself to get 7-8 hours a night (we all know sometimes we've just got too much to do or are just downright having too much fun to go to be by 11!) just make sure you're giving your body the amount of sleep it needs by making up that amount of sleep within the same week. Don't strain yourself by not getting enough sleep but don't stress if you've got a deadline due and need to stay awake that extra hour!
*Pick the healthier choice more often than not
- Instead of choosing not to eat because all that is left at a child's birthday party are cookies, just make sure that when you work tomorrow you choose to make a healthier lunch instead of taking the easy way out. It's okay to have a sweet (or salty) tooth, as long as you remember to be selective with them!
*Try something new each week
- Never stop challenging yourself! Each week push yourself to do something new, try a new recipe, get creative and take an art class (We heard the ones at Pinot's Palette are a great time! Just a thought..) or try a new workout!
*Make Better use of your closet!
- If you're a women, we often tend to have full wardrobes yet nothing to wear, instead try this! Hang all of your clothes with the hanger facing the other direction, and every time you wear an item turn the hanger back the right way, at the end of the year you can either donate all of the unworn clothes or sell them online. Either way, if you went a full year without wearing it, it probably isn't worth keeping around. (There are a few exceptions of course; wedding dress and/or dresses for attending weddings, specific holiday clothes, etc..)
*Participate in 12 charity events
- Whether it's a clothing drive, setting up or attending a fundraiser at Pinot's Palette, or just donating to a great cause; do your part at least once a month to make this world a better place.
*Find a new hobby
- Or continue working hard at the one you have now! As long as you have at least one great outlet to let go of some stress, everyone needs a happy place.
*Express your gratitude
- Write it down or think out loud, but before you go to bed each night make sure you reflect on your day for a couple of minutes and find three things that you are grateful for!
*Have fun
- Not every second, day, or even week, will be perfect throughout the year, but learn to find the silver linings in the not-so-good situations you are unable to avoid. Make the best of the best and worst situations!
Call the studio today at 331-457-5440 for more information, or you can email us at Naperville@PinotsPalette.com
And don't forget to follow us for the latest updates and pictures!
Facebook: Pinot's Palette Naperville
Instagram: PinotsPaletteNaperville
Twitter: NapervillePinot
Snapchat: NapervillePinot
Share Check Out Our Pinterest | Get Creative With Our Paintings