Last Minute Halloween How To's
Did anyone else get scared at how fast Halloween was here? Here's some last minute How To's to help you prepare for the parties, the trick-or-treaters, and the fun!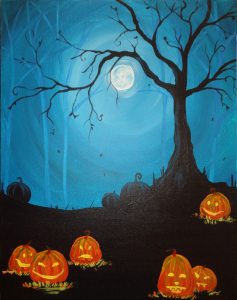 Recipes for the Monster Mash
Spider Chip Cookies
Ingredients
2 cups plus 2 Tbsp all-purpose flour
½ tsp baking soda
½ tsp salt
12 Tbsp butter (1½ sticks) melted and cooled until warm
1 cup brown sugar
½ cup granulated sugar
1 large egg + 1 egg yolk
2 tsp vanilla extract
2 cups semi-sweet chocolate chips, divided
Directions
Heat oven to 325 degrees F.
In a medium bowl mix together flour, salt, and baking soda..
In a separate large mixing bowl beat the butter and sugars together with an electric mixer until well blended. Add the egg, egg yolk, and vanilla. Stir in the dry ingredients and mix until just combined. Gently stir in ¾ cup chocolate chips. The dough will be soft.
Gently scoop dough into balls and place on a parchment lined cookie sheet. Bake for 10-12 minutes. Remove from oven and place 3-4 chocolate chips into the tops of each cookie, point side up.
Add remaining chocolate chips to a microwave safe bowl and microwave, on low power, stirring every 30 seconds, until melted. Just barely cut the corner off of a small ziplock bag (you want the hole to be very small to make your spider legs).
Spoon the melted chocolate into the bag and use it draw spider legs on the sides of the chocolate chips.
Store cookies in an airtight container or freeze in a freezer ziplock bag.
Cobweb Brownies
Ingredients
1 box brownie mix
1 cup marshmallows
Directions
Preheat oven to 350 degrees F. Grease a 9"x13" baking pan with cooking spray.
Prepare brownie mix according to box instructions. Pour into prepared pan and bake for 20-25 minutes, or according to box instructions. Let cool to room temperature, then cut into squares.
Microwave marshmallows until gooey and melted, about 30 seconds. (It'll still look lumpy.) Using a fork, stir until smooth and let cool slightly.
Using two forks, stretch about a tablespoon of the melted marshmallow into a thin strand to drape over the brownies.
Repeat to create a web-like pattern. Serve immediately or store for 1-2 days.
Tip: The melted marshmallow is messy and bit of a pain to slice, which is why we recommend slicing the cooled brownies before applying the marshmallow topping.
Mummy Wraps
Ingredients
1 8 oz. can of Pillsbury cresent rolls
8 hot dogs or hot links
Mustard (or whichever sauce you prefer to use to make the eyes)
Preferred dipping sauces
Directions
Preheat oven to 375.
Unwrap the crescent rolls and join two of them together. You should have enough to form four rectangles.
Cut each rectangle into ten strips lengthwise.
Wrap 5 strips of dough around each dog to resemble bandages. Pull the dough lightly to strech it as you're wrapping, and criss-cross the dough to make it look more mummy-like.
Use your fingers to create space for the 'eyes'.
Bake for 13-15 or until golden on the outside. Use mustard or other preferred dipping sauce as eyes.
Serve with dipping sauces.
Drinks to Help You Have a Killer Good Time
Pumpkin Punch
750 ml bottle of spiced rum
1 cup orange juice
1 cup lemon juice
1 cup spiced syrup
1/2 cup pumpkin puree
2 1/2 cups sparkling water
Cinnamon sticks for garnish
Angry Grand Apple
4 Bottles Angry Orchard Crisp Apple
8 oz. Vodka, gin or white rum
1.5 oz. Grand Marnier
3 oz. Lemon juice
6 oz. Cranberry syrup (To make cranberry syrup: Combine two cups cranberry juice and one cup of sugar.)
Add ingredients to a punch bowl except the cider. Stir to combine and then top with Angry Orchard Crisp Apple and ice cubes.
How Charlie Brown Got The Great Pumpkin
1. Before you carve it, soak it in bleach for about thirty minutes, then let it air dry. The bleach dries out the pumpkin skin a little more without affecting the inside, making the skin a little more durable and helping it last longer! (We recommend to not do this if you plan on consuming the pumpkin seeds, as there may be cuts or holes in the pumpkin that allow the bleach to get in.)
If you're keeping your carved pumpkin inside...
2. Put a fruit fly trap in the bottom of the pumpkin (when there's a flameless candle or no candle in there) to keep those pesky bugs away.
a. Put some slices of banana or tomato etc. in the bottom of the small container
b. Cover top with plastic wrap
c. Secure the plastic wrap with a rubber band
d. Poke holes in the plastic so flies can get in
(Make sure the holes are big enough for them to get it, but not too large they can still figure their way back out)
3. Sprinkle a little bit of cinnamon, nutmeg and cloves inside the lid. When you light a real candle and put it inside, your jack-o'-lantern will make your house smell like an autumn air freshener.
Costumes to Die For
Pumpkin Pi
Grab an orange shirt and cut out some felt (or construction paper) in the shape of the mathematic symbol Pi and pin or glue it to your shirt. Take a headband and super glue a small pumpkin to it. Ta-Da! Dessert is served!
Bread Winner
Throw on any work out clothes you have in the closet, borrow one of the kids' medals or print one offline and tape it around your neck. Now make sure to carry around a loaf of bread for the evening. You'll be the bread winner, AND the life of the party.
Fork in the road
Have a black shirt? White paper? A plastic fork? Perfect! cut some white paper and pin or glue it down the middle of your shirt so it looks like a road. Pin or glue a plastic for in between two of the white lines. The biggest fork in your road is no longer your costume! (it's whether or not to have another one of those Spider Chip Cookies)
Decorating So Easy it's Scary
Black Cat Pumpkins
Welcome trick-or-treaters and Halloween guests with a litter of black cat pumpkins. These carve-free kitties are easy to craft, making them a fun project for older children or small kids with a little help from a crafty adult.
Paintings
Another easy craft, that's also a lot more fun to make, is painting some Halloween pictures to hang around the house! Here at Pinot's Palette this one is our personal favorite craft. In fact, we have two paintings we're hosting tomorrow; Pumpkin Spice and Moonlight Mischief! Just in time for Halloween. So reserve a seat before they run out and we'll help you with some of those last minute decorations.
Call the studio today at 331-457-5440 for more information, or you can email us at Naperville@PinotsPalette.com
And don't forget to follow our Instagram, Twitter, and Facebook for the latest updates and pictures!