Workout Routines for Back To School Life
Life gets a little more hectic this time of year....
With the kids, back in school and attending practices, and you, following suit with your own routine, things tend to get a little crazy! Don't let that typical, busy, auto-pilot life get in the way of your workouts and healthy eating this year.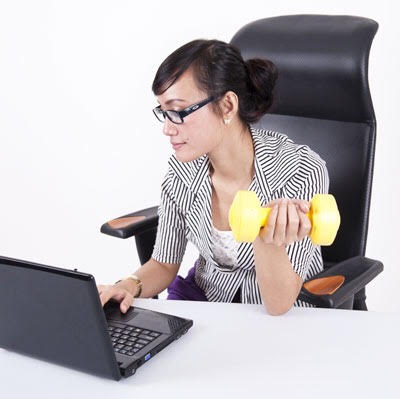 With the care-free and fun-filled days of summer, gone, and the structured weeks of the school year, here, it's time to get back into a routine. Working out and eating healthy are two things that more of us would like to include in that routine....
Start now (seriously... try to start asap), and you'll be able to adjust your daily routine to include a workout! On average, it takes about 2 months (66 days, to be exact) for something to become a part of your routine. Introduce a 30-40 minute exercise time into your daily tasks, and before you know it, it'll be something your mind and body expect to happen every day!
We suggested you start asap, because we all know that in less than 2 months, the season of 'eat all the things' will arrive. From Halloween candy and Thanksgiving Day turkey, to cookies and fudge at Christmas time, it's hard to resist!! But you really can do it, and with little to no effort to start!
Just a few tips:
1* Think about what is practical and enjoyable for YOU! If you hate going to the gym... then don't! The less you like your form of workout, the less likely you are to do it every day! Try going for a short walk or your lunch break, or after work. A 30 minute, leisurely walk around a nearby park or other scenic route can be relaxing and easy to do, too! Get in the habit of adding an additional 30-40 min to your workday and walk around the mall, a trail, or other area near the office. A short walk or bike ride offers some stress-reliving, mind-cleaning advantages, too!! You can walk, jog, or run (whatever is your thing) and it'll get you into the mindset of working out regularly. (*apply this concept to any exercise... think about something that won't be torture to do everyday, and remind yourself you're only adding a short, extra bit of time to your daily work routine.)
2* Set goals and rewards for yourself!
Writing down just a few goals, can help you to remember why you're working out and what you want out of it. The best idea is to set 1-3, easy and basic, daily goals for yourself. We suggest setting 1-2 larger, monthly goals, as well! Just think of this entire process as 'taking it one day at a time.' You're not going to lose weight and get firm in one day so take it slow and measure your progress against the day before. If you ate a few less calories or walked a few minutes longer than the day before, you're making progress! Reward yourself with non-food treats! "When I lose 5 lbs, I'll buy myself a new workout shirt..."; "When I go an entire month, working out every day, I'll splurge on tickets for a show I want to see..." etc...
It really helps when you keep track of your plan, document it, and then reward yourself when you reach the goals!
3* Keep track of your physical activities throughout the day. "If you don't measure it, it doesn't exist".... It's somewhat of an exaggeration, but this old saying really has some truth to it, especially when it comes to exercise. Make a note in your calendar every time you work out, and add up your workout sessions at the end of each week, month, and year so you can monitor your progress and identify areas for improvement. Measuring your activity levels (and ideally keeping notes on your progress) can help you to stay on track and realize when you're slipping before you've completely lost the habit."
Also: Activity trackers are such amazing little devices! They come in all shapes; sizes, and price ranges! Check them out and see how much help they really can provide! (There are several apps out there to help, as well).
Here's some great advice on choosing the right tracker for you:
https://www....tness-tracker
MORE-----
Here is a GREAT list of ideas- How to find time to exercise when your schedule is already packed!!!
https://www....791027899/amp
10 Ways to sneak a workout into your schedule:
https://www....sy-schedules/
Here are some ideas for time management when it comes to fitting in a workout. There are various options for any type of schedule you may have!
https://www....-schedule/amp
Eat Healthy Too!!!!
**Exercise is GREAT, but we also need to be sure we're healthily fueling our bodies, as well!
There are so many great ideas out there for lunch meal prep, as well as dinner meals. You can cook once and eat all month long with 'freezer meals' and continuous food prep for you and the family. Having your healthy, pre-made lunches, waiting in the fridge, ensures you will eat better. Being able to grab a meal and toss it in your bag on the way out of the house, is an easy and stress free way to make lunch happen everyday.
Find more help, here:
https://www....-freezermeals
*****Take some time for yourself and come in to our studio for a great night out! Bring friends and family to join in on the fun. Painting is an excellent way to relieve stress and get that creative side of your brain going. It's always fun to relax and drink some wine, listen to music, and paint along with our talented instructors! At Pinot's Palette in Naperville, we take painting and wine classes to another level! The company, nation-wide, has been around for over 8 years and always aims to please! We have customers that come back to us, time and time again, eager to try another painting. This is a great way to spend a night out, since at the end of the class, you'll leave with a souvenir to always remember the night! Come see us! ((*check out our website, listed below, for more information and to reserve a seat!))