Do You Know Your Gogh?
Think you know your artists?
Test your knowledge on Van Gogh!
You might be ear-ily surprised by some of these facts!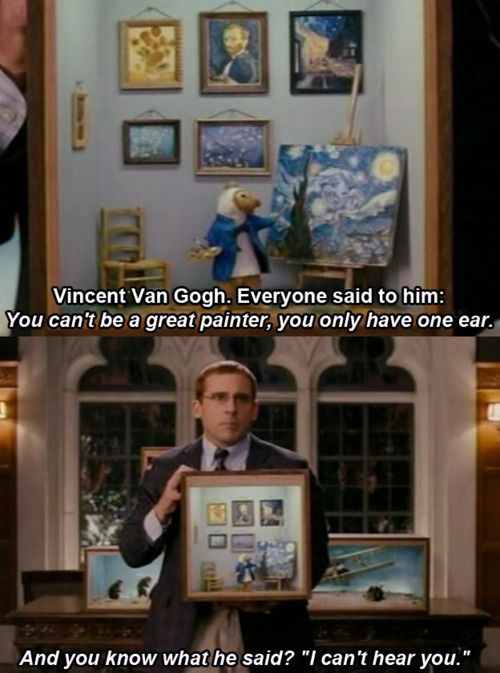 Thanks to Michael Scott (above), we know that Vincent Van Gogh 1) didn't have an ear, and 2) followed his passion. (Regardless of his late age to begin pursuing art and his lack of support.)
But what else do we know about him? How much do you really know about Van Gogh?
Below are ten facts about Van Gogh that aren't very well known - how many do you know?
1. Vincent Van Gogh was the first artist to paint outdoors at night. All impressionists prior to Van Gogh would base their paintings off of their sketches in the night, but still painted during the day. It has also been rumored that he even placed lit candles in his hat so he could paint at night.
2. Vincent Van Gogh painted "The Starry Night" while peering out the window as a self-admitted patient at the Saint-Paul asylum in Saint-Rémy. During his time there, he also painted "Irises" and "The Olive Trees." Once they were finished, Van Gogh referred to the "The Starry Night" as a failure. The painting "says nothing to me." He even sent it to his brother without any packaging because he was least concerned about it.
3. Vincent Van Gogh didn't start painting until he was 27 or 28! Although he died at the young age of 37, he still painted nearly 900 works of art. That's an average of about two paintings per week! (BONUS: Out of all of the paintings he produced, he only sold ONE during his lifetime! The painting was Red Vineyard at Arles and it was purchased for 400 francs.)
4. Vincent Van Gogh used a signature yellow (chrome yellow) that was, at the time, a much more advanced pigment. Over the years the pigments in this color (among many other used during that time period) faded and changed due to the instability of the chemicals. While research has been done to test the chemicals in the color, to reverse the chemical reaction due of time would likely cause more damage. So contemporary viewers will never be able to see some of the original colors of he intended them to be.
5. A living replica of Van Gogh's infamous left ear has been created using the artist's DNA and is on display at Ronald Feldman Fine Arts in New York. 'Sugababe' is the name of the artificially grown replica of Van Gogh's ear and was created by conceptual artist Deimut Strebe, in partnership with scientists from MIT and other universities. This was made possible by DNA that was extracted from a stamp Van Gogh once licked and cell samples collected from his great-great-grandnephew. What's even more interesting is that museumgoers can not only look at this ear but also whisper into it.
6. Vincent Van Gogh chose to sign most of his paintings as Vincent, he was opposed to Van Gogh due to his stay in England. Van Gogh was constantly misspelled; everyone called him Van Gof. In fact, he didn't sign every one of his paintings, only the ones that he considered ready to exchanged with other artists or sold.
7. Vincent Van Gogh is famously remembered for chopping off his left earlobe with a razor. However, differing accounts of the incident have made it difficult to ascertain the complete truth of what happened that fateful day. He suffered from temporal lobe epilepsy, a chronic neurological condition characterized by recurrent, unprovoked seizures. During one of his seizures, Van Gogh attempted to attack his friend Paul Gauguin with an open razor. This ultimately resulted in Vincent cutting off a piece of his own ear. Apparently, this version did not surface till much later as both men made a 'pact of silence' for vested interests – Gauguin to avoid prosecution and Van Gogh to salvage his friendship.
8. Vincent Van Gogh's made an impression on the oldest living person: born in 1875, Jeanne Calment had the longest confirmed human lifespan when she died in 1997 at 122. She lived her life in Arles, France, where Van Gogh spent time in 1888. During that year, Van Gogh came to a shop Calment's uncle owned to buy paints. Calment later described van Gogh as "dirty, badly dressed and disagreeable." Calment was 12 or 13 at the time and, according to a New York Times obituary, also said Van Gogh was "very ugly, ungracious, impolite, sick — I forgive him, they called him loco."
9. Vincent Van Gogh is remembered as, apart from a brilliant painter, a ridiculously fast walker. In fact, he walked over 100 miles in only three days, from London to Ramsgate, where his sister lived. His worn-out shoes even became the subjects of some of his paintings.
10. A team of Oscar-winning producers is working on creating a feature-length, hand-painted animation film about the life and death of Vincent Van Gogh, called 'Loving Vincent'. Directed by artist Dakota Kobiela, 'Loving Vincent' will narrate Van Gogh's story through his paintings and letters. Polish artists hired for the film will have to have hand paint close to 57,000 frames. All paintings are oil on canvas, in true Van Gogh-style and the animation is shot in the highest possible resolution. 'Loving Vincent', the world's first fully-painted feature film, is rumored to hit screens in 2018. Follow the link below to learn more about this upcoming movie.
"It often seems to me that the night is much more alive and richly colored than the day" -VG
What did Van Gogh say to Sien Hoornik? ... Wake me up before you Gogh Gogh.
Why did Van Gogh become an impressionist? ... He did it for the Monet.
Why did Van Gogh become a painter? ... He didn't have an ear for music.
_______________________________
We paint a lot of Van Gogh Paintings at Pinot's Palette. Call the studio today at 331-457-5440 for more information about Pinot's Palette, and other Master Artists style paintings that we have available. You can also email us at Naperville@PinotsPalette.com
And don't forget to follow us for the latest updates and pictures!
Facebook: Pinot's Palette Naperville
Instagram: PinotsPaletteNaperville
Twitter: NapervillePinot
Snapchat: NapervillePinot