4 DIY Fall Wreaths!
"Fall" into the season with one of these adorable DIY wreaths!
Your home will be Autumn-ready in no time as you craft the day away, creating these fun and practical door decorations!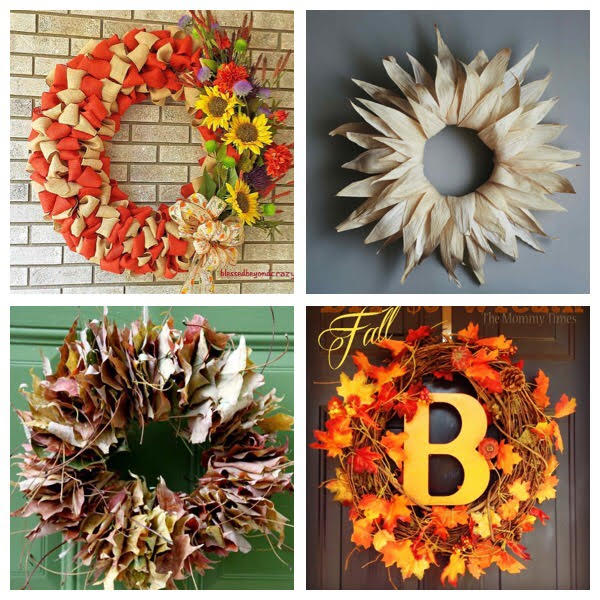 We've found some of our favorites and added the links to the tutorials, below. Make one for your door, and then the others for your back door and windows OR give them to friends! These wreaths are so easy and inexpensive to create, they make perfect gifts (think: friends' birthdays or a hostess gift!!).
*Burlap.... ahh, yes. The timeless, classic, Fall material. It's beautiful to use in the home, especially with the raw, natural, and farmhouse themed decor, trending lately. Burlap is available in so many colors and even patterns.
We love the classic beige burlap but a beautiful, bold color would look stunning on any front door!
Add a pretty flower, bow, or wooden letter to take the design to the next level!
Fall Burlap Wreath:
http://bless...urlap-wreath/
*Make use of some dried corn husks (readily available in crafts stores.. especially this time of year), and create a swoon-worthy wreath!
You could even spray paint them, once assembled, to add a pop of color to your door if you don't want the natural color.
Corn Husk Wreath From Martha Stewart:
http://www.m...n-husk-wreath
*Make use of all the leaves that will soon be falling from all of the trees!!!
This is a very budget-friendly project if you have a lot of leaves at your disposal!
Plus side: your yard will look freshly-raked!
Leaf Wreath From HGTV:
http://www.m...n-husk-wreath
*With just a few supplies, easily found a the dollar store can be put together to create this customizable wreath!
Add an initial, monogram, or even a wooden sign with the family name on it, and it's truly made for you home!
$5 Fall Wreath:
http://www.t...dollarcrafts/
**Be sure to check 'Pinterest' for tons of other amazing ideas for DIY Fall Wreaths! There are so many fun materials to use, including flowers, feathers, straw, ribbon, mesh, gourds, and even candy corn!
Once you've started creating these wreaths, we're betting you'll be in a crafty mood! Keep your inner-artist going strong with a painting class at our studio! Check out our calendar on the link below and see what we have coming up!
Pay extra attention to all of the seasonal paintings we have! Fall-themed pictures with warm and gorgeous colors will add beauty to your home this season! Bring friends and family in to paint with you. It's a great way to spend a girls' night out or even attend as a date night idea!
Come on out to Pinot's Palette in Naperville, and have a blast getting your paint on! We can't wait to see you there and admire the decor you create for your walls!
Cheers!