St. Matthews Bar Menu
Enjoy your favorite beverage from our full bar offerings. Drinking and painting at its finest! Join us for our favorite weekly specials...
Wine Down Wednesdays (select) - $5 Glasses of Wine
Thirsty Thursdays - 1/2 Price Bottles of Wine
Fridays or Saturdays - Featured cocktails
Sunday Matinee - $15 Bottomless Mimosas and $8 Bloody Mary's
Any Day - $3 Early Times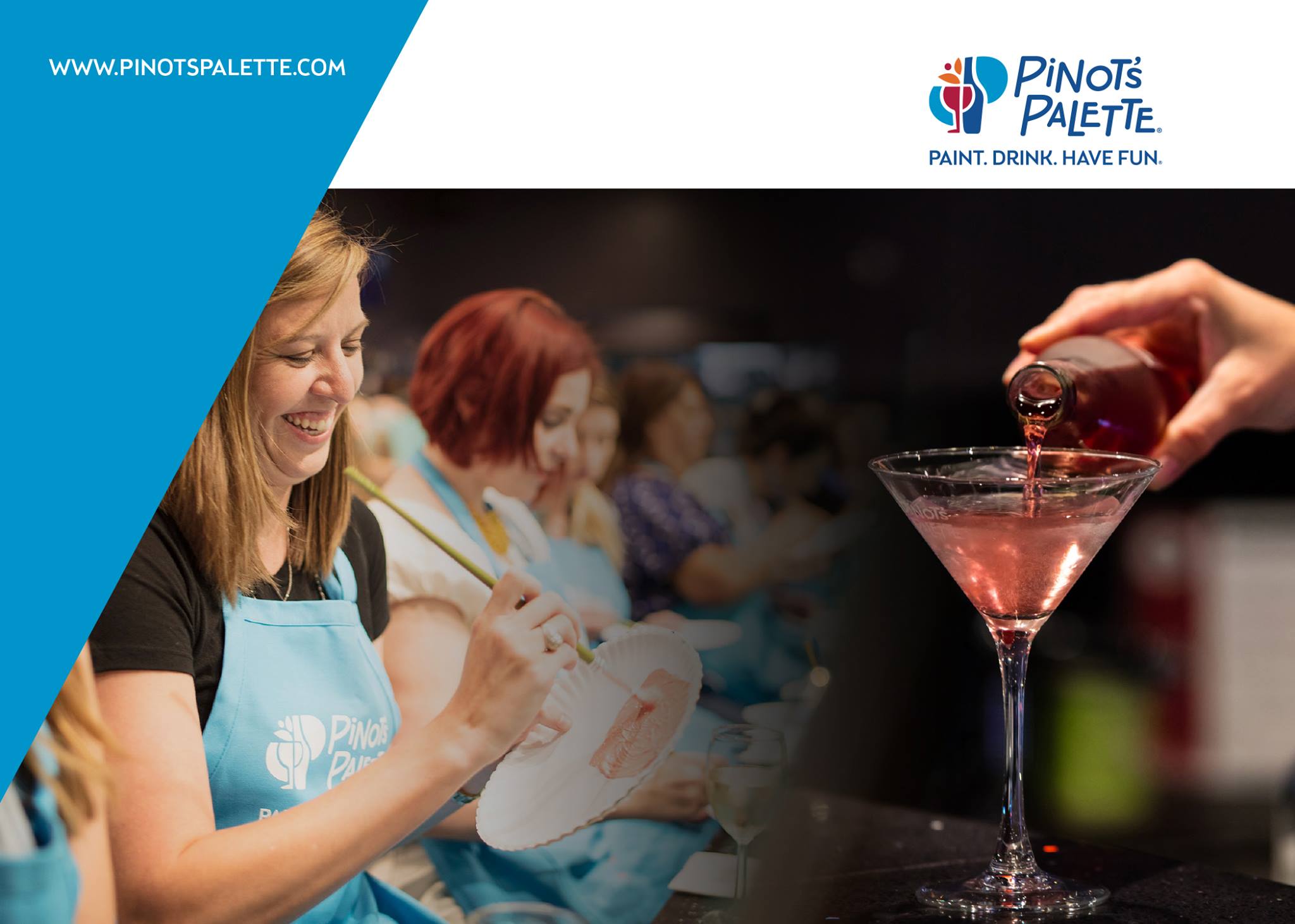 *Please note, it is illegal to BYOB in KY and all outside beverages of any kind are strictly prohibited, including non-alcoholic.
WHITE WINE (6oz per glass):
Pinot Gris, Acrobat BOTTLE $28 GLASS $9
Pinot Grigio, Middle Sister BOTTLE $22 GLASS $7
Chardonnay, Francis Coppola BOTTLE $25 GLASS $7
Sauvignon Blanc, Liberated BOTTLE $28 GLASS $8
Rose, Fetzer BOTTLE $16 GLASS $6
Sparkling Wine, LaMarca Prosecco (splits) BTL $7
Riesling, Blufeld BOTTLE $24 GLASS $7
Riesling, Old 502 Reesling BOTTLE $28 GLASS $9
Moscato, Cupcake BOTTLE $25 GLASS $7
Red Raspberry Moscato, Tomasello BOTTLE $30 GLASS $9
Pink Moscato, Flip Flop BOTTLE $24 GLASS $7
RED WINE (6oz per glass):
Pinot Noir, Cline BOTTLE $30 GLASS $9
Pinot Noir, Black Stallion BOTTLE ONLY $36
Cabernet Sauvignon, Middle Sister BOTTLE $22 GLASS $7
Merlot, William Hill BOTTLE $24 GLASS $7
Sweet Marcella, Huber's BOTTLE $25 GLASS $7
Bach's Red, Old 502 BOTTLE $22 GLASS $7
Bourbon Barrel Red, Old 502 BOTTLE $26 GLASS $7
BOTTLED BEER:
Bud Light $3
Michelob Ultra $3
Blue Moon $4
Angry Orchard Hard Cider $4
Redd's Apple Ale $4
Woodchuck Hard Cider $4
Yuengling $4
Goodwood Pale Ale $4
Corona $5
Stella Artois $5
Kentucky Bourbon Barrel Ale $6
BOURBON (per 1.5oz):
Early Times $3
Jim Beam $5
Jack Daniel's $6
Maker's Mark $7
Four Roses $7
Woodford Reserve $8
Woodford Rye $8
Bulleit $8
COCKTAILS:
Monet Water Lily $7 - (Vodka, Triple Sec, simple syrup, lime juice, cranberry juice)
Fascinator $9 - (Ace Hard Pineapple Cider and bubbly Moscato)
Fleur de Rita $7 - (Tequila, Triple Sec, lime juice, sweet & sour)
Manet-hattan $10 - (Woodford Rye, sweet vermuth, bitters)
Starry Night Cosmo $11 - (Van Gogh Vodka, Triple Sec, lime juice, cranberry juice)
Dirty Paint Water $8 - (Coconut Rum, Blue Curacao, grenadine, pineapple juice)
Bloody Mary $8 - (Vodka, spices, Bloody Mary mix)
KY Mai Tai $8 - (Jim Beam, Amaretto, lime juice, sweet & sour, orange juice, grenadine)
Painter's Sunset $8 - (Vodka, Peach Schnapps, orange juice, cranberry juice)
French Kiss-tini $11 - (Vodka, raspberry liqueur, pineapple juice)
Espresso-tini $11 - (Van Gogh Espresso Vodka, Irish Creme, coffee liqueur)
Bud-Rita $6 - (Lime, Strawberry, Mango)
Mimosa $7 - (LaMarca Prosecco and orange juice)
NON-ALCOHOLIC:
Coke $2
Diet Coke $2
Sprite $2
Ginger Ale $2
Capri Sun $1 - (Pacific Cooler, Kiwi Stawberry, Wild Cherry, Fruit Punch)
Keurig Cup $2 - (Regular Coffee, Decaf Coffee, Chai Tea Latte, Black Tea, Green Tea, Hot Chocolate)
Bottled Water w/Assortment of Flavor Packets - Complimentary