Paint a Portrait Your Pet Will Love
A paw-sitively adorable addition to your decor!!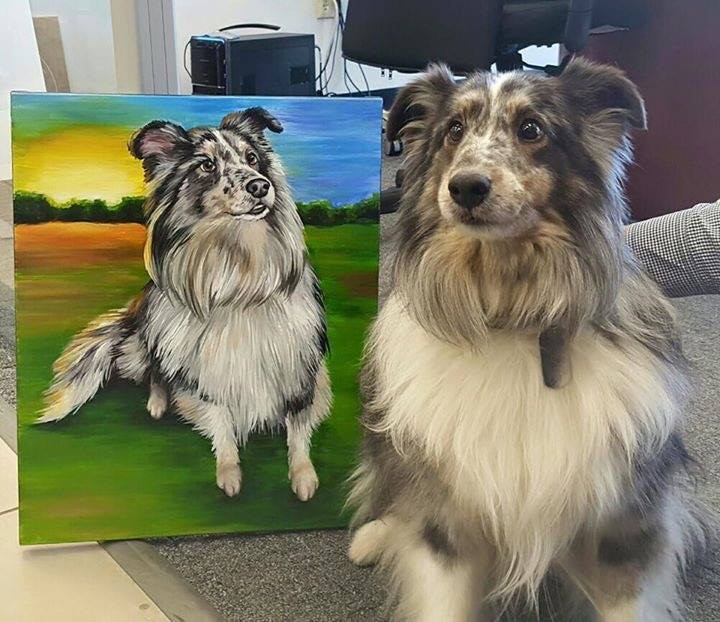 You've probably seen the photos of your friends painting their pets' portraits at their local paint and sip studio and are wondering how they did it. It may seem intimidating to paint a likeness of your beloved furbaby when you have the artistic talent of a two year old. We get it! It's a lot of pressure and you're not very confident with your creative capabilities. We're here to tell you that you ARE capable! Really!! Let us explain...
First, you register for the next Project Pet event. We host one every other month, so if there's not one on the current month's calendar, there will be one next month! (Just make sure to register before the deadline!! We close sign ups 2 weeks prior to the class date).
Next, email us a photo of your pet! Here are some tips for a successful photo:
- Allow only one pet per photo
- Make sure it's a high resolution photo (Learn more below)
- The pet should be clear and in the foreground with no furniture, objects, toys, body parts, etc. blocking your pet
- It's either a FULL body shot or a head shot with no cropped off edges (If it's cropped in the photo, it'll be cropped on the canvas!)
- We recommend to take a photo of your pet with the best camera you have under good, natural lighting
- Remember, the better your photo, the easier the painting process will be!!
After you've sent your photo, that's when we get to work! We will begin some photo editing magic to simplify your photo and blow it up to the size of our standard canvas. These images get printed onto a canvas for you to paint right on top of (think paint by number!)
When you arrive for your class, we will have your printed canvas and painting supplies ready for you. You get to customize your paint palette, so make sure you've thought of the colors you'd like to use on your pet and in your background!
It's paint time!! So maybe you're still pretty nervous, but don't worry! We always have talented and professional artists on hand that love to help you. They'll show you some examples of background ideas in case you're stuck. They'll give you lots of tips and tricks for painting fur and color mixing and matching. They'll even bail you out and paint on your canvas if you get stuck and need help with those final details!
Once your painting is complete, you'll feel so relieved and excited to show off your new masterpiece! Display it like the work of art that it is and add one of our custom frames! Can you believe you ever doubted yourself?!