Discover the 'Pinot's Difference'
So you want to 'Paint and Sip'...Why choose Pinot's Palette?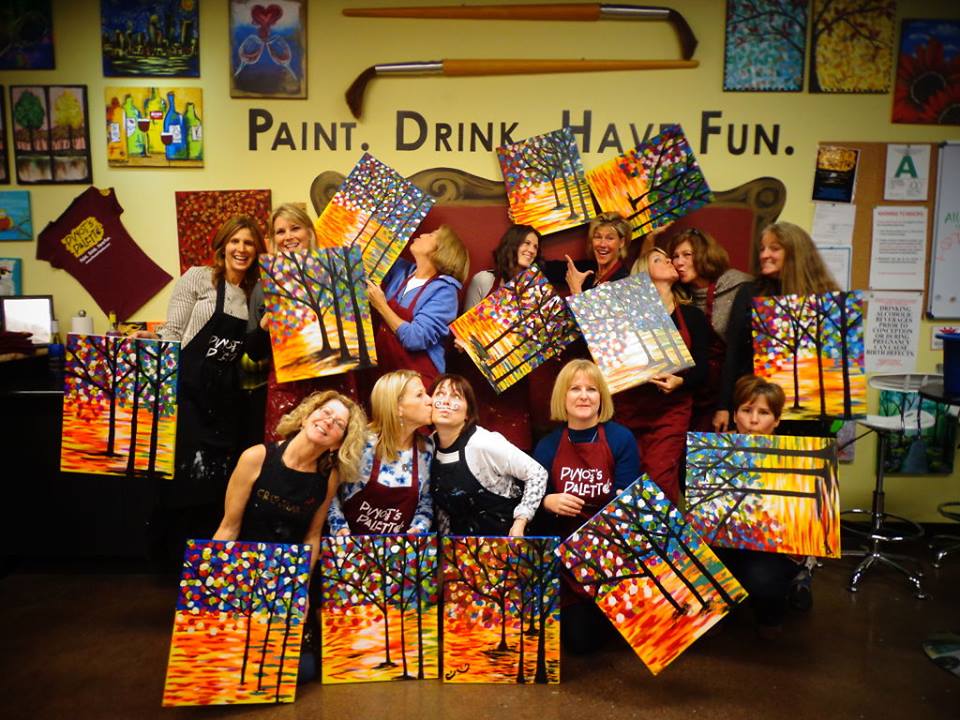 We know when making any sort of choice, you weigh your options. Where do I want to go to dinner? Where do I shop for my groceries? Where do I want to Paint and Sip?
Like any other market out there, we understand that you have choices on where you can 'paint and sip' in the city of Louisville. So why choose Pinot's Palette?
Our Studio: We have a large studio space located conveniently in St. Matthews. Our Main Room has plenty of seating and room to move around during class. We provide a large screen television to display the finished painting product making it easier to see the details. Our top of the line stools are sturdy and provide a comfortable seat for the class duration. We also provide additional tables for food and seating in our lounge area for breaks.
Our Bar: Our location's bar provides a large variety of wine, beer, and bourbon. We offer a range of prices to suite your needs and run weekly drink specials like our Half-Price Bottles of Wine every Thursday!
Our King Louie Room: Wanting your own space and the option to choose your painting? Book a Private Party in our King Louie Room! This separate room holds a maximum of 20 painters at high top tables. You get to choose your time slot and painting for your group. You get your own artist and we provide a table for snacks in your room. Call the studio to book your next event! 502.409.4572
Our Paintings: One of the best parts about Pinot's Palette is the wide selection of paintings we offer for classes. We have over 1,200 paintings currently in our library and it's growing every month! The best part about our paintings is that each one is created by a Pinot's Palette artist specifically for our style of classes. All over the nation our artists are working hard creating new ideas for our customers and they receive rewards each time their painting is taught! We love giving back to our artists!
Our Artists: Speaking of artists, our artists are probably the best part of Pinot's Palette! We have a fun staff of skilled artists who love helping you create your masterpiece! Each of our artists has a degree in their art field and has had experience in customer service and/or teaching. They are trained and fully equipped to help you with anything you may need while in class.
We can tell you all day what makes Pinot's Palette great, but we'd rather you see for yourself! Check out our calendar and choose your favorite class!