Wine and Paint! Relaxing in Chicago with Vino & Creativity
Enjoy a relaxing wine and paint night in our Logan Square paint and sip art studio and bar.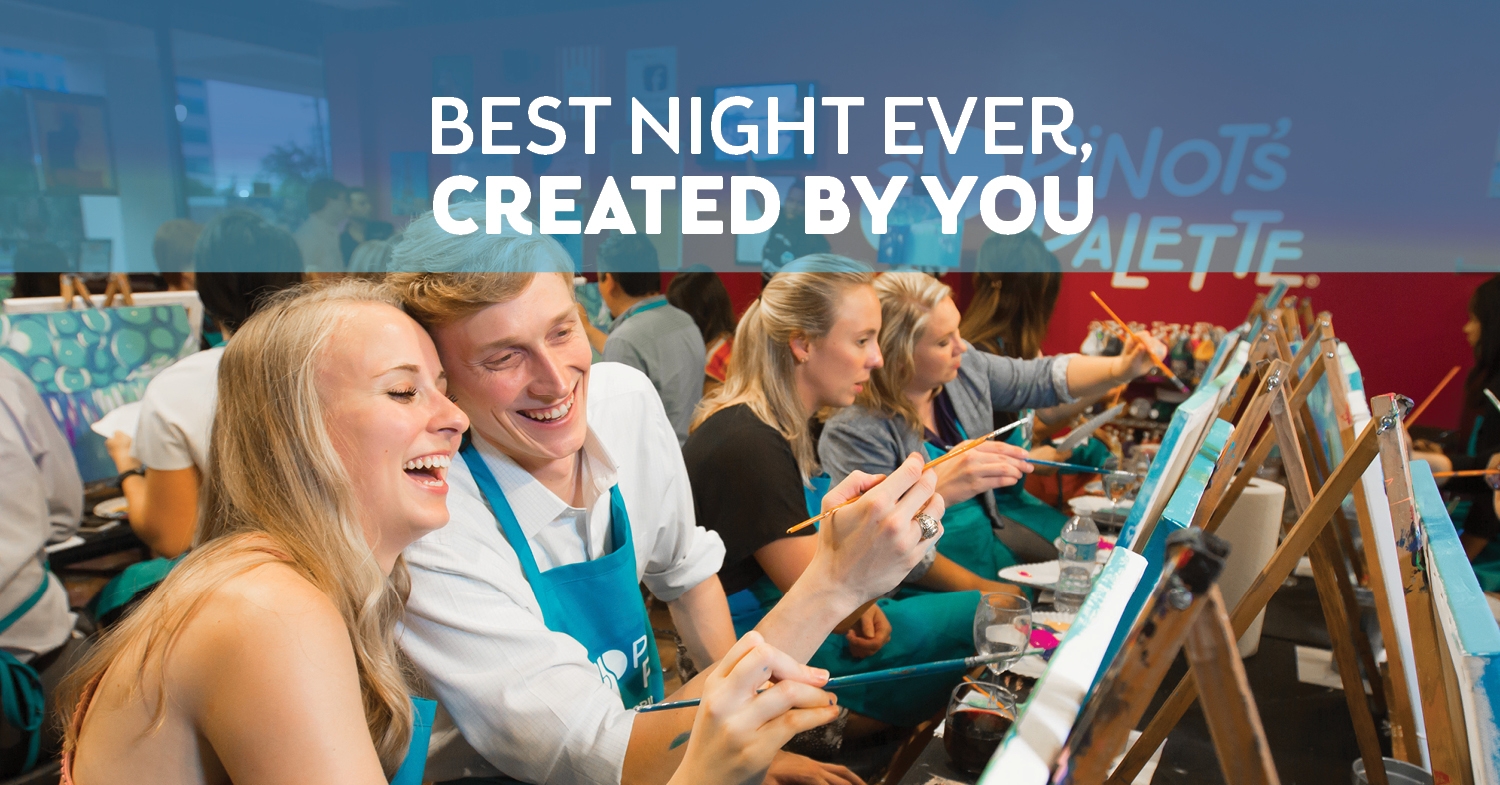 It really is true. No art experience is needed. Enjoy a relaxing night of art and creativity at one of our wine and paint parties. Yes, we said party! Our artists will guide you step by step to create the featured painting, but this is more about an experience than a class. Here's what you can expect at one of our wine and paint events.
FRIENDLY SMILES AT THE DOOR
When you enter our studio, you'll be greeted by one of our Logan Square team members. We'll get you orientated to the studio, introduce you to our bartender and show you to your seats where you'll find your name and all of your art supplies ready for action
OUR COMFORT STATION BAR
Enjoy a class of wine, a local brew or a craft cocktail from our Comfort Station Bar. Up for trying something fun and new? Our Dirty Paint Water cocktail takes like vacation. It isn't pretty, but it's fun, sweet and delish. Prefer wine? Choose your favorite varietal by the glass or bottle. Our bar tenders will provide bar service to the room once painting begins. Need a refill? No problem. Just throw up a piece sign or let your artist know that your libations need replenishing and we'll come to you. Want to stretch and take a break. This is a party, not a class. Go ahead and saunter on over to the bar to order your favorite libation. We have non-alcoholic beverages too, plus complementary bottled water and of course, ice water.
UPSCALE EXPERIENCE
You're looking for an experience and we strive to deliver. We provide an upscale sip and paint experience. From our well-appointed studio to our quality supplies and beverages, details are important to us. We have a spacious two room studio, state of the art lighting and sound, a full bar and a team ready to serve you. You're here to relax. We're here to take care of you.
NO ART EXPERIENCE REQUIRED
Really. It's ok if you haven't painted ever or since grade school. Our artists are caring, approachable and great instructors. They'll lead you step by step to create the featured painting. Need help with a particular brush stroke or with blending colors? Just ask. We'll come by and help with some one-on-one guidance.
OUR MORE ADVANCED GUESTS
Maybe you like to dabble with paint or perhaps you're an experienced artist. Exercise your creative liberty! We encourage individuality and creativity. Want to swap out the colors in your painting? Visit our paint cart and choose away. Want to add or take away from the image? Change it up and customize the painting to create your vision. It's your masterpiece!
BRING YOUR OWN SNACKS, TREATS & FOOD
Want to nosh while you paint? Feel free to bring along snacks, tapas, treats and more. We have paper plates, bowls, napkins and plastic ware available for you. Display your snacks on one of our granite counters. No worries. We'll give you a sign so you can mark it as your own. While you can bring your own food, outside beverages are not permitted.
YOUR MASTERPIECE
At the end of our wine and paint party, step back and admire your masterpiece. You did it! You went outside of the box, out of your comfort zone, tried something new. Or maybe you're one of our regulars and you just created your most fabulous painting yet. Take home your canvas masterpiece and proudly display it. Want to frame it? Just ask. Choose from one of our 7 frame types and we'll frame it for you before you leave. After all, you created a frameworthy masterpiece!
ENJOY A PAINT AND SIP EXPERIENCE WITH US!
Our nights out are called many things… wine and painting, paint and sip, sip and paint… above all, we hear them called fun, relaxing and creative. Plan a girls night, date night or paint party with friends. We can't wait to share the paint and sip experience we offer at Pinot's Palette Logan Square. Cheers!
Share Plan a Wine and Paint Night Here | Wine and Paint Private Parties