The Best Hostess Gifts for the Holidays
Let's face it. Anyone can bring a bouquet of flowers or a green bean casserole to a holiday gathering. And even if casserole is the dish you're tasked with for a potluck, you want your host or hostess to know how much you appreciate the time and effort they put into planning and preparing an amazing holiday gathering for family and friends. This holiday season, we have three of the best hostess gifts for the host and hostess with the mostest from thoughtful little ole you!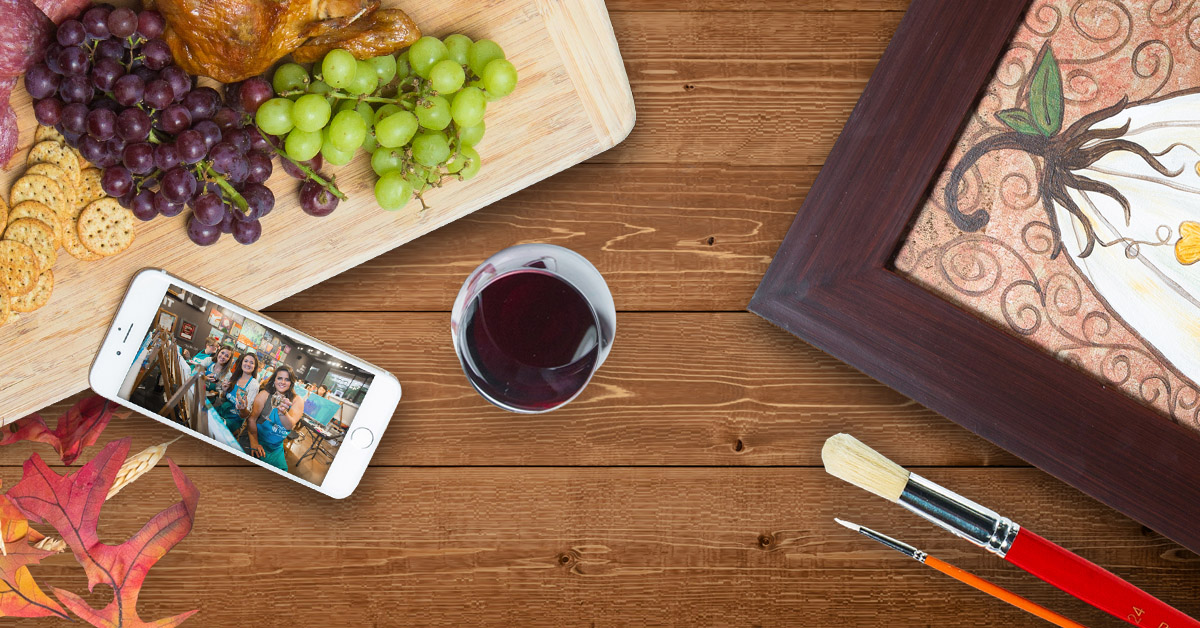 Thanksgiving is next week and December holidays are right around the corner. Perhaps you're joining family at your aunt's house, who year after year opens her home to the entire family and cooks up a Thanksgiving Feast that Emeril Lagasse would belly up for. Or maybe you aren't able to travel to family and instead you're joining friends or neighbors for a Friendsgiving Thanksgiving in their apartment. No matter the setting, you know your host or hostess has cleaned, shopped, chopped, simmered, stewed and baked tirelessly to welcome guests to their holiday gathering and you want to express your appreciation with a thoughtful hostess gift. You want something unique and creative. We have three of the best hostess gift ideas for the holidays! An added bonus? You may even treat yourself while gifting!
Fabulous Seasonal Gifts for the Gracious Host or Hostess
1. Wine and Painting Gift #1: The Gift That Gives Back
Give the gift of wine and painting to yourself and your hostess by painting a masterpiece just for them! With the hustle and bustle of the holidays, treat yourself and take time for you while you create a unique and creative gift for your host or hostess. You'll pamper yourself with a relaxing wine and painting soiree while you put a brush to canvas and create a new festive painting for your hostess to add to her holiday decor. Spend an evening in our studio by yourself or invite friends and share this fabulous idea! Make it a girls night or grab your date and he can paint one for Mom! She'll adore it!
Imagine your gracious host greeting you at their home and you have a bottle of wine in one hand and the masterpiece you painted especially for them. You'll enjoy telling the story of your creative adventure over the bottle of wine and blush when everyone tells you how thoughtful and fabulously creative you are.
Wine and Painting Gift #1: a bottle of wine coupled with the home decor masterpiece you created especially for your hostess. You enjoyed a paint and sip night out, tapped into your creative side over cocktails and painted a new piece of holiday decor for your hostess. We call that a win-win! This gift package starts at $38 for a 2 hour paint party where you create your masterpiece.
2. Wine and Painting Gift #2: The Frameworthy Hostess Gift
We're taking our "Gift That Gives Back" up a notch. You've created a beautiful masterpiece to add to your host's holiday decor and you want it ready for action! Let us frame it for you and see your artwork pop! We'll do it on the spot. We'll even wrap your unique and creative gift in craft paper and top it off with a ribbon. Voila! Your gift is not only ready to hang, it's ready to deliver.
Frame your "Gift That Gives Back" masterpiece with our $40 "Frameworthy Hostess Gift" addition. We'll frame it on the spot in your choice of 4 different frame colors & styles, wrap it for delivery and you'll arrive with pride. This gift is so great it's likely to you another invite to their next gathering!
3. Wine and Painting Gift #3: The Gift of Paint and Sip Creativity
Maybe you're not able to squeeze in a sip and paint night for yourself before your next holiday gathering or you decided you love the masterpiece you created so much, you have to keep it for your own home decor! No worries, you can give the gift of paint and sip! Give your host or hostess a gift of fun. Your hostess can enjoy a relaxing night our for herself with a Pinot's Palette gift certificate. Perhaps there is a power couple behind your holiday festivities? Make it a date night for them and purchase a gift certificate for two. Or thank them with an extra special touch and invite them to join you our for a night of wine and painting with you where the two of you can paint, drink and have fun in our Logan Square studio.
Choose the denomination of your choice. Purchasing a Pinot's Palette gift certificate is as easy as a few minutes time and a couple of clicks. You'll personalize the gift certificate and print it right from home. Or let us take care of the detail and packaging for you! Call or stop by our Logan Square sip and paint studio. We'll create your gift certificate and jazz it up in a gift bag, one of our unique gift containers or you can add it to a gift basket complete with wine trinkets. Simple and unique, our Pinot's Palette gift certificates make a fabulous hostess gift!
This holiday season, skip the bath soap, jazz up the bottle of wine you're planning to bring with a personally created holiday decor masterpiece or give the gift of creativity with one of our paint and sip gift certificates. You'll be the guest everyone raves about and proud of the thoughtful time you put into your gift! Happy Gift Giving!
#wine #art #wineandpainting #paintandsip #besthostessgifts #friendsgiving #thanksgiving #giftcertificate #pinotspalette
Share Get Your Wine and Painting On! | Buy a Gift Certificate