Wine and Painting Pairings for August
Just like with great food, the right glass of wine paired with a painting has the power to totally transform your drinking experience. We're all about getting the most out of our summer, that's why, to get you started on your art and wine journey, we've put together a list of wine pairings for our upcoming paint and sip classes.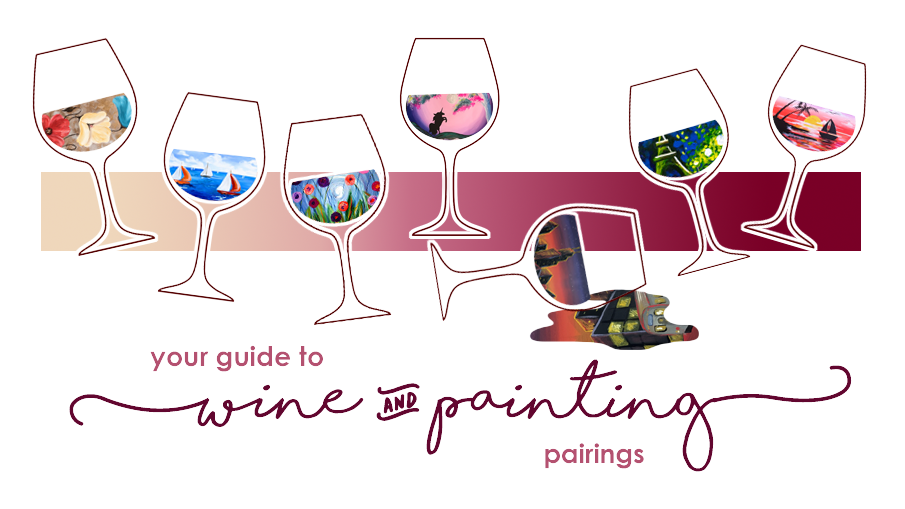 Whether it's a date night, girls night, or just a night out drinking with friends, we've got the combos that are guaranteed to have you asking for a refill.
CHARDONNAY & "COLORFUL POPPIES" (August 10th)
We're kicking off our list with one of our favorite new paintings: "Colorful Poppies". The unique canvas shape, playful floral motif, and bright pops of color make this painting a perfect pair for a bold and buttery Chardonnay. The many flavor profiles hidden in a simple glass of Chardonnay, from warm oakiness to bright citrus, reflect the possibilities for creativity in this painting. Customize the colors to fit your home décor. Perfect for a painting girls night out!
SAUVIGNON BLANC & "COME SAIL AWAY" (August 4th)
We ❤ a crisp, zesty Sauvignon Blanc to put a little wind in our sails. That's why we've paired this wine with "Come Sail Away", another unique canvas size debut on our August calendar. The simple design and wide perspective go perfect with the green, herbaceous flavors of a Sauvignon Blanc to put you in that breezy go-with-the-flow mindset. This pairing is sure to provide and elegant and relaxing paint night.
PINOT GRIGIO & "PIXIE PETALS" (August 27th)
"Pixie Petals" is a fun, easy painting perfect for a Sunday afternoon glass of Pinot Grigio. The delicate fragrance and light, floral notes of this white wine effortlessly pair with the simple brushstrokes that make up this painting. Ultimately, this graceful combination makes for a delightfully tangy addition to your weekend plans.
PINOT NOIR & "FANTASY UNICORN" (August 3rd)
We're pairing one of the lightest reds with our most whimsical of August paintings. Fruity, silky Pinot Noirs don't take themselves too seriously, and neither does our "Fantasy Unicorn" painting. This painting is magically both dark and light, just like a good Pinot, surefire to make for a carefree Thirsty Thursday. So ditch your average night out and create something fantastical with this pairing.
TEQUILA & "GOODNIGHT CHICAGO" (August 15th)
Okay, so techiniquila, our favorite creativity juice isn't a "wine" per-se, but we couldn't keep this pairing off the list! Not only does tequila combine perfectly with our "Goodnight Chicago" painting (because… tequila), but it goes even better with the Tacos we'll be serving up. Whether you're drinking a marg, sunrise, or shot, Tequila is a must-have on Taco Tuesday, and we promise it'll make your painting look better, thus it's a must-have on our pairings list!
MALBEC & "LOVE IN PARIS" (August 5th)
Paris at night is dark, rainy, and mysterious—full of romance and a little intrigue, just like a deep red glass of Malbec. We've paired our "Love in Paris" painting with a seductive Malbec, giving this Saturday night the potential to ignite some passion. The deep black and blue tones bring out the velvety softness in the wine (and maybe someone special too). If you're looking to create a painting date night in Chicago with a little mystique, look no further than this combination.
CABERNET SAUVIGNON & "TROPICAL SAIL" (August 24th)
Cabernet Sauvignon makes us feel bold and adventurous. Maybe it's the high alcohol content… maybe it's because we've paired it with our colorful new sunset getaway painting! Some people say the dryness, thickness, and pepperiness of a cab can be little overwhelming if not paired with food, and to that we say: adventure is the only sustenance we need! Make a statement at this Thursday wine and painting class and sail to places unexpected!
Share Check out our August Calendar to book one of these classes!