Pinot's Palette on WGN Frank Fontana
Bringing the sip and paint party experience to Frank Fontana on WGN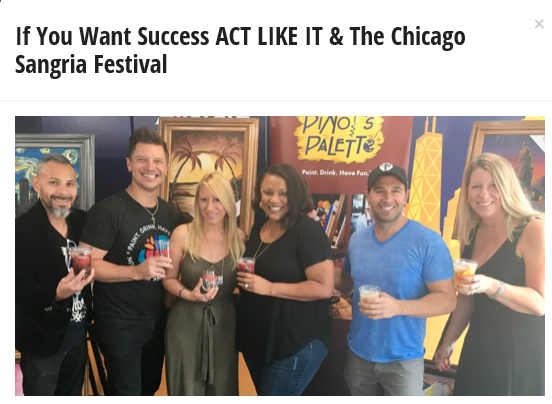 On Sunday funday August 6th, Sangria Fest Founder/producer Michelle Gomez , Tamara and I were invited to the Frank Fontana show on WGN to hype Sangria Fest and our Sip and Paint Lounge that will be featured at the festival. Michelle guided us through what the party will be like on Sunday, August 20th and her mixologist Misreal walked us through the history of Sangria and some does and don't of how to make the perfect Sangria. (we may have also sampled a few glasses of delicious sangria on-air)
Frank and his team were amazing and made us feel right at home which you can tell from our interview. (we're at about the 30 minute mark)
http://wgnra...ria-festival/
Also...I had heard of Frank Fontana, but this guy is got it going on!
ABOUT FRANK
Celebrity designer and lifestyle expert Frank Fontana is an Emmy nominated TV and radio host, bestselling author, and brand ambassador to Americas most beloved Companies. Fans of HGTV recognize Fontana as the face of several hit shows for the HGTV network and as regular contributor to NBC's TODAY show. He built his reputation in the world of home improvement and interior design programming as the beloved host of "Takeover my Makeover" and shortly after for the wildly popular "Design on a Dime," franchise, one of HGTV's longest-running and highest-rated programs.  
Fontana is a published expert in the lifestyle world and author of top-selling DIY design book "Frank Fontana's Dirty Little Secrets of Design," currently available in bookstores nationwide and on amazon.com. A regular contributor to a multitude of national media outlets, Frank's tips and ideas have been shared, dowloaded and embraced by millions as he has been featured regularly on OPRAH.com, The TODAY Show with Kathie Lee & Hoda on NBC, and the award-winning NBC design show Open House. He also currently hosts popular radio programs for both WGN radio 720 AM and an online podcast series boasting more than 9 million program downloads to date.
FOODIES at SANGRIA FEST:
Paella from TAPAS VALENCIA
Falafel from MASADA & SULTAN'S MARKET
Tacos from FLASH TACOS
Kabobs from SAN LUCAS
Nachos from TACO IN A BAG
Flan from JEANNIE'S FLAN
We can't wait to paint, drink and have fun with you at Sangria Fest! Cheers!
#sangriafest2017 #inthepark #sangriafest #chicago #sangria #chicagofestivals #mixologists #craftsangria #signituredrinks #paella #tapas #sipandpaint #livemusic #fashionfirst #FoodDrink # frankfontana
Share Bringing the party to WGN | Check Out the Sangria Fest Line-UP