Friendsgiving in Chicago
Friendsgiving. Celebrating Thanksgiving with friends isn't a new idea, but celebrating 'Friendsgiving' opens up a whole host of party planning options this holiday season. Perhaps you can't travel home for Thanksgiving or just want to gather friends for a fun night together this fall. Connect with us in our spacious art studio and bar and we'll partner with you to create a Friendsgiving event customized to your group. No matter the stimulus, we have a variety of Friendsgiving parties sure to become an annual tradition.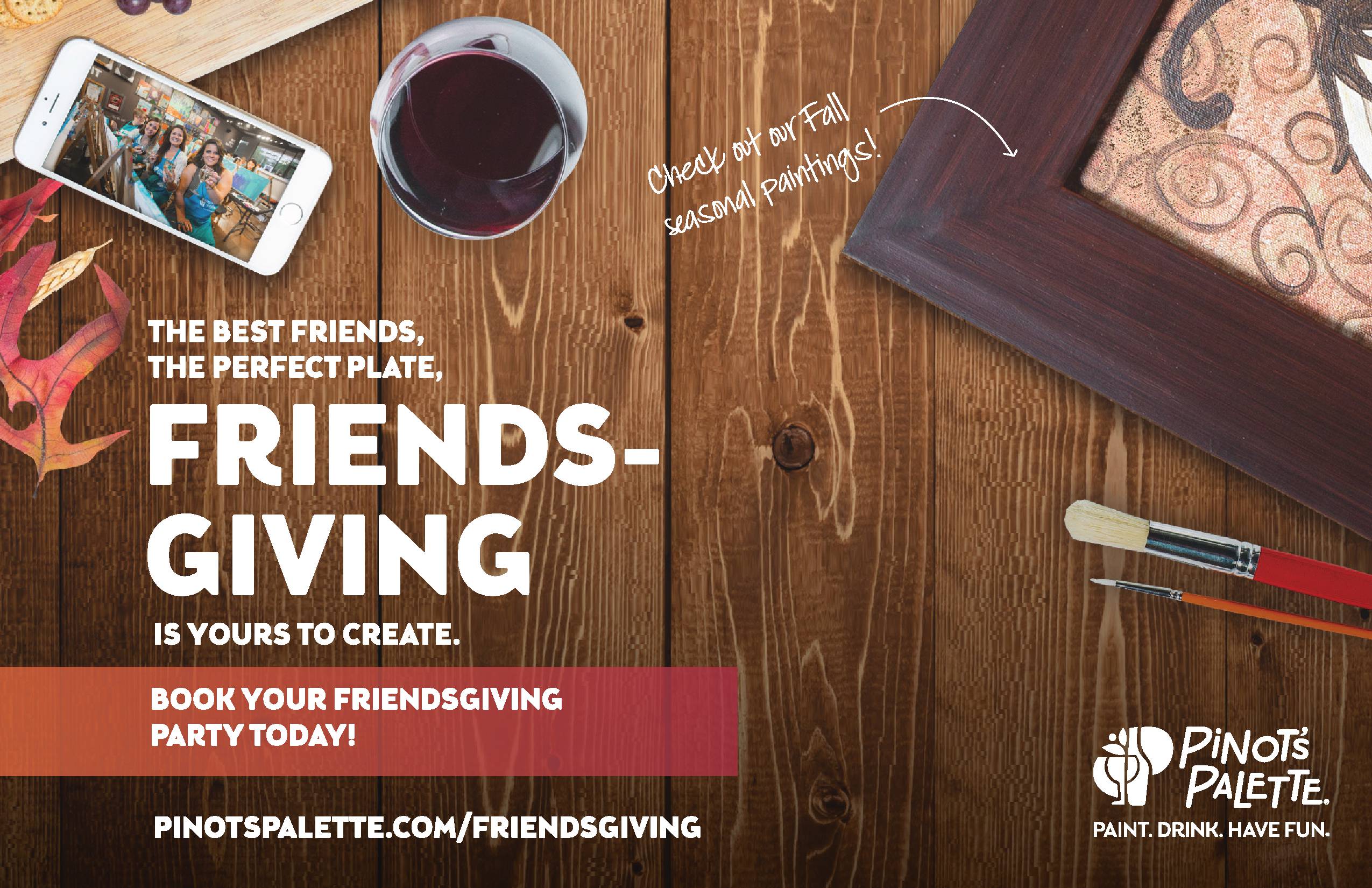 From potluck to private to all-inclusive posh, our Friendsgiving parties suit a spectrum. Plan a potluck and bring favorite recipes from generations of family traditions to share among friends or cater in from one of our packages or your favorite place. Just looking for creativity & cocktails? Book our traditional paint and sip party or include one of our several bar packages.
Friendsgiving is the perfect time to gather those you want to spend time with here in Chicago to share creativity, a meal and gratitude. Give us a call to discuss your ideas and let us match your vision to one of our Friendsgiving Paint & Sip Private Parties or customize one to fit your group. Here are a few event options:
• Friendsgiving Paint and Sip Potluck Party
• Friendsgiving Paint and Sip Elite Tradition
• Friendsgiving Wine and Painting Party
• Friendsgiving Wine and Painting All-Inclusive Posh Party
Plan your party for October, November, on a weeknight, Sunday afternoon or over Thanksgiving. You pick the day! We host private parties 7 days a week, daytime and evening.
This fall and holiday season, set aside time to celebrate your friends with a Friendsgiving Party in our spacious Logan Square studio & bar. We'll take care of all the details, help you host a fabulous party and start a tradition to carry on for years to come.
We are currently booking Friendsgiving Parties. Give us a call at 773.289.1709 and let's customize your event today!
#friendsgiving #friendsgiving2016 #GNO #thanksgivinginchicago #thingstodoinchicago #Friendsgivinginchicago #logansquare #pinotspalettelogansquare