Cocktail and Painting Pairings for Every Occasion
Logan Square LOVES cocktails! And so do we! With our incredible craft cocktail list and gorgeous April painting calendar, it's inevitable that we bring you this delicious boozy list of cocktail and painting pairings for April!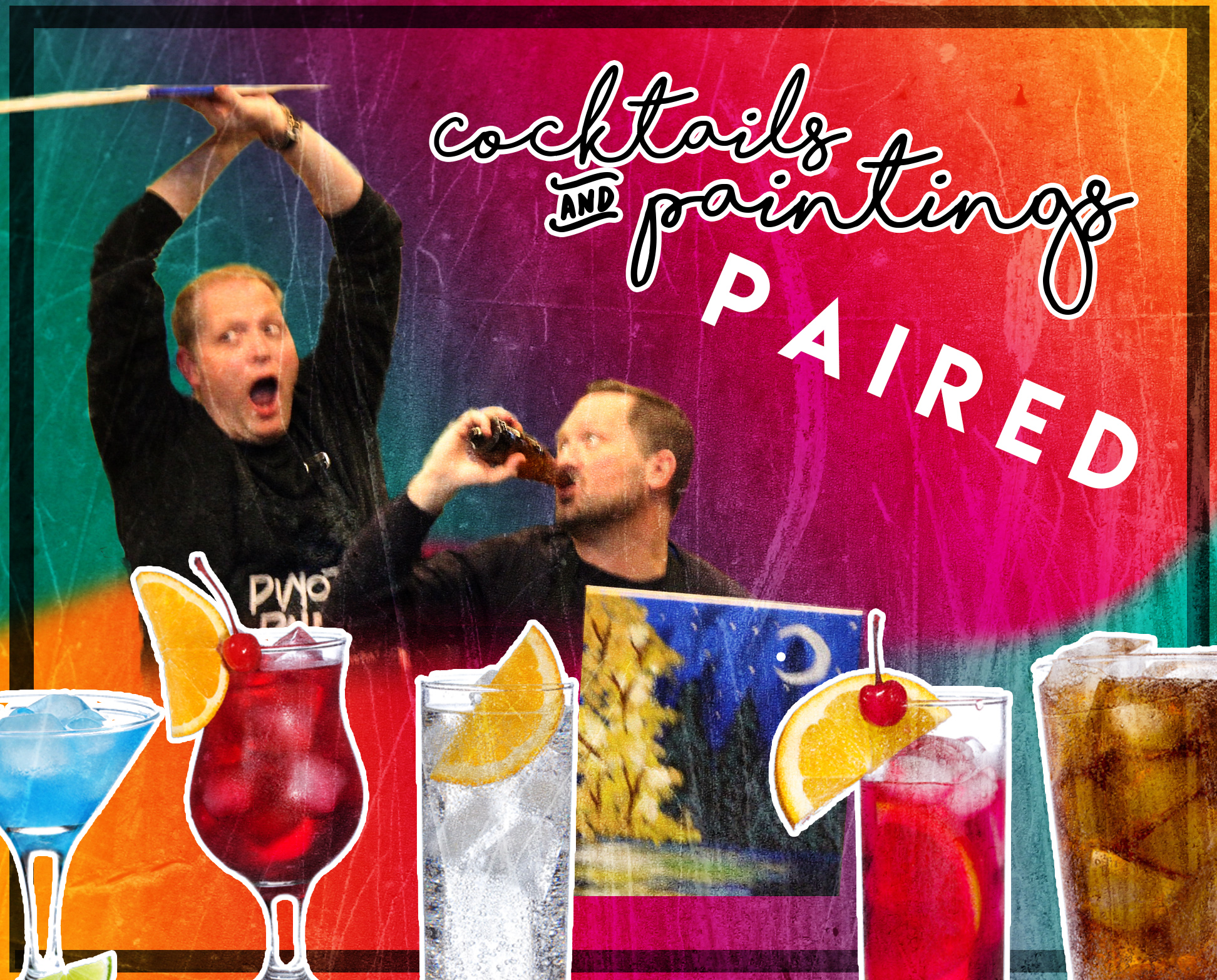 Though we've done blogs pairing wine and painting in the past, we're shocked at ourselves for not having written this cocktail twist sooner. Did we mention we LOVE cocktails? Better late than never, we suppose. Plus, April is a perfect month for rolling out this list as Chicagoans shed their winter coats for bachelorette parties, birthday parties, date nights, and family activities. Without further ado, here's our tasty paint and sip pairs for April 2018:
Thursday, April 12th
"Love in Paris" with our Diversey Deveraux
One sip of our lemon-garnished deveraux will intoxicate you with the rush of a romantic, classy date in a distant city. A bright and smooth combination of Bulleit bourbon, elderflower liqueur, sparkling wine, and lemon compliments the high-contrast cityscape of paris: bright, alluring lights against a seductive night sky. Make April 12th your deveraux date night and you won't be disappointed.
Sunday, April 15th
"Romantic Roost" and our Boulevard Bloody
"Hangovers can be fun," said No One Ever. But with this paint and cocktail pairing you can at least HAVE fun with a little hair of the dog to forget the headache. The great thing about this painting is that all you have to do is smash around some colors, scribble a few birds, and suddenly you're Picasso! Our Bloody Mary will help you out along the way. Cucumber-infused and brimming with stuffed olives, this pairing is perfect for Sunday brunch with your mom! Your painting will turn out so well that she'll never suspect how much you drank last night!
Friday, April 20th
"Majestic Fairytail" and our Dirty Paint Water Cocktail
This painting screams Chicago bachelorette party. It's super fun to paint, elegant, and even customizable to your wedding colors. It's so beautiful that it seems almost blasphemous to pair it with our intentionally hideous Dirty Paint Water Cocktail... but, you could say we're into that sort of thing. Plus, this cocktail definitely does not taste how it looks. The soft coconuttiness of Malibu rum with flirty dashes of blue curacao, pineapple, and grenadine make this drink the perfect starter to a night of unconventional fun!
Any daytime party and our Navy Pier Pucker
Are you pregnant? Are you the DD? Are you 12 years old? Hopefully you're not all of those things at once... but if you are, have we got a drink for you!!! Our Navy Pier Pucker is a Mocktail that pairs great with any of our daytime paintings! A delicious combination of sparkling lemonade and craft pomegranate grenadine over ice makes this an excellent drink for family days, kids paint parties, and weekday painting classes. Drop your kids off at the studio or share one with them!
Thursday, April 19th
"Mystic Moonlight" and our Milwaukee Marg
It's supposed to be spring. But we live in Chicago, so like every year before this, we're left wondering if this will be the year that spring never comes. Chicagoans have many ways of dealing with this phenomenon, but our favorite is to drink margaritas and pretend we are on a beach far far away from here. This painting and our Milwaukee Marg are guaranteed to do the trick and transport you to paradise! (Even though we're only steps away from the blue line) Make it a girls night out on April 19th!
Thursday, April 26th
"Rosie Posies" and our Mozart Mule
The mule is the drink of the people! So we've paired it with a great Painting it Forward event for local Holstein Park on April 16th. Our Mozart Mule's brassy mix of Ketel One Vodka, lime, and spicy ginger beer ties together the earthiness of Chicago's beautiful parks, the bright, colorful flowers of our "Rosie Posies" painting, and the joyfulness of giving back to the community. It's the perfect beverage for any paint and sip FUNdraiser!
Saturday, April 28th
"Midnight Moon Glow" and our Altgeld G & T
This pairing is amongst our classiest. The deep purples and blues of "Midnight Moon Glow" accentuate the powerful moon and add to the strong atmosphere of this night landscape. Likewise, the serious notes of juniper and lime in our Gin and Tonic are enlivened by our incredible craft tonic water. Another great date night idea for the couple looking to discover their artistic talent and drink the best of the best.
Saturday, April 28th
"Psychedelic Starry Night" and our California Stop Cosmo
Though we're pairing our Cosmo with a painting on the same night as our G & T, the experience of our cosmo-drinkers couldn't be any more different from the Gin folks. "Psychedelic Starry Night" is a wild, colorful, glowing black light painting that takes Van Gogh's masterpiece to a whole new level of fun. Similarly, our California Stop Cosmo blasts similar drinks out of the water with a shake-up of Ketel One Citroen, Cointreau, Lime, and Cranberry served up in the classic martini glass. Get loose all night long on April 28th in our neon blacklight room!