Be The Company Party Hero!
As Chicagoans, we have the privilege of experiencing our city's innovative art scene, electric sports culture, and of course the friendly annual polar vortex! If you've been outside lately, you've probably come to the same conclusion that I have... it's coming. Though it seems like yesterday (I think it was yesterday) we were in our short-shorts sipping mojitos on the beach, now it's time to snuggle into those sweaters and brew up some spiced cider. No one knows better than us Chicagoans that we've got to make the most of what autumn has to offer. But wait! I want to tell you that there IS a way to carry all that warmth and cheer into the tundra with you this winter! My solution might surprise you—I think you should start planning an office party.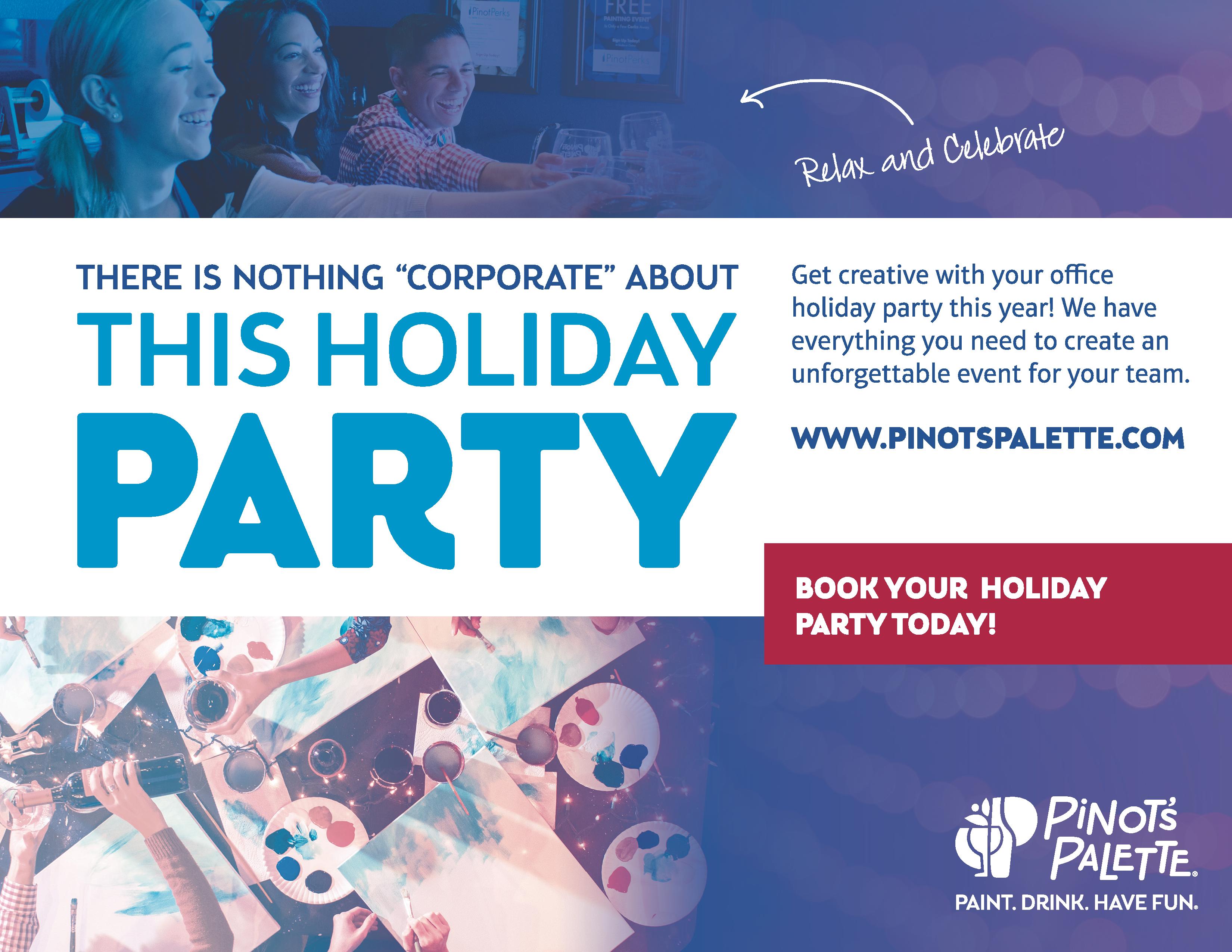 I know what you're thinking: no way a regular old office party can make you those memories you'll need to stay warm through the subarctic conditions of yet another classic Chicago winter. And you're probably right! Normal office parties can be a drag, especially if you're the one planning them. But this time, let Pinot's Palette do the work and I promise you, you won't even notice the terrible blizzards raging outside.
Here's how we do it: we take the best thing about the traditional office party (the drinks) and liven up the rest of it with one of our awesome paint parties! You can keep it simple or choose between a number of great open bar and catering packages, featuring our amazing wines, beers, and cocktails as well as food from some really fantastic Logan Square eateries. Of course, you can also bring in your own food, cater from your favorite stomping ground or skip the food all together. It's your party – customize it!
Employees really enjoy parties at Pinot's Palette. Think about it: no forced mingling, plenty of booze, and no one has to wear that creepy Santa suit around the office. Plus, each person takes home a creation of their own. A beautiful painting to hang in their abode or work space, to look at and reflect upon each day, to remind them how much they love their boss and fellow co-workers. If that doesn't grow your wintery heart a size or two, I don't know what will!
Call us at (773) 289-1709 or stop by our studio to book your party today. You know you want to.
https://www....porate-events
#party #wine #art #fun #office #company #leadership #team #teambuilding #chicago
Share Book Your un-Corporate Party Here | Love to Plan Parties? Click Here!