Friday the 13th Black Light Date Night!
You might not think of the evening of Friday the 13th as the best night for date night. After all, the odds of getting lucky on the unluckiest night of the year sound kind of slim. But consider this...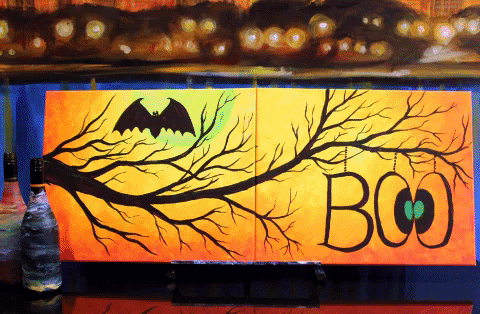 at Pinot's Palette Logan Square, you can channel all that spooky bad-luck energy into irresistible creative charisma and the undeniably sexy ability to procure drinks at the bar!
Still not sold? Well, we haven't even told about the black-lights yet!
This October, we're kicking the paint and sip experience up a notch with our Friday the 13th Black-light Date-night paint party! It's gonna be neon! It's gonna be spooky! It's gonna be art-inspired, alchohol-fuled, halloween-time madness!
Cozy up for a unique night out with your BOO! Our Halloween black-light date-night painting is decked out in neon colors that glow bright under ultraviolet lights. You'll each get your own canvas to paint, then combine the two canvases at the end to create one giant, glowing painting! It's perfect for a DIY Halloween decoration that looks great in natural light too! Dress in your brightest colors and sip on glowing beverages as you party the night away with your baby, bestie, or beau!