Painting it Forward for Chicago Parks
Their fieldhouse may be small, but this Chicago Park District one-acre park is mighty and we're Painting it Forward for The Maplewood and Lucy Flower Park on Sunday, March 5th.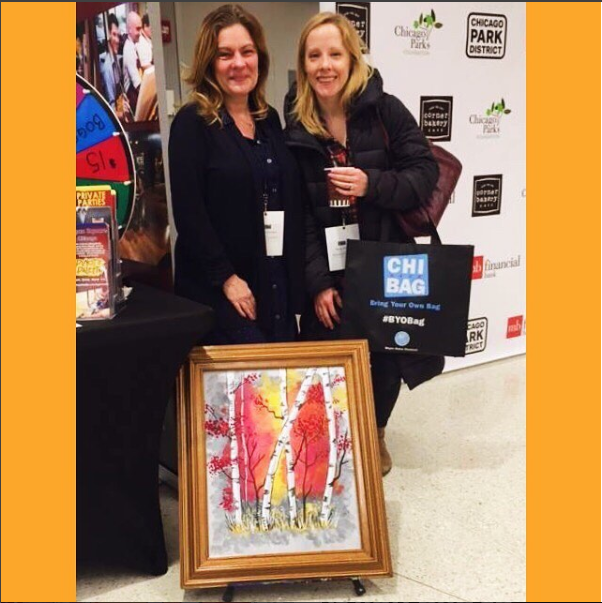 The Maplewood and Lucy Flower Park is located just north of North Avenue and three blocks west of Western, in West Town. From toddler & preschool aged programs to flag football, kickball and tumbling, Maplewood and Lucy Flower park offers a great variety of kids programming for the neighborhood.
The park was originally named for the adjacent Maplewood Avenue and included a section known as People's Park. In 2005, the Chicago Park District Board of commissioners renamed the People's Park site to Lucy Flower Park in recognition of the contributions of Chicago Women. Lucy Louisa Flower (1837-1921) was a social reformer who led a number of programs and initiatives in Chicago to support the lives of women and children, with a focus on eliminating juvenile delinquency.
We're excited to partner with the Maplewood and Lucy Flower Park Advisory Council (MLFPAC) and Paint it Forward for the park! One of our key initiatives at Pinot's Palette Logan Square is giving back to our community. We take great pride in the fundraising program we offer and are proud to donate 33-56% of event reservation sales to organizations like the MLFPAC. Funds like these help the MLFPAC provide summer program scholarships for neighborhood children, support park programming initiatives and operations, aid in field house maintenance and facilitate efforts towards future park upgrades and expansion.
Join us on Sunday, March 5th at 1 pm for a Paint and Sip Brunch Event. Our local artists will guide all event participants step by step to create the featured painting, Aspen Trees at Sunrise. Check out the great picture of MLFPAC members, Kate Marshall Dole and Kathi Pruett at the Chicago Parks Foundation Park Advisory Council Conference in February, graciously posing with the featured painting for their event.
Brunch nibbles are included with your reservation. Pinot's Palette's Comfort Station Bar will have beer, wine, cocktails and non-alcoholic beverages available for purchase along with $15 Bottomless Mimosas.
Reservations to Sunday's event can be made here.
https://www..../event/148026
1:00 pm Brunch & mingle reception
1:30 pm Let's get our paint on!
3:30 pm Masterpieces complete & fundraiser wrap-up
#chicagoparkdistrict #chicagoparksfoundation #paintingitforward #fundraising #paintandsip #maplewoodpark #Chicago #PinotLoganSq #PACC17
Reference & About Maplewood and Lucy Flower Park:
http://www.c...plewood-park/
Share Paint it Forward for Maplewood! | Learn more about our Fundraising Program