Decor as Unique as You!
Introducing our Fall Out of Format paint and sip parties, starting with "Fallen Feather" on Friday, SIPtember 15th, "Jeweled Branches" Sunday SIPtember 17th and Bold Blossoms on Sunday Funday, October 15th.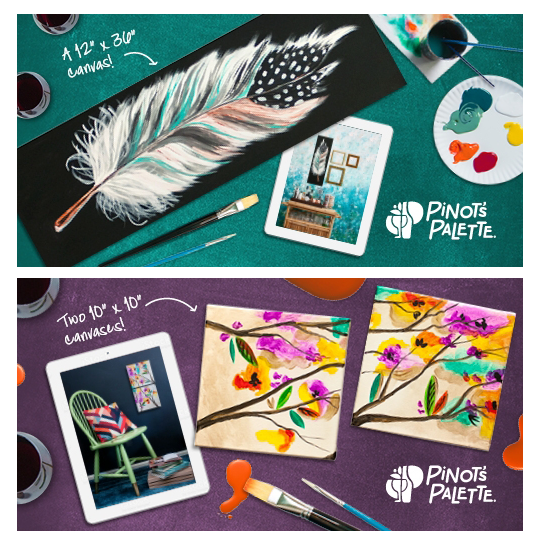 This fall, spice up more than just your latte by adding some DIY home decor flair to your living space! We'll guide you step by step through creating our new, uniquely sized paintings that are sure to turn your walls from drabulous to fabulous! And since great décor is all about the total look, at this event you'll get a printed guide for an at-home DIY project to complement the painting.
Just imagine that boring wall in your home, you know the one that always seems to be missing something? Here's your chance to fill it with something bold, colorful, and totally you. Plus, the best part is, you get to drink while you do it!
We couldn't be more excited to paint "Fallen Feather". It's an elegant and simple piece, yet it has the power to really transform a room with its panoramic dimensions and stylish contrasting patterns. It's also easy! So you'll still totally nail it after a cocktail or two!
Jeweled Branches is just as easy to create, while simultaneously packing an autumnal punch in the color category. It's a diptych, which means one piece created with two canvases, so you get two 10"x10" canvases to beautify during the wine and painting class.
Later, follow your printed DIY guides to style your cute painting pair with a pastel conversation piece, or your tall fallen feather with a sassy textured wall!
If it sounds like your search for an easy DIY class in September is over, we have one more in October. Join us for Sunday Funday on October 15th to paint Bold Blossoms on a fabulous 18X24 large format canvas. Along with this bright, bold piece, each guest will take home a bonus DIY project card.
Fall out of format with us this fall! We hope to paint, drink and have fun with you soon. Cheers!
Share Hop on over to sign up for "Fallen Feather" on Friday, September 15th | Or join us in painting "Jeweled Branches" Sunday, September 17th