Valentines Day Plans in Chicago
This Valentine's Day, inspire and create with your date with our couples paint night packages!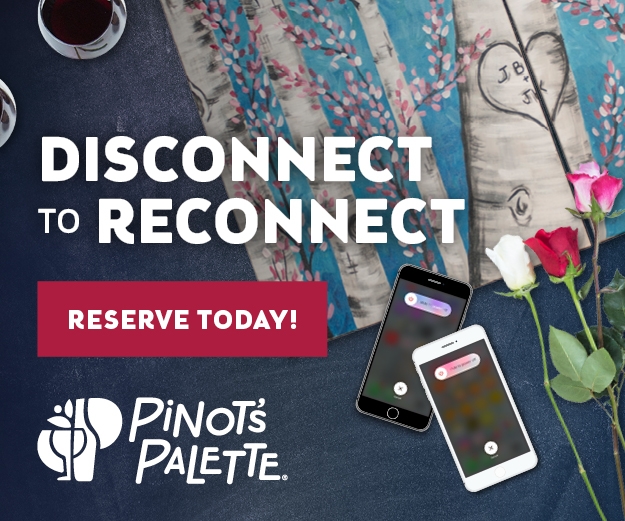 Valentine's Day is a opportunity to highlight the love we have for our partners. If you're like many, some years (or every year?) we struggle to plan an amazing Valentine's Day date that is thoughtful enough, fun enough and creative enough. We're here to help! We've planned a series of fun, thoughtful and creative couples paint nights for you and your special someone!
Choose from our traditional Signature Paint and Sip Parties or select one of our Saturday or Tuesday Valentines couples paint night packages. Our Saturday night Sip and Paint package on 2/11 includes the 'Love is in the Trees' paint party, a bottle of sparkling wine and salted caramel chocolates for each couple. You'll each create half of a 16X40" painting. A perfect night of wine and painting with a touch of chocolate!
Our Valentine's Day couples paint night package on Tuesday, 2/14, includes the 'Midnight Moon' paint party, a tapas buffet and a bottle of sparkling wine for each couple. Create a masterpiece while you drink and paint & paint and nosh together! Afterwards, hang your new date night wall art with pride and enjoy your creative teamwork.
Can't make it for one of the couples paint parties? We have Valentine themed Signature Paint and Sip Parties on Friday and Saturday night, Sunday afternoon and Tuesday night. Pick the party that best suits you and your mate and join us for wine and painting... or beer and painting... or drinks and painting... you get the picture!
So, forego the clamoring of trying to make reservations at one of the new hot restaurants or one of the most romantic in the city. Reservations for those fabulous restaurants will be easier to make in March. We provide memorable experiences, which creates valuable time together. It's time to disconnect from the 'screens of life' and reconnect with a fun night out. Make it a couples paint night, be inspired by our local artists, bond over the masterpiece you create together and paint, drink and have fun with us!
Share Book Your Date Now! | Take a Peek at Our Paint and Sip Style