All About Project Pet: Holiday Edition
Ever considered gifting a loved one a personalized pet painting?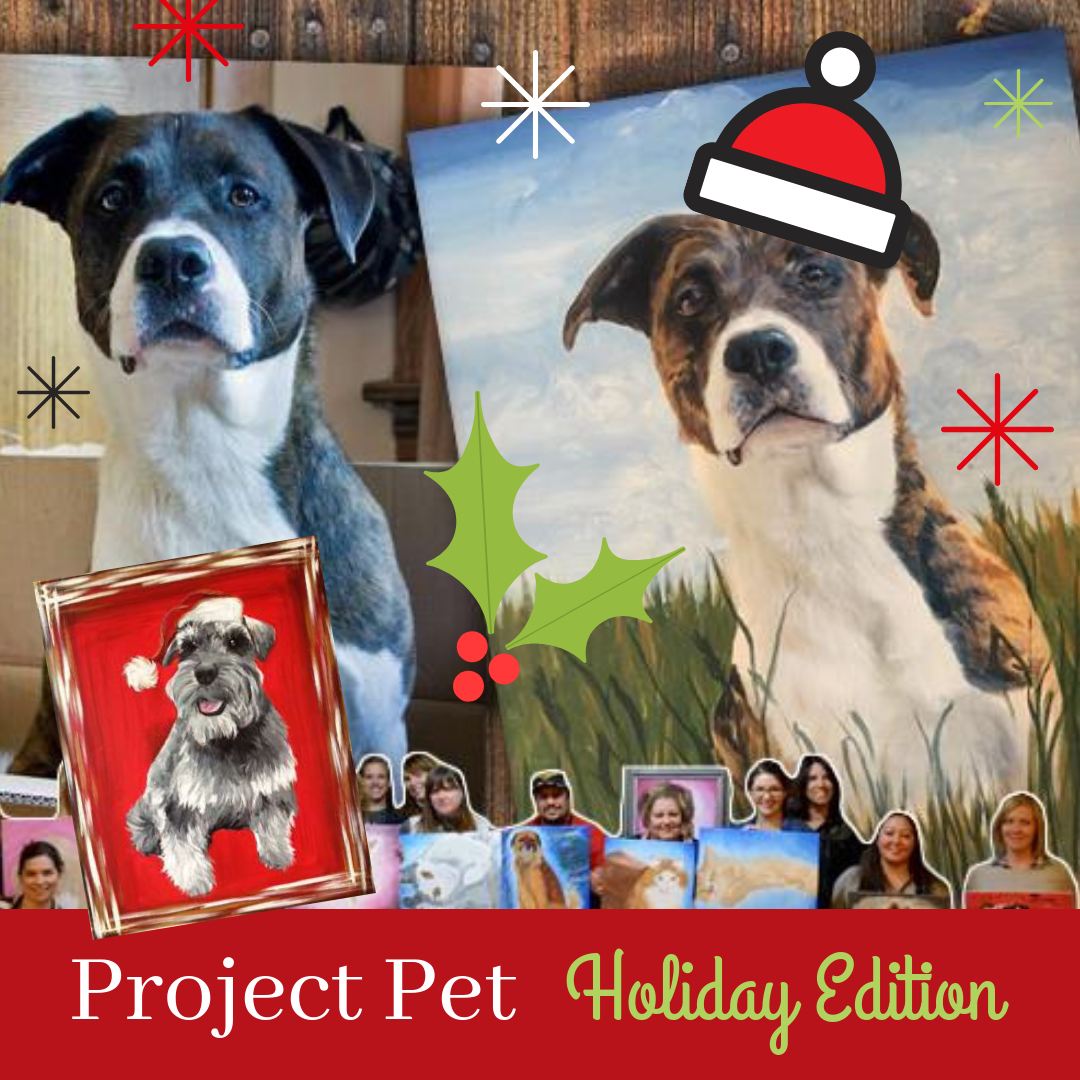 Join us December 9th for our classic crowd favorite, Project Pet! You're welcome to paint the traditional or the jazzed up holiday version! We love the idea of gifting someone a personalized painting of their pet for the holidays - just send us a photo of a loved one's pet from social media and we'll walk you through the painting part!
Here's how it works:
Step 1: Reserve your seat! (𝘉𝘦𝘧𝘰𝘳𝘦 𝘵𝘩𝘦𝘺'𝘳𝘦 𝘢𝘭𝘭 𝘨𝘰𝘯𝘦!)
https://www..../event/285811
Click this link to reserve your seat for the next Project Pet on December 9th!
Step 2: Say Cheese! (𝘞𝘩𝘦𝘯 𝘺𝘰𝘶𝘳 𝘧𝘶𝘻𝘻𝘺 𝘧𝘳𝘪𝘦𝘯𝘥 𝘪𝘴 𝘭𝘰𝘰𝘬𝘪𝘯𝘨 𝘧𝘢𝘣!)
Great Project Pet portraits start with great photographs! And we know that camera roll and social media page is FULL of adorable pictures, so we'll give you some pointers to help you narrow it down. We're looking for high resolution pictures, preferably ones where you can see the individual hairs (or feathers or scales!) on your pet. In addition, keep in mind that we'll be removing the background. Because of this, try to choose a photo that pictures your furry friend at their own eye level, sitting or standing as opposed to laying down. Of course, these are just guidelines, and our talented team of artists will help you make a beautiful painting of whichever photograph you'd like to use!
Step 3: Send us those cuties! (𝘛𝘸𝘰 𝘸𝘦𝘦𝘬𝘴 𝘣𝘦𝘧𝘰𝘳𝘦 𝘵𝘩𝘦 𝘤𝘭𝘢𝘴𝘴)
Photos for the next Project Pet are due Tuesday, November 27th at 11:59pm. Email them to pinotspalettelogansquare@gmail.com, and we'll respond letting you know that we've received them. Then, sit back and relax as we transform your pawsome pic into a paint-ready canvas. In the weeks before the party, we'll strip the color from the photographs and remove the background, leaving a black-and-white image of your pet that's ready for easy tracing with paint!
Step 4: PARTY TIME!
You'll want to get here a little early to grab a drink at the bar and mingle with other pet-lovers! We'll have everything set up for you at your seat, including your black-and-white printed canvas, art supplies, and a color photograph of your pet to use as reference. We know how important your furriest family member is, so we take the time to help you choose the perfect colors and brushes to create a stunning work of art that captures how much they mean to you! Throughout the painting class, your dedicated artists will lead you step by step, providing helpful hints to the group as well as individual attention.
Project Pet portraits are an amazing addition to any home. And with the holidays coming up, they also make fantastic heartfelt gifts! Reserve your seat today and create something truly special and unique for yourself or your loved ones!